Considering the purchase of a Miami condo as a residence or vacation home? You'll find an abundance of new and converted condominium buildings in the downtown Miami area. Each is more lavish than the next. But one is a true standout.
SkyPalace at Mary Brickell Village is destined to become the most prestigious address among Miami condos. Here are a few of the reasons why:
An experienced developer. It all starts with the developer, and SkyPalace has one of the most experienced and highly regarded condominium developers in the country. Evangeline Gouletas of Skyline Equities Realty has completed over 120 luxury condominium developments in 40 regional markets throughout the U.S.
Based in Miami, Evangeline knows the area intimately. She has taken the best ideas from all of her other projects and is incorporating them into SkyPalace. Also, as owner of a full-service real estate firm, her company will stay involved with Sky Palace long after its been built, handling sales and future resales.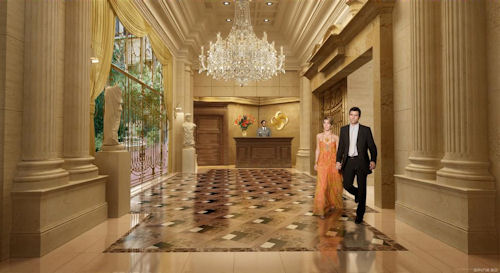 Perfect timing. SkyPalace will come on the market at a good time. Construction started on SkyPalace in July 2010. It will take 18 months to build. By that time, the excess condo inventory in Miami will have been absorbed. Less competition means more potential for appreciation in value.
Incredible amenities. If you look at the features of SkyPalace, you'll find it's far more like a resort than a residential condominium:
Oversized swimming pool and spa with cascading waterfall
40,000 sq. ft. recreation deck
State–of–the–art fitness center
His/hers saunas
Club room
Private movie theater
Business computer center
Building access control system
Secured covered parking
Valet parking
White-glove concierge service
Pet friendly
Innovative architecture. SkyPalace is not your cookie-cutter type high-rise. It's the Rolls Royce of condos. The design is by Wolfberg Alvarez & Partners, an award-winning architectural firm headquartered in Miami for over 30 years and recognized worldwide for design excellence.
SkyPalace is already being called a museum-quality fusion of architecture and art. It has a porte-cochere entrance and a jewel-box lobby adorned with a custom-made Strass Swarovski® crystal chandelier, Roman columns, three-dimensional Italian marble flooring and designer Versace furniture. Outside, lush gardens with a Venetian style pool complete the look.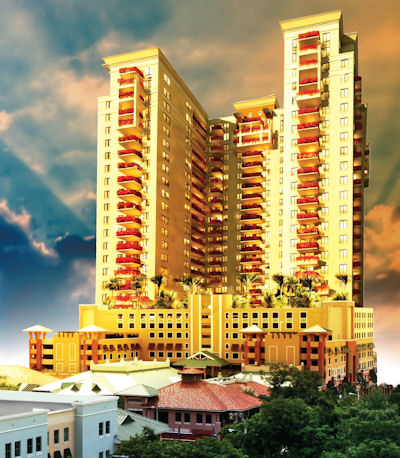 An ideal location. SkyPalace is located within Mary Brickell Village, which offers a park-like setting, community center and has tenants such as Publix, Bally Total Fitness and PF Changs. It also has more than 50 boutique shops and a wide variety of restaurants and entertainment venues.
SkyPalace at Mary Brickell Village is also just a block away from Brickell Avenue's financial and business center. Residents will find they're also as just a few steps from the Metro Rail station where they can hop on and within minutes reach many of downtown Miami cultural venues such as the American Airlines arena and the Adrianne Arscht Center for the Performing Arts. In essence, residents can park their car and find everything within walking distance or just a short ride away from their lavish domicile.
Additionally, Sky Palace has proximity to Miami International Airport, South Beach, Key Biscayne, I-95 and the new office buildings recently built on Brickell Ave in downtown Miami.
Numerous floor plans. There truly is something for everyone. SkyPalace offers one-, two- and three-bedroom condos and a variety of floor plans for each. There are also several amazing penthouses with sizes as big as 2,100 square feet.
Affordable Prices. Because SkyPalace is being built in 2010-2011, construction costs are nearly half of what they were just two years ago. That savings is being passed on to the condo buyers. Prices for the condos start at just $254,000.
Want to know more about SkyPalace at Mary Brickell Village? Would you like to see what other Miami condos are available? Need help determining the true value of Miami real estate? Speak to an expert.