Condo Hotels Offer Hassle-free
Vacation Home Ownership
Condo Hotel Description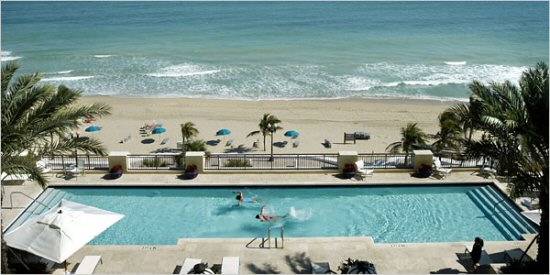 Condo hotels are a new trend in second home ownership. Buyers can purchase a luxury vacation condo at a world-class hotel. They can enjoy all the amenities and services of the hotel. When not in residence, they can place their condo in the hotel's rental program and share in the revenue it generates, which helps to offset the costs of ownership.
Condo Hotel Locations
The condo hotel concept began in places like Miami Beach and Fort Lauderdale, and these areas have dominated in terms of the quantity and quality of condo hotels. But now the concept is becoming popular in other parts of Florida including Orlando, Naples, Fort Myers and the Tampa-Clearwater area.
Condo Hotel Properties and Brands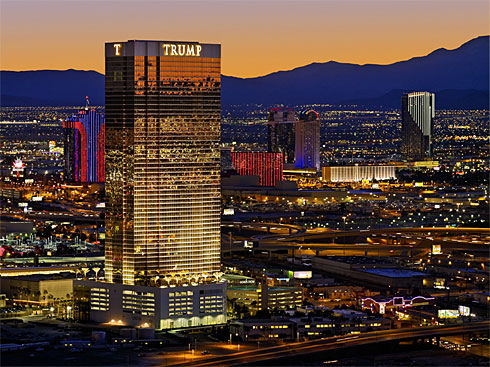 Condo hotel properties are usually large, high-rise, luxury four-or five-star hotels. They are operated by the biggest names in the hospitality industry like Four Seasons, Ritz-Carlton, Trump International, Sonesta, Hyatt, Starwood, Hilton, Clarion, Regent International, Rosewood, Conrad Hotels and Le Meridien.
Condo Hotel Management Companies
Condo hotel owners have the option of putting their condo hotel unit into the hotel's rental program. This is what makes condo hotels so attractive. A professional management company handles renting out the units when they are not in use by the owner. The management company also maintains the condo hotel units and the property's common areas, operates the amenities and provides all guest services.
By capitalizing on the hotel's name recognition, advertising, national affiliations, centralized reservation system and management expertise, condo hotel unit owners typically receive a higher level of rental income than they would from ownership of a traditional vacation home.
Condo Hotels Versus The Others
Condo Hotels
Versus
Traditional Vacation Condos and
Single-Family Homes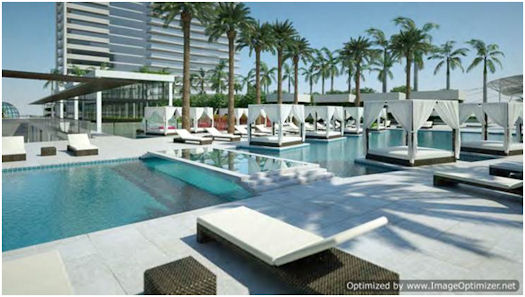 Condo hotels are not the typical second home. They are fabulously-furnished condominium suites in some of the most famous hotels and resorts in the country. Owners have access to all of the luxury amenities and services of the property, ranging from full-service spas and state-of-the-art fitness centers, to fine dining restaurants and concierge services.
Like a traditional vacation home, owners can use their home when they want. However, unlike a traditional home, they have the option of participating in the property's rental program and sharing in the revenue the home generates. Ownership is 100% hassle-free as all maintenance and rental issues are handled by in-house management company.
Condo Hotels Versus Timeshares
With a timeshare, owners are typically allotted just one or two weeks of the year to use their condo. They receive the same calendar weeks unless they go through a process to trade time with someone else.
With a condo hotel unit, owners have deeded ownership to their condo and can usually use it when they want (within the guidelines of the rental program agreement).
Furthermore, when they're not using it and the hotel is able to rent the room, the owner receives a portion — usually in the 50% range – of the rent revenue.
Finally, timeshares can be difficult to resell, even if the seller is willing to take a loss. Condo hotels, on the other hand, because of their prime locations, limited inventory and upscale quality, are a highly-desired commodity. They are more likely to appreciate over time and can be readily resold.
Condo Hotel Buyers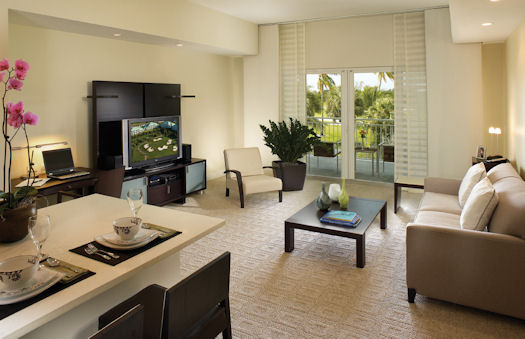 Typically, condo hotel buyers are vacationers who appreciate the many wonderful amenities available at luxury resorts. They may also recognize the appreciation potential of a revenue-generating vacation home.
The appeal is not limited to U.S. buyers. The concept has received international attention. In particular, buyers from Latin America and Europe are competing with Americans for the best properties.
The Appeal of Condo Hotels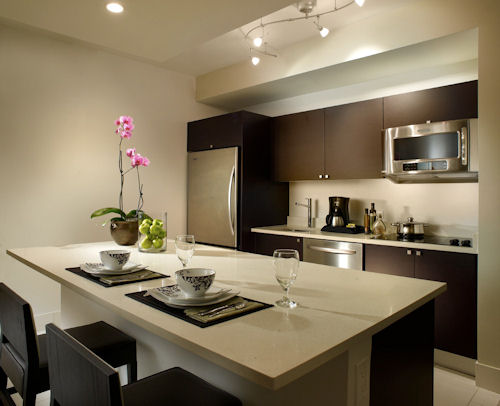 Condo hotels are attractive because they offer a luxurious lifestyle and hassle-free ownership. In addition, low interest rates and a volatile stock market have caused investors to diversify and consider real estate alternatives like condo hotels.
Condo Hotel Financing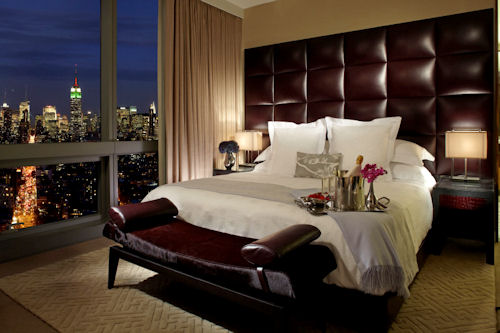 Now that the concept has become accepted and well-known, U.S. lenders have been readily making loans on condo hotels, both to domestic as well as international buyers. Rates are slightly higher than for primary residences. Typically 20% to 30% down is required.
Are Condo Hotels Investments?
The Securities and Exchange Commission (SEC) does not permit developers or realtors to sell condo hotels as investments. They are sold simply as vacation homes and a "lifestyle," and no income projections can be provided. Nonetheless, many buyers are interested in the investment potential of condo hotels.
Some of the factors they take
into consideration are:
Rent Revenue
Condo hotel units will produce rent revenue. That revenue can partially or completely offset the costs of owning and maintaining the vacation home.
Appreciation potential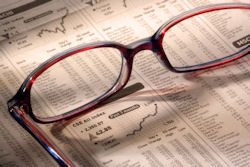 Most condo hotels are located in areas that have seen the highest appreciation rates such as South Florida, Orlando and Las Vegas.
Diminished supply of
available land
Desirable locations to build are few. A dwindling supply of available land in key markets, particularly sites on the ocean in Florida and on the Strip in Las Vegas, help ensure that condo hotels, like other types of real estate built in these locales, see significant capital appreciation.
Real estate as a stock market alternative
Many people seek to diversify their financial holdings, combining stock market investments with real estate holdings.
Best Time to Purchase a Condo Hotel Unit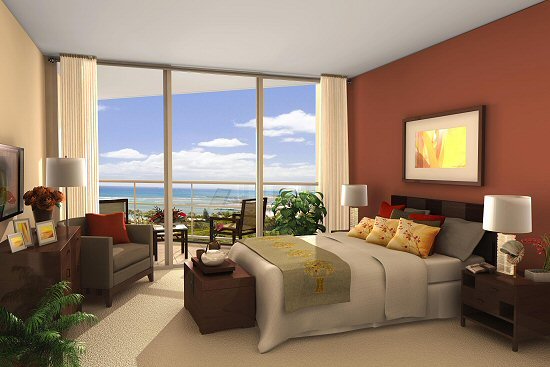 Buyers who purchase a condo hotel unit in early pre-construction phases, when prices are lowest, have the best chance of seeing their investment appreciate. There is a limited inventory of condo hotels, and many properties actually sell out in the pre-construction phase.
As word continues to spread about condo hotels, more and more investors from around the country and around the world are learning of this new real estate trend and looking to participate. In addition, millions of baby boomers are approaching retirement and seeking second homes for their personal enjoyment. Demand is increasing. But so is inventory as developers recognize the benefits of creating a mixed-use property and seek to meet that growing demand .
The Dynamic Condo Hotel Market
The condo hotel marketplace is constantly changing as new properties become available and others are sold out. To find out what properties are currently on the market and to be able to purchase when prices in a development are at first tier and selection is greatest, choose to work with a realtor who specializes in condo hotels. He or she can help you define the type of property that will best suit your needs and identify specific condo hotels for your consideration.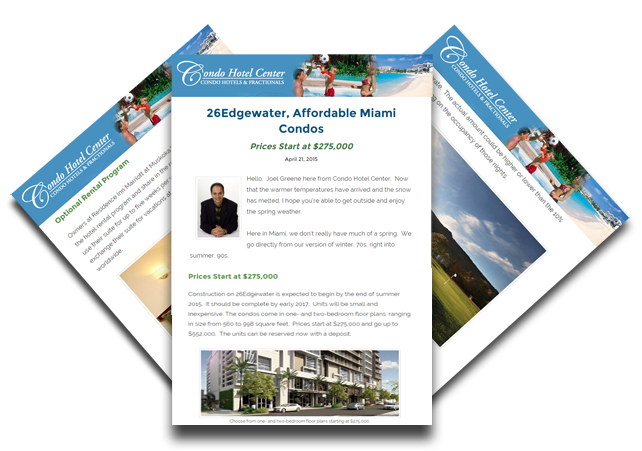 Learn About New Properties Before the General Public
As a service to our clients, we provide FREE Property Alerts via e-mail. We often learn about condo hotel and condo buying opportunities in advance, when prices are low and a full selection of inventory is available. Get the scoop on new properties.

Learn More About This FREE Service