A Long History in Commercial and
Residential Real Estate
While condo hotels are relatively new in the real estate industry, the people behind Condo Hotel Center have been in the commercial and residential industry for more than four decades.
Condo Hotel Center is a division of Global Real Estate Company, LLC, a real estate brokerage founded in 1970. A family-owned business, the firm has a long, successful background and an excellent reputation.
Joel Greene
President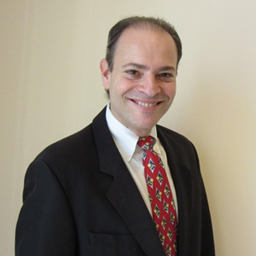 Background
Joel, a graduate of the University of Florida and licensed real estate broker, began his career working in the areas of commercial real estate.
Originally, he specialized in the sale of apartment buildings and shopping strip centers. But in 1988 he joined his father's business, Sheldon Greene & Associates, Inc., which would eventually become Global Real Estate Company, LLC. There he focused his attention on hotels and motels.
In 2002 he began to see the first hints of the budding condo hotel market. He worked with Sheldon to launch a new division called Condo Hotel Center and assumed the role of President.
Corporate Philosophy
Under Joel's leadership, the company grew rapidly and extended its reach from Florida condo hotels to properties throughout the U.S. and worldwide.
"We built Condo Hotel Center based on the premise that buyers are intelligent and savvy. If you give them accurate detailed information, they can analyze a property and determine whether it's right for them," Joel explained.
"No hype or hard sell is needed. That's been our guiding philosophy from the start – to be a reliable, trusted information source on condo hotels."
Memberships
Joel is a member of the Greater Miami & the Beaches Board of Realtors and has sat for several years on the board's Grievance Committee and Professional Standards and Ethics Committees.
Interviews, Lectures and Publications
Joel has been referred to as an expert in the field of condo hotels and has been interviewed for many articles on the subject. He has been quoted in the Wall Street Journal, The New York Times, USA Today, Business Week, Travel & Leisure, CNN/Money Online and many other publications.
He is a guest lecturer to real estate and hospitality classes at Florida International University. He is also the editor of Condo Hotel Center's popular Property Alert newsletter.
Specialties
Joel works with clients from all over the world, many of whom not only appreciate his knowledge of hospitality products but also his firsthand knowledge of real estate in South Florida where he has lived since age three.
He has also become a world-renowned specialist in foreign real estate, particularly Dubai condo hotels. He recognized and capitalized on the investment potential of this new region long before any other North American realtor.
In addition to Condo Hotel Center, he manages Condo Hotels Dubai, www.CondoHotelsDubai.com, a niche website focused on condo hotel properties being developed in Dubai, U.A.E.
Personal
Joel is married to Jackie, a social worker at Health South Rehab Hospital, and they have identical twin 16-year-old girls, Haley and Lindsay. They live in Pembroke Pines, Florida.
Sheldon Greene
Founder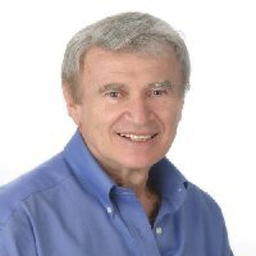 Background
Sheldon Greene was originally from New York City where he was the youngest officer in The Futterman Corporation, a publicly traded, diversified, nationwide real estate company.
In 1967 he relocated to Miami, Florida and soon established Sheldon Greene & Associates, Inc., which would eventually become Global Real Estate Company, LLC. The real estate firm specialized in hotel brokerage, a unique niche at the time. It quickly made its mark, achieving worldwide success and earning respect throughout the hospitality industry.
Vision for the Future
In 2002, it was Sheldon who recognized the condo hotel niche and decided to dedicate a division of his company to this burgeoning field.
"I saw the concept of hassle-free luxury vacation homes as an ideal solution for baby boomers entering their retirement years as well as busy families who wanted to maximize their vacations and diversify their investments," Sheldon said.
"At the time, from a developer standpoint, condo hotels offered a way to make projects feasible. Getting financing for a $100 million hotel wasn't likely in what was then a difficult lending environment. By leveraging the project with multiple investors who each owned a single condo hotel unit, the project became viable. I saw condo hotels as a win-win situation for buyers and developers."
Experience
Sheldon devoted his entire career spanning five decades to real estate sales, real estate appraising, consulting and new business start-ups. His firm made real estate law when it won a landmark case regarding real estate brokerage in the Florida Supreme Court.
Articles & Publications
Sheldon has written over 100 articles on various real estate topics, which have appeared in Hotel & Motel Management, Real Estate Today, Canadian Resort & Motel Magazine, International Motel Review, Business Leader, National Innkeeping, and Innside Issues. He also was the founder and editor of the widely-read and respected The Greene Report for 15 years.
Memberships
For more than 10 years, Sheldon served with distinction as an Office and Director of the Miami Beach Board of Realtors and was elevated to the status of Trustee. He served on the Realtors Grievance Committee and Professional Standards and Ethics Committee for over 40 years.
Hotel Brokers International (HBI) granted Sheldon an Honorary Lifetime membership in recognition of his service to HBI and the hotel industry.
Personal
Sheldon Greene passed away in November 2011. He is succeeded by his son, Joel Greene, who currently serves as president of Condo Hotel Center.
Learn more about
Condo Hotel Center services
checking….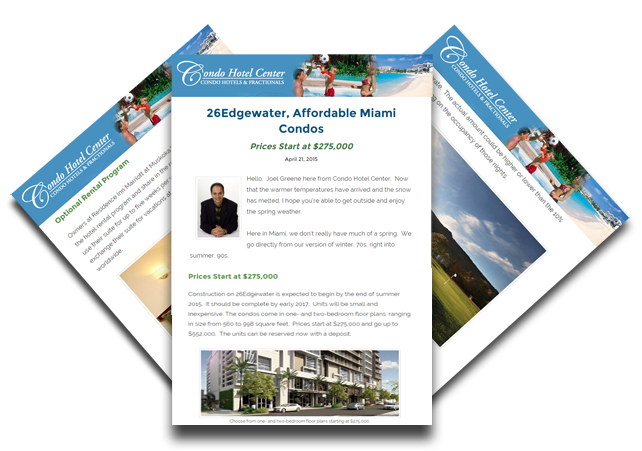 Learn About New Properties Before the General Public
As a service to our clients, we provide FREE Property Alerts via e-mail. We often learn about condo hotel and condo buying opportunities in advance, when prices are low and a full selection of inventory is available. Get the scoop on new properties.

Learn More About This FREE Service