Where can you find the best deals on condos these days?
While plenty of cities across the U.S. have seen a significant decrease in condo values, South Florida, and specifically the Miami area, has probably seen the biggest decline.  A long-time favorite of both domestic and international investors, condo sales and new construction were proceeding at a frenzied pace from 2003-2006.  As the bottom fell out of the real estate market and financing became non-existent, condo inventory flooded the market and prices dropped.
What's the condo situation in Miami now?
The excess condo inventory, now more affordably priced, has been moving.  Buyers, most of whom plan to live in their condo or use it as a vacation home as opposed to investors who plan to buy it/flip it for a quick profit, have been taking advantage of the wide selection and reasonable prices.
What should you look for in choosing a condo?
Location, as you know, is always important with any type of real estate.  That's certainly true for condos.  In terms of the South Florida area, you have a choice of upscale, metropolitan downtown Miami or locations on the water.  Both have a lot to offer; you just need to determine what suits your needs.
Another key factor in choosing a condo is the amenities.  Many of the Miami condo developments offer features that are on par with upscale hotels.  You'll find resort-style pools, state-of-the-art health club facilities, concierge services and more.
Finally, you'll, of course, want to consider price.  You want good value for your money and also a property that has appreciation potential.  Some condo developments are offering decent incentives to buy now and others are willing to negotiate price.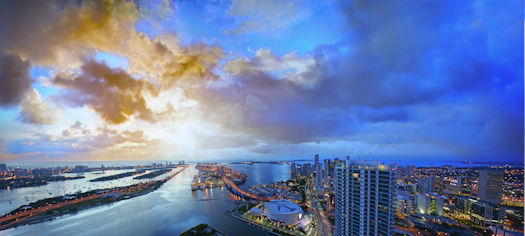 What factors could be red flags to avoid in choosing a condo?
You'll need to do your homework to find out if there are any legal issues surrounding the condo development.  You don't want to step into someone else's legal mess.  You'll also want to have a clear understanding of the homeowners' association rules and responsibilities.  Find out what the Board's insurance covers and make sure you're not at risk of additional assessments.  Lastly, look at the tenant-owner ratio at the property.  The fewer tenants, the better, as owners take better care of their condos.
Is it better to buy your condo from a developer or an individual homeowner/seller?
At this time, you'll probably get a better deal if you buy from developer inventory.  The reason for that is simple.  Developers have multiple units on their hands, making them motivated sellers.  Many of the individual sellers are investors trying to regain the loss in value they've experienced if they bought at the height of the market.  Also, when you buy from developers, you're getting a brand new, never used condo.  Everything is in perfect condition and you can easily decorate it your way.
How can you find what condos are available and also get comparison data to help you in making a well-informed decision on your real estate purchase?
Contact a professional real estate agent in the area where you wish to buy.  He or she can provide you with the facts and figures you need, as well as take you to see individual properties.  A realtor can also assist you in negotiating the best deal on your condo.  The best part of using a realtor is that as a buyer, the realtor costs you nothing.  Realtors receive their commission from the seller.