By Ian Clover
Property Mart Overseas – United Kingdom
A popular investment choice among cash-rich Americans and foreign investors, condo hotels are becoming big business in the United States. Buying a residential unit in a world-class hotel might sound ideal, but are they worth the additional expense, and how often do you get to use it yourself? Ian Clover reports.
Sidewalk, Diaper and Fanny Pack – as Brits, we know what these words mean, but would never dream of using them in common UK-based parlance. Not because we have any acute fear of the Americanisation of the UK (a quick glance down any high street in England shows that we are already in the advanced stages of becoming the 51st State), but rather an aversion to phrases that are deemed to have originated 'across the pond'.
Which is why the condo hotel trend currently sweeping the U.S. might struggle to make much of an impact on this side of the Atlantic. The hotel part is fine, but there has always been a deep mistrust of the phrase 'condo', in a similar way to how 'timeshare' has become such a taboo word, particularly in the real estate business.
Vdara (rear, far right corner), with 1,543 condo hotel units, is located in CityCenter, a $7 billion development in Las Vegas on The Strip that will include casinos, restaurants, retailers and an immense entertainment district.
Short for 'condominium', a condo is a type of real estate unit (usually an apartment) which is owned individually while the remainder of the building (hallways, recreational facilities etc) is collectively owned by all of the residents.
This type of ownership is becoming relatively common in the States, but was only introduced in England and Wales as a form of ownership in 2004. Known as Commonhold (much more British-sounding, don't you think?), it has yet to really catch on.
However, a condo hotel is different, and much more appealing. Located throughout the U.S. but especially prevalent in Miami, Ft Lauderdale, and Orlando, FL and Las Vegas, condo hotels are condominiums located (usually) in four- and five-star hotels. Each unit is owned exclusively by the owner, who can use it, largely, whenever they like.
When they are not using it, the unit may be placed into the hotel's rental program and is then offered by the hotel as a typical hotel room. The revenue it generates is typically split 50/50 (it varies slightly from condo hotel to condo hotel) between the hotel and the unit owner, after management gets approximately 10% off the top.
The owner pays for the real estate purchase, property taxes, maintenance fees and insurance for his unit, while the hotel management company markets the rooms, and rotates reservations among the various units, ensuring that each room gets maximum occupancy.
This is not a new concept, as Joel Greene, President of Condo Hotel Center in Florida, explains. "Condo Hotels have been around for decades and were extremely popular in the early 1980s. However, a tax law [the Tax Reform Act] introduced in 1986 made them less en vogue, and so their popularity declined."
Eventually, though, developers began to realize that the condo hotel concept still made sense. But the product needed to be marketed more as a vacation home and a lifestyle, rather than an investment.
Today, the resurgence of the condo hotel has been more than impressive: at the start of 2006, official figures from Lodging Econometrics showed that, of the 377,000 hotel rooms under development throughout the U.S. at that time, roughly 10% (30,500) were condo hotel units.
Where did this renewed popularity come from? "There was a nationwide resurgence seven or eight years ago after a developer began work on a condo hotel in Coconut Grove, an area of Miami," explains Joel. "They were so successful – with ten price increases before completion – that the trend really started up again."
The reasons for the trend reigniting are manifest, but it seems that a coupe of influential market conditions really went in the favour of condo hotels.
"After 9/11, hotels in the U.S. were really suffering because nobody wanted to travel. As occupancy levels and hotel's bottom lines dropped considerably, bank loans for the construction of a new hotel became more risky," says Joel. "But by pre-selling units to home buyers the risk was reduced, and much of the financial costs were moved to the condo owners."
For developers, the concept of constructing a condo hotel is extremely attractive because they can recoup a large percentage of their construction costs upfront while retaining ownership and control of traditional hotel facilities such as conference rooms, restaurants and spas.
Allied to this, owners not only get a fabulously located four- or five-star residential unit as their own, they also get to benefit from premium amenities; such as concierge services, room service and the prestige of owning real estate at a Trump, Marriott, Ritz-Carlton or Hilton.
"Typically, what makes for a good property investment is location, location, location, which is the key word in real estate. However, with condo hotels, I think location is second to a good franchise. Give me a Donald Trump condo hotel property, and I can sell it no matter where it is located."
Prices for condo hotel units generally range from a minimum of $250,000 (£127,000) to over $1 million (£520,000). In the U.S., these prices represent a fair investment, largely because the best hotel chains develop close to the oceanfront in upmarket resorts (like Orlando, Chicago, Myrtle Beach, San Diego and NY), or in Las Vegas. Plus, for a unit to be appealing and attract year-round tenants, certain standards need to be maintained.
Yet for a British buyer purchasing in Sterling (which at the time of writing is still worth double what the Dollar is), these prices represent something of a bargain. "There is a lot of interest from the UK for our Orlando properties," reveals Joel. "But a lot of Brits are preferring Dubai instead [which also has a growing condo hotel market] because it is closer and easier to get to."
Internally, the market is being buoyed by the U.S.' huge baby boomer generation. "It is this generation, aged between 40-60, that is buying. They are cash rich, perhaps at their very financial peak (in their respective jobs) and, at the same time, their parents are dying off, leaving sizeable inheritances. They have huge disposable incomes and, post 9/11, are still weary of the stock market."
U.S. real estate has a tendency to rise over time, more so than inflation, so investment in property is usually a safe bet. "Plus, a second home in a condo hotel bearing the Trump name is the same as having a BMW parked on their drive – it is the ultimate status symbol," says Joel
While its value as a status symbol is not in doubt, does a condo hotel represent a profitable investment? Although not your typical second home, condo hotels should still be treated as such. They provide superb vacation accommodations for a few weeks per year, with the added bonus of hassle-free ownership and the potential that the rental income accrued might cover expenses.
"As the unit owner, you own the real estate and can use it whenever you want subject to living restrictions, which are placed on some condo hotel developments by the local government," explains Joel.
"If a developer wishes to build a condominium in a resort area, the government may refuse because they might want a hotel to be built so that they receive hotel tax, which is then used to improve the infrastructure of the area.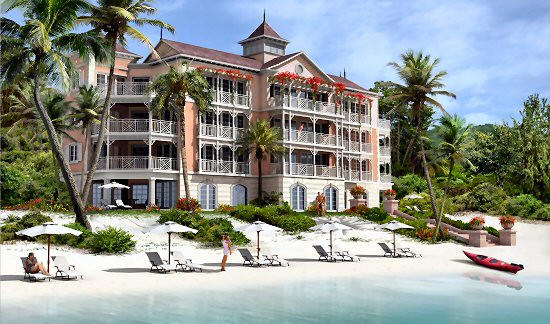 The Westin La Paradis Beach & Golf Resort, St Lucia: This four-star condo hotel is found in the tropical paradise of St. Lucia in the Caribbean. Stunning scenery, fantastic weather and lower prices abound.
So, the developer might then suggest a condo hotel, and the government, in order to ensure that the units are not occupied by the owners throughout the year, will then place living restrictions on the development which might state that they, the unit owner, can use the residence for, say, 60-90 days of the year. The balance of the year, the unit must be placed in the hotel rental program."
Not being able to use the property as much as one may want might seem like a drawback but, as Joel explains, if this is what you want to use the property for, a condo hotel unit might not be the best option for you.
"Most buyers are purchasing condo hotel units as second homes, but also as investment properties, with one eye on rental income. If they want to use it for six months at a time, it would make more sense for them to buy a typical condominium instead."
Whenever rental returns are touted, it is usually the agent's job to eagerly sell the rental potential of a property. However, in the U.S.. condo hotel salespeople are forbidden from making any specific reference to rental potential, occupancy levels or room rates because the actual value of this potential is unknown.
"The Security and Exchange Commission (SEC) dictates that the developers of condo hotels may not sell the investment aspects of a property;" explains Joel.
"They can talk about the real estate, its location, its amenities and services, its franchise, hassle-free ownership, pride of ownership, and potential capital appreciation, but a developer or agent cannot talk about potential cash flows, expected occupancies or returns on investments, and they will never offer a guaranteed return.
"Hopefully the rental income generated will cover the cost of expenses and maybe even generate some additional cash; but we cannot tell a buyer to expect a certain amount of revenue." For many beleaguered buyers, unsure who to believe, this approach might actually come across as rather refreshing.
"If you are after rental returns of 8%-12% a year, then a condo hotel is not for you," reveals Joel. "However, if you are seeking a superb second home, wish to generate some rental return and maybe see some capital appreciation, then by all means buy a condo hotel in Florida.
A good condo hotel is, as explained by Joel, one which is part of a famous franchise. Not only because of prestige – which attracts more customers – but also because of standards and marketing budgets.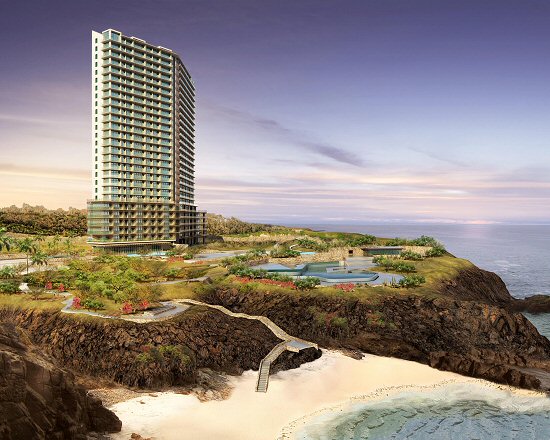 Trump Ocean Resort, Baja, Mexico: One of the most popular in Condo Hotel Center's portfolio, this exciting Trump condo hotel is just across the U.S. border in Mexico, where prices are one-third that of neighboring California.
A large, world-renowned brand name will offer top-of-the-range services and be managed by a professional management company. Not only will they charge higher room rates (great for you) but you will also benefit from their international marketing exposure and a centralised, more efficient reservation system, meaning the rental potential of your unit is maximized.
However, no matter how much of its potential your unit fulfils, there are, as we know, no guarantees that it will generate enough rental income to cover running expenses, or make you any profit. With most condo hotels, there is a 'Condo Association', with a monthly fee. In Florida, for example, the average monthly fee is approximately $1-$1.50 per square foot.
Also, most units will come furnished in the style and décor of the hotel, with owners not allowed to make any decorative changes.
Some hotels also require advanced notification of your arrival (often up to 60 days), may charge daily housekeeping fees and subject you to check-in and check-out timetables, just like any guest in any hotel around the world. The nice thing though, is that you will never pay any hotel taxes when you are a guest in your own unit.
As far as holiday homes go, there are probably other options worthy of consideration. If you wish to buy somewhere you can retreat to whenever you feel like it, have a chat with the neighbours and become a temporary member of the permanent community, a condo hotel is not for you.
However, if you wish to purchase a prestigious, luxurious and well-located property in an exciting resort with fantastic amenities and services, benefit from a few weeks' holiday each year and maybe recoup some of your outlay in rental income, and eventually reap a profit when you sell your vacation home, then a condo hotel might just fit the bill. Or should that be 'check?'