Update on Auction at Fountains on
Ocean Boulevard
March 7, 2011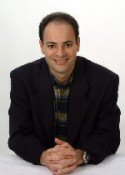 Joel Greene here from Condo Hotel Center.  Today I have a quick update for you on a property I told you about a couple of weeks ago.
I spent Saturday afternoon this past weekend at the auction for the Fountains on Ocean Blvd. in Fort Lauderdale and thought you might like to hear how it turned out.   All 20 remaining condos of this 61-unit property were sold, as expected, and based on the shock on many of the bidders' faces, for a lot more than they had expected.
I knew that there would be a great turn-out, as I visited the property five times myself with seven different prospects, and the showroom was always buzzing with interested prospects no matter what hour of the day or whether it was a work day or the weekend.
Best guess, there were 250-300 bidders and their spouses and or brokers in attendance that were seated, and dozens more lined and leaned against the walls.  The auction company announced that there were also 80 online bidders with more than a handful in other countries, mostly in Europe.  I estimate that 10% of this group was represented by my firm.  (Thank you.)
About 90 minutes after the auction started, all of the condos were spoken for and the winning bidders were all moved to a side room to sign the contracts.
I kept track of the bid prices and winning bids and am now able to share my observations.
For starters, the average condo sold for about 194% of its starting bid price.  Another way of saying that is that condos with starting bid prices of $179,000 ended up at about $345,000, and the ones that started at $269,000 ended up at about $525,000.
Obviously, the nicest, biggest condo, on the highest floor, with the best view (unit 775) had the top sales price of $540,000, ($279,000 bid price), but as a percentage over the asking price, this was not even in the top five.
It's not surprising that the two condos that commanded the highest prices over the starting bid were the least expensive units, the ones that started at $124,000 and $129,000.  These were obviously the ones that were the most affordable, even if they ended up at $287,500 and $300,000 respectively.
Additional Observations About the Auction
Only 3 of the 20 condos were sold to internet bidders.  Clearly, the advantage to being there in person is that you can gauge your competition to see if one more $2,500 incremental bid will push out the competition and make you a winner.  The online bidders could hear but not see what was going on.
As mentioned, the cheapest condos based on starting bids were bid up the most percentage-wise.  Similarly, the smallest floor plan B, with 1,294 sq. ft., was the highest bid condos as a group.
There was no particular rhyme or reason to the order in which condos were auctioned off, but overall the last four condos of the 20 that were sold had four of the five highest overall price increases over the starting bid.  Maybe this was a final act of desperation from the many bidders who had watched their other favorite condos get bid out from under them 16 times earlier so they got more aggressive.
All things considered, the winning bidders paid on average about 48% less than the asking prices for these condos prior to the auction.  We are offering many other properties that are not being auctioned where the prices currently reflect a savings off of the previously contracted for prices of 30%-50%, plus the added benefit of buying one of them is there's no 5% buyer's premium added to your price as there is in an auction sale.
I couldn't help but notice that the bidders who left happiest were not necessarily the ones who won, but those who were represented by me personally.  Maybe that's just coincidental, but it was certainly undeniable.
Other Good Florida Condo Deals
We are seeing signs with greater frequency that Florida's real estate slump has hit the proverbial bottom.  Buyers are returning to market and purchasing their ideal vacation/investment home and at prices far less than a few years ago.
If you feel like you missed out on getting a great condo in Florida at the Fountains at Ocean Blvd. and might like to see what else is on the market, you can see our Florida condos here.
If you want to be a part of our next auction opportunity (in Clearwater, FL in about two weeks), it's not too late.  You can read the Property Alert about the upcoming Station Square auction or contact me directly for details.
Thank you for your continued interest in our properties and for sharing our website and Property Alerts with your friends.  It certainly means a lot to us.
Have a great week!
Joel Greene
Licensed Real Estate Broker
Condo Hotel Center
1368 NW 165th Ave.
Pembroke Pines, FL 33028
(954) 450-1929
Joel@CondoHotelCenter.com
www.CondoHotelCenter.com
www.CondoHotelsDubai.com
www.WorldClassCondoHotels.com
www.CondoHotelsBahamas.com 
www.CentralAmericaSecondHomes.com
www.DominicanRepublicVacationHomes.com
Want to know more about me? Click below:
//www.condohotelcenter.com/joel-greene.html
Follow us on Facebook.
© Copyright 2011 Condo Hotel Center
*All rights reserved. No portion of this Property Alert may be reproduced, exhibited or distributed without the express written permission of Condo Hotel Center. Although Condo Hotel Center believes the information contained in this Property Alert to be accurate and complete, Condo Hotel Center can make no such guarantee.