Affordable Real Estate Opportunity
Ideal for Investors Seeking Portfolio Diversity
July 28, 2015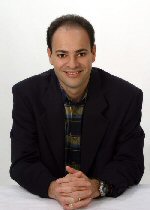 Hi, it's Joel Greene from Condo Hotel Center. I recently had the following conversation with a client:
Client: Joel, I've been looking at the properties described on your website. They're all very beautiful, but most are too expensive for me. I'm a small investor. Do you have anything for us little people?
Joel: I can check, but first can you tell me exactly how tall you are?
Fortunately, my client has a sense of humor. And while it's true that most of my properties are upscale, I do have a new investment opportunity for him and for you if you're interested in something affordable, with a great return and that allows you to expand your portfolio. Read on for details.
Everyone Needs More Space
The real estate I'm offering today could never be used as a vacation home, but you could certainly use the income it generates to go on vacation.
I'm talking about income-producing storage space located at one of several desirable locations in the UK. A storepod is an individual storage unit set in a safe and secure facility with 24/7 access.
Everyone needs more space for their "stuff." For individuals and business customers, it's a way to store belongings, furniture, equipment, inventory, paperwork and more.
For you, it would be a hands-off investment with projected growth. The storage unit is rented and managed for you. It provides a decent return with little risk and has a low entry cost.
The Right Location
Everyone wants their storage unit to be convenient to their home or work. The storepod sites available are all located in vibrant office and commercial business parks, with easy access to major roads and within short driving distance of densely populated urban areas. All of the sites have exposure to large traffic flow from highways and main roads.
Self-storage was first established in the UK in the 1980s in the London area. Over the last decade, the industry has seen the highest yielding returns within the commercial property sector.
Additionally, the UK storage market has grown at a rate of 10-15% per year. That growth is expected to continue and accelerate. Currently, approximately 815 self-storage facilities operate in the UK.
An Experienced Developer
Group First Global LTD is the company behind this investment opportunity. It has many years of experience in successful property development and buy-to-rent investment opportunities. The company has been involved in the acquisition and sale of over £1 billion (over $1.55 billion USD) worth of mixed residential and commercial property in England.
In the last four years, Store First has acquired and developed 20 self-storage centers, with an additional 15 new sites nearing completion. It has become the fastest growing self-storage company in the UK. And all of Store First's sites, whether operational or in development, have no mortgage liability. The company is debt free.
Store First Limited is the wholly-owned subsidiary of Group First Global Limited. You may recall the Group First name from a previous Condo Hotel Center write-up. Group First also owns Park First, which offers parking spaces at the car parks at the international airport in Glasgow, Scotland, and soon at other UK airports.
(For more on this investment opportunity, please visit //www.condohotelcenter.com/alerts/glasgow.html and request our Glasgow data sheet.)
How Ownership Works
As an investor in a storepod, you would get a personal title deed from the land registry. You would receive income from a six-year lease already in place upon completion. Store First Management Limited will handle all aspects of finding and managing renters.
There is no fixed term for the investment. The term of the sub-lease with Store First is six years with two-year break clauses; however the leasehold interest can be re-assigned at any time.
For the first two years after purchase, you get a guaranteed 8% net rental income. The rental income is paid directly into your bank account at the beginning of years 1 and 2.
After two years, you get a projected income, which is no longer guaranteed. The rent per square foot paid to investors by Store First Management Limited is scheduled to grow from £17 per sq. ft. in years 1 and 2, to £21 per sq. ft. in years 3 and 4, to £25 per sq. ft. in years 5 and 6.
As a result, Store First offers the following projections:
Projected 10% net return (years 3 and 4) paid quarterly
Projected 12% net return (years 5 and 6) paid quarterly
Again, just to be clear, years 1 and 2 are fixed at 8%. Years 3 onwards are forecasted returns and could vary. As always, speak with your personal legal and financial advisors to determine whether this investment is suitable for your objectives.
A Storepod for All Budgets
Different sized storage spaces are available from as few as 25 square feet and starting as low as £3,750, which is less than $6,000, on up to 150 sq. ft., which is approximately $35,000. There is a storage space for every budget and a renter out there who needs it.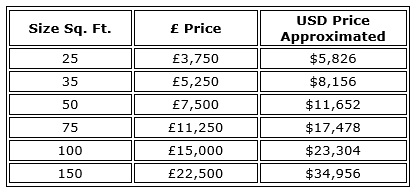 Storage units are all cash purchases with 10% due at reservation and the balance due with your executed contract. You may purchase as many units as you would like, but there are no discounts for bulk buys.
Investments for "Little People"
I started this write-up by telling you I finally had an investment opportunity for "little people." Of course, as an easy, hands-off, affordable investment opportunity with great profit potential, its appeal is evident to investors big and small.
Want more information? I've got plenty. Too many details to list them all here. So request my Store First data sheet. Just click here, and please be sure to include your full name and mailing address.
Even though I'll be sending you the data sheet by email, Store First requires your information before they'll allow me to share their facts and financials.
I realize this Property Alert deviates from my usual upscale condo or vacation home development. Storepods aren't very sexy – fewer pretty pictures and no dreamy descriptions of endless sugar-sand beaches. Nonetheless, I appreciate the opportunity to introduce you to new and intriguing real estate investments.
If, however, you are looking for a more traditional condo or condo hotel, whether as a primary home or second home, please feel free to contact me or to search our website. We've recently given it a major overhaul and made it mobile friendly, so you can more easily find a property that's right for you, www.CondoHotelCenter.com.
Have a great day!
Joel Greene
Licensed Real Estate Broker
Condo Hotel Center
1368 NW 165th Ave.
Pembroke Pines, FL 33028
(954) 450-1929
Joel@CondoHotelCenter.com
www.CondoHotelCenter.com
www.CondoHotelsDubai.com
www.WorldClassCondoHotels.com
www.CondoHotelsBahamas.com
www.CentralAmericaSecondHomes.com
www.DominicanRepublicVacationHomes.com
Want to know more about me? Click below:
//www.condohotelcenter.com/joel-greene.html
© Condo Hotel Center. All rights reserved. No portion of this data sheet may be reproduced, exhibited or distributed without the express written permission of Condo Hotel Center. Condo Hotel Center takes copyright infringement seriously. Violators will be prosecuted to the fullest extent of the law.
Although Condo Hotel Center believes the information contained in this data sheet to be accurate and complete, Condo Hotel Center can make no such guarantee. All features and descriptions are subject to change.
Please speak with your personal legal and financial advisors to determine whether this property is suitable for your objectives.