Glasgow International Airport
Parking Investment
Parking Spaces Start at £20,000; Approx. $32,000 USD
October 22, 2014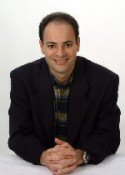 Hello.  Joel Greene here from Condo Hotel Center.  If you're a long-time subscriber to my Property Alerts, then you know most of my write-ups are about beautiful resorts or condominium developments in desirable locations with loads of upscale amenities.
Today I'll be taking a departure from the norm with a Property Alert about a real estate opportunity, just not one that you typically hear about.
If you've ever had to leave your car at the airport when taking a trip, you know how costly it is to park right at the airport for convenience.  For that reason, nearby off-site parking is a good alternative that many people like myself prefer.
Now what if you were fortunate enough to own a piece of one of those nearby off-site parking lots?  That would be a game changer, don't you think?
Would you then enjoy hearing about the thousands of people flying out of town for Christmas?  Or how about all the people taking flights for their summer vacations?  If each of those situations came punctuated in your mind with "ka-ching," hearing about the traveling masses would suddenly be music to your ears.
Today's Property Alert is about how you can invest in your very own income-producing spot near a leading international airport.  Read on for details.
Fasten Your Seat Belts
Through a UK developer contact we've worked with several times before, we have an offer to share with you an alternative investment opportunity in airport parking at Glasgow International Airport in Scotland.  It offers a fixed return of 8% for the first two years and title deeds from day one.
This investment opportunity has only recently become available.  The developer is selling the spaces in the lot that they've run for the past 15 years, and which they plan to continue to operate going forward.  It offers a hassle-free, totally hands-off experience for investors.
Investment Background
Glasgow International Airport is Scotland's second busiest airport after Edinburgh Airport and one of the busiest airports in the UK.  Last year it had almost 7.4 million passengers and is also growing rapidly.
Over £200 million, approximately $325 million USD, has been invested in the last 10 years, and the airport has reported 20 consecutive months of growth with over 700,000 passengers travelling through its doors per month!
Glasgow Airport already has a severe shortage of long-term parking spaces, and due to the forecasted rise in passenger numbers, demand for long-term parking will soon be far greater than the existing supply.  Passenger numbers are projected to be over 24 million by 2030.
Existing car parking spaces, which have been serving Glasgow Airport for over 15 years, have now been released for sale with some attractive terms to purchase and then lease them back.  Spaces for sale are located in Car Park 2, the closest parking available to the airport.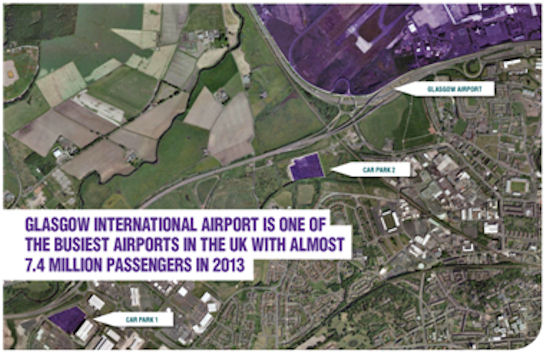 The Opportunity
Here's what you need to know about this offering:
£20,000 per single parking space; approximately $32,000 USD
No limit on how many you can purchase, but there are no bulk discounts
Scheduled price increase Jan. 1, 2015 to £25,000, approx. $40,430 USD, a 25% rise in capital value from day one.
Properly registered title deed at land registry
Six-year lease program with guaranteed returns for the first two years
Five-year built-in exit strategy (detailed in our data sheet)
Six-Year Lease Back
The initial lease is six years.  After that, you'll be offered a new lease or the option to manage the investment yourself.  Given that weekly rental rates for parking are expected to increase (Do they EVER go down?), the returns to the investor should increase over time.
Lease back your space to the operator, and for the first two years, you are guaranteed an 8% net rental income, paid to you annually, in full, at the beginning of each year.
After two years, you will earn a projected income, which is no longer guaranteed:
Projected 10% net return (years 3 and 4) paid quarterly
Projected 12% net return (years 5 and 6) paid quarterly
Based on high year-round occupancy and 15 years of historical income, these projections are realistic figures.
Airport Statistics
7.4 million approximate passengers fly from Glasgow every year
20,000 approximate passengers per day
24 million forecasted passengers by 2030
17,900 forecasted number of long-term spaces needed by 2020
2,700 long-term spaces in 2011
15,500 the actual number of spaces needed in 2011
4,500 long-term spaces released for sale
Ireland's Ryanair Ltd. will start operating at the airport this month, which is predicted to add another 850,000 passengers a year!  The budget airline will operate 55 flights on nine routes meaning the demand for airport parking will increase heavily.
Experienced Operator
The car park will be operated by Park First Limited, part of the Group First Global LTD group of companies.  Group First Global LTD has many years' experience in successful property development and has been involved in the acquisition and sale of over £1 billion worth of mixed residential and commercial property in England.
Ready For Take Off
This is an easy, low-risk, profitable investment opportunity, hassle-free and totally hands-off.   It meets all requirements for Self-Invested Personal Pensions (SIPPs).  It offers a fixed return for the first two years of 8% and title deeds from day one. The developer says you can expect higher returns of up to 12% a year at the end of the lease term, based on a successful track record operating for the past 15 years.
Plenty More Details
I realize that owning a parking space may not be as sexy as saying you own a five-star condo at an oceanfront resort.  And maybe you won't carry a picture of your parking space to show off at parties, but if you've been seeking an affordable and profitable alternative investment, the Glasgow Airport car park venture could be a fit.  Click the link below if you'd like more details on the project.
Click here for more Glasgow Airport Car Park Information.
Coming in for a Landing
As always, thank you for your interest in the properties (and other opportunities) we showcase at Condo Hotel Center.  Now, please put up your tray, return your seat to its upright position, and let me know how I can further assist you.
Joel Greene
Licensed Real Estate Broker
Condo Hotel Center
1368 NW 165th Ave.
Pembroke Pines, FL 33028
(954) 450-1929
Joel@CondoHotelCenter.com
www.CondoHotelCenter.com
www.CondoHotelsDubai.com
www.WorldClassCondoHotels.com
www.CondoHotelsBahamas.com
www.CentralAmericaSecondHomes.com
www.DominicanRepublicVacationHomes.com
Want to know more about me? Click below: //www.condohotelcenter.com/joel-greene.html

Follow us on Facebook.
© Condo Hotel Center.  All rights reserved. No portion of this data sheet may be reproduced, exhibited or distributed without the express written permission of Condo Hotel Center.  Condo Hotel Center takes copyright infringement seriously.  Violators will be prosecuted to the fullest extent of the law.
Although Condo Hotel Center believes the information contained in this data sheet to be accurate and complete, Condo Hotel Center can make no such guarantee. All features and descriptions are subject to change.
Please speak with your personal legal and financial advisors to determine whether this property is suitable for your objectives.