By: Gary Henkin (President, WTS International, Inc.)
If you're like most condo hotel and resort developers, it is likely that your site already has or will have a reasonably sophisticated exercise or fitness center for your guests. But have you considered adding spa services as well? Growth in the spa industry over the past five years has been dramatic to say the least.
The Spa Business Is Thriving A few statistics are worth considering. The spa business is today the fourth largest leisure industry in the U.S. with over $11 billion in annual revenues.
There are an estimated 12,000 spas in the U.S. (inclusive of resort and hotel spas, day spas, medical spas and destination spas) which is up 25% from only three years ago.
Consumers can now find spa treatments at hotels and resorts, doctor's and dental offices, health clubs, airports, cruise ships and malls.
Spa User Demographics Women account for slightly more than 70% of the market, but spa utilization by the male population has been growing at a rapid rate during the past several years.
Currently, about 20% of all spa goers are 55 years of age and older, but the average age of the spa consumer is 40. Average income from this group is in excess of $70,000 per annum and over 50% have college degrees.
A Means to Stand Out From the Competition With this information as a backdrop, many hotels and resorts are seeking better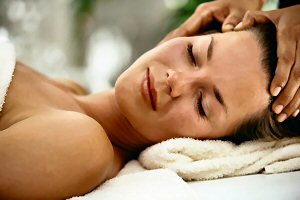 ways to delineate themselves in the marketplace while others simply want to stay up with competition. The development of a spa has become, in many instances, an almost required amenity.
It wasn't such a long time ago that a hotel's description of their "spa" consisted of one or two treatment rooms offering a very limited selection of services. Further, the facility was often located in an inaccessible area of the hotel. That perception has changed dramatically.
Spas Have Become Far More Sophisticated Spas have undergone a significant transformation. This includes design and equipment upgrades to the numbers, types and diversity of the treatment and services menu.
In today's extraordinarily competitive and stressful environment, travelers are often weary when they arrive at their destination and have come to expect a certain level of sophistication in leisure facilities, particularly at more upmarket hotel and resort properties.
A Necessary Hotel Amenity With hotels seeking to consistently differentiate themselves while meeting the requirements of an ever increasingly sophisticated consumer, the inclusion of a spa can assist in achieving these expectations.
Thus, the addition of a quality spa can become an important deciding factor in both individual and group decisions in selecting a particular hotel or resort site versus another.
How then should one best determine whether to add a spa and what size and scope represents the most viable financial and operational modality? Putting it another way, how should a hotel, condo hotel or resort prepare a spa or leisure complex for operational and financial success? It all starts with the planning process!
Planning for a Spa Before taking a "dart throw" approach, consider the potential benefits which can be derived from a needs analysis (or feasibility) study.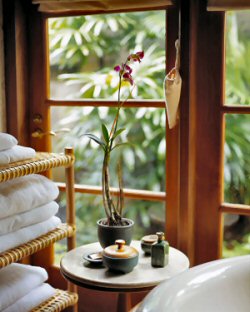 This step should receive due consideration prior to expending significant capital in the design, equipments procurement and construction of a spa which then may or may not meet the expectations of your clientele.
This is true whether you are planning or are already underway with a hotel, resort, residential or mixed-use development.
A needs analysis study will typically offer valuable information upon which the owner/developer can make the best decision whether to proceed to build the spa and, if so, what type, size, scope of services, and location would be most viable.
The report should afford the owner a market study, competitive analysis, recommended space allocation and a preliminary operating pro forma. If a decision is made to proceed, spa planning and design can then move forward based on a circumspective process.
Spas Deliver an Experience A spa is qualitatively different from other hotel development amenities. In the end, what is being delivered to the patron is more than a service – it is "an experience." People who are making decisions each day as to their hotel or resort of choice are doing so, in part, as a lifestyle choice.
As such, design aesthetics will play an all important role in the consumer's mind in his/her choice of spas and in how the spa will eventually perform from a financial and operational perspective.
Before the design process has begun, it is crucial to think through and develop a concept or "theme" for the spa upon which the design will ultimately be based. Remember that a successful spa appeals first and foremost to the senses.
Developing a Spa Theme Research should be done in developing the spa theme and concept with regard to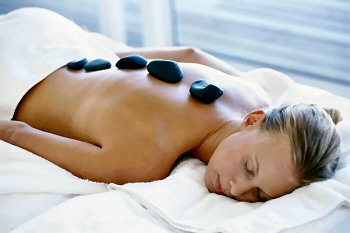 unique features in the surrounding locale, possible use of indigenous products in creation of signature treatments and what the most appropriate "story" for the spa might be.
That said, each property must also consider potential challenges such as upper floor (or below grade) site locations, remote locales with difficult access, etc. Before any details are finalized, the ramification of value engineering decisions relative to finishes, space use and other issues must be clearly defined.
Determining Spa Design Spa design should begin with discussions and meetings between the owner, the architecture and interiors firm(s), a qualified spa consultant and others on the project team.
The spa business is a management intensive one, and operational discussions must be incorporated into the design process. A clear vision as to how the spa will operate and what treatments and services it will offer are necessary to develop an optimal facility design
Treatment Rooms Treatment rooms are the heart of any spa facility. A basic treatment room is typically 120 – 140 square feet in size and includes appropriate lighting, hand sink, countertop and storage cabinets.
All treatment room walls should be constructed to minimize the impact of sound, vibration, and odor from neighboring spaces. The basic construction cost of a massage treatment room ranges from $40 to $55 per square foot (excluding the specialized furniture, fixtures and equipment); wet rooms are more expensive.
Massage Rooms Massage rooms will be the most numerous since this treatment, in all its forms, normally accounts for about 55 – 65 percent of the services given. An FF&E (furniture, fixtures and equipment)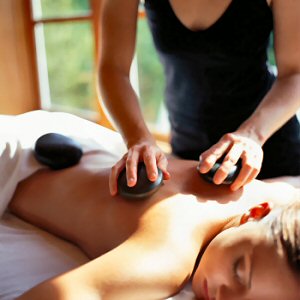 package costing between $2,500 and $3,500 should be sufficient to make a treatment room suitable for massage.
Beginning with the basic treatment room template introduced above, a facial room can be created with a slightly more expensive treatment table and specialized equipment to administer skin care treatments.
Other services such as herbal wraps, mud treatment, and hydrotherapy require a greater investment in both construction and equipment.
While room size will remain unchanged, these rooms will require floor drains, ceramic tile floors and walls, and more extensive plumbing. Construction cost for these rooms approximate those of restrooms and locker rooms – roughly $90 to $110 per square foot.
Equipment packages for wraps, mud, and other body treatments can cost from $3,000 to $4,500 depending upon what specific treatments the spa offers.
Hydrotherapy equipment packages are the most costly. They usually include a tub (with pumps and a water purification system), Vichy showers, and a Scots hose. An equipment package such as this can cost $20,000 to $30,000.
Manicures and Pedicures Manicures and pedicures are frequently offered in spas and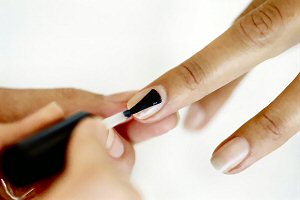 require a dedicated space. Depending upon the number of manicure and pedicure stations, the nail center can range in size from 300 – 500 square feet.
A manicure station occupies about 30 square feet and a pedicure station about 50 square feet. Typical equipment packages for these services range from about $2,000 to $3,500.
Hair Services Hair services are a variable that should also be considered as a part of the spa's strategic business planning, which may include several styling stations at 35 – 45 square feet each. The hair styling needs of a typical vacationing spa patron are modest. Two to four stations for shampoo, blow-drying, and make-up application should be sufficient for most hotel or resort spas.
Locker Rooms Locker rooms with changing areas, toilet facilities, showers, and the like are also important components. Although a hotel guest or resident may not be far from their own room, a spa treatment usually leaves a patron with little desire to travel any appreciable distance before they have had a chance to recuperate and clean up a bit.
Comfortable locker rooms with lounges, quiet area, and ample bathing facilities will be necessary to complete the "spa experience" for patrons. Such areas usually cost between $85 and $100 per square foot to build (including fixtures) but can cost significantly more if high-end finishes (e.g. marble, water features) and lavish furnishings are chosen.
Sanitation and Housekeeping Sanitation and housekeeping are crucial to a spa's success. Spa treatments require a steady supply of fresh linens, sheets, pillowcases, towels, bathrobes, etc. Further, every spa should also include laundry and storage areas, a dispensary, employee break room, administrative offices and robe/relaxation lounge(s).
Critical Factors There are a variety of critical factors (aside from planning and design) that impact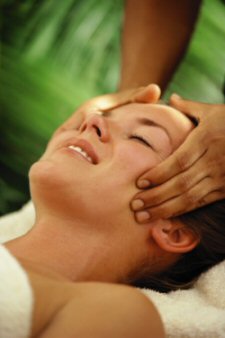 the overall success of any spa. These include the quality and experience of the spa staff, training methodology, product selection and display, operating procedures, promotion/marketing, maintenance, financial controls and the consistency of customer service to name just a few.
Appropriate planning and design, concept development and consistency in the delivery of quality treatments and services are crucial to the success of a hotel or resort spa. There are many variables to consider in the design, construction and equipping of a spa.
The capital investment must be justified by the projected financial performance of the facility and by the more "intangible impact" that the spa will have on occupancy levels, REVPAR, competitive advantage and delineation for the property.
Spas are important magnets for hotel guests, meeting and conference groups, retail consumers and local day spa patrons. An aesthetically pleasing spa that delivers a relaxing, memorable experience can be extremely profitable if operated and promoted correctly while offering the developer an opportunity to delineate and set apart the hotel or resort property.
Gary Henkin is President, WTS International, Inc. Based in Rockville, MD, WTS is one of the world's foremost spa, fitness and leisure consulting and management firms. They can be contacted at (301) 622-7800 or at ghenkin@wtsinternational.com. Their Web site is www.wtsinternational.com.