YOO at Metropica in Sunrise,
Near Ft. Lauderdale
Condo Prices Start at $230,000
November 4, 2014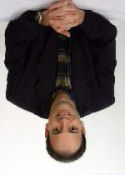 Joel Greene here from Condo Hotel Center.  Yes, I know I'm upside down.  It's a marketing strategy.  You'll see where I got the idea in a minute.  It starts with a story.
In 1960 an Iowa-born developer with big dreams paid $9 million for 2,650 acres of land in southwestern Broward County, approximately six miles west of Fort Lauderdale.
Norman Johnson decided to call his community Sunset Village.  But the few residents who lived there, mostly retirees, complained that Sunset sounded too final, so he named it Sunrise Golf Village.
Norman's plan was to subdivide his land and sell plots to northerners who wanted to build a Florida home.  The problem was no one had ever heard of Sunrise, since he'd just created it.  Getting the word out to prospective buyers was proving to be a challenge.
That's when Norman came up with a great marketing idea.  He would build a model home.  But this wouldn't be just any old model home.  He would build an upside-down house.  And furnish it.  And even put an upside-down car in the upside-down carport.
The media ate it up!  They wrote stories that made the house sound like one of the seven natural wonders of the world, right up there with the Grand Canyon.  Life magazine published a full-length feature complete with photos.
The home became a national attraction that drew thousands to the Village. People came to stand on the ceiling and many stayed to make their home in the community, exactly as Norman had hoped.  Eventually the name was changed to Sunrise and the city expanded to its current boundaries, encompassing more than 18 square miles.
From those humble beginnings, a funny little upside down house has gradually grown into a highly desirable suburb of Fort Lauderdale.  And now, more than 50 years after Norman Johnson founded Sunrise, the city is ready for the next stage of development.
Metropica will be a $1 billion-plus, master-planned community in beautiful Sunrise, Florida, and it is the focus of today's Property Alert.
Metropica Redefines the Urban Lifestyle
Metropica will be a 4-million square foot master-planned community that will transform western Broward County.  Located on 65 acres in the heart of Sunrise, a fast growing suburb of the Ft. Lauderdale market, this project will offer condos and townhomes.
The vision behind Metropica is to redefine today's modern urban lifestyle.  You get a place where work and play and life all happen seamlessly, together. Metropica will encompass:
Up to 2,500 condos
300 town homes
620,000 sq. ft. of stores, restaurants & entertainment
3,600 retail area parking spaces
500,000 sq. ft. of office space
Tentative 125-room hotel
Metropica is one of the biggest new projects in South Florida and is expected to take 10 years to build out.
Fabulous Features
Metropica will be a self-contained community, a virtual city within a city.  Designed to be pedestrian-friendly, one of its most attractive features will be its park-like environment.  It will have hiking, biking and walking paths as well as multiple outdoor play areas all set amidst a lush native landscape.
Other amenities include:
Retail stores
Multitude of restaurants
5-star health, wellness and fitness facility
A resort-styled, South Beach inspired beach club
Rooftop recreation including tennis club & mini-soccer fields
Outdoor Wi-Fi stations
Metropica's first condo tower will be 28 stories tall, and the developer has just begun accepting reservations for those residences.
YOO at Metropica
Metropica's first high rise will be YOO at Metropica/Tower 1 with inspired interior design by the world renowned YOO Studio.
YOO is a recognized international lifestyle and design brand with 75 properties in 54 cities and 32 countries around the globe. YOO at Metropica will have 263 condo units and the following amenities:
Resort-style pool with sun-shelf lounging area
Poolside cabanas
Fully-equipped 24-hour fitness center with multipurpose studio
Indoor & outdoor massage therapy rooms, steam room, sauna
Two full-size tennis courts
Outdoor area for yoga classes
Outdoor cross-training facilities
Indoor clubroom with bar, lounge, catering kitchen & event space
Starbucks Coffee Lounge
Outdoor summer kitchen and dining areas
Outdoor game area
Children's indoor play areas
Movie theater
Bike share & repair facility
Signature 'Pet Respite' with indoor pet facilities including grooming
Climate-controlled storage facilities
24-hour concierge
24-hour security
Additionally, a rental program administered by Metropica Realty will be available for residents who want to rent out their condos.
Attractive Condo Unit Features
YOO at Metropica will offer condos with a wide variety of floor plans.  Fully-finished and designed by YOO Design Studio, they'll have the following features:
Open floor plans with floor-to-ceiling glass
Spacious terraces with sunset views of the Everglades
Imported porcelain tile in living room & bedroom areas
Pre-wired for high-speed communications
Smart-home technologies that integrate into building amenities
The kitchens will have imported porcelain tile floors and backsplashes, premium contemporary Italian cabinetry, imported granite countertops and upscale stainless steel appliances.
The master baths will have comparable features including imported porcelain tile, premium contemporary Italian cabinetry, designer plumbing fixtures by Hansgrohe, oversized tubs and double sinks.
The developer intends to break ground on YOO at Metropica in early 2015 and be completed the end of 2016.  Choose from one- to three-bedrooms and 609 sq. ft. to 1,582 sq. ft.  Prices go from $230,000 to $538,000.
A Great Location
The site for Metropica is just west of the Sawgrass Mills mall at the northeast corner of Sunrise Boulevard and NW 136th Ave in Sunrise, FL.  It is within easy reach of the Sawgrass Expressway and the site of the proposed American Express corporate campus, where the credit card company plans to employ about 4,000 workers.
It's also just a few miles from Sawgrass Mills, an amazing mega-mall with nearly 2.4 million sq. ft. of retail and the Regal 23 Cinemas.  It is the seventh largest mall in the United States and draws nearly as many annual visitors (including my wife) as Disney World to its 350 stores and eateries.
Metropica is also near other important destinations:
15 minutes to Fort Lauderdale Airport
20 minutes to Boca Raton
25 minutes to Fort Lauderdale Beach
35 minutes to Miami International Airport
45 minutes to downtown Miami
45 minutes to West Palm Beach
If you'd like to know more about YOO at Metropica, I've put together a data sheet with lots more details and photos too.  You'll just need to click the link below and provide your contact information per the developer's requirements.
Request the YOO Metropica data sheet.
Come See the Sun Rise in Sunrise
If you're interested in seeing the site for Metropica, I'd be happy to take you there.  The Metropica sales center has a beautifully decorated model unit that you can walk through.  It's not upside down like good 'ole Norman's Sunrise model home, but it's still worth the trip.
As always, thank you for your interest in the properties I showcase.  Feel free to give me a call if I can help you or someone you know find the perfect condo in South Florida.
Joel Greene
Licensed Real Estate Broker
Condo Hotel Center
1368 NW 165th Ave.
Pembroke Pines, FL 33028
(954) 450-1929
Joel@CondoHotelCenter.com
www.CondoHotelCenter.com
www.CondoHotelsDubai.com
www.WorldClassCondoHotels.com
www.CondoHotelsBahamas.com
www.CentralAmericaSecondHomes.com
www.DominicanRepublicVacationHomes.com
Want to know more about me? Click below: //www.condohotelcenter.com/joel-greene.html

Follow us on Facebook.
© Condo Hotel Center.  All rights reserved. No portion of this data sheet may be reproduced, exhibited or distributed without the express written permission of Condo Hotel Center.  Condo Hotel Center takes copyright infringement seriously.  Violators will be prosecuted to the fullest extent of the law.
Although Condo Hotel Center believes the information contained in this data sheet to be accurate and complete, Condo Hotel Center can make no such guarantee. All features and descriptions are subject to change.
Please speak with your personal legal and financial advisors to determine whether this property is suitable for your objectives.