WORLDQUEST RESORT
Orlando Condo Hotel in the International Drive Resort Area
August 19, 2005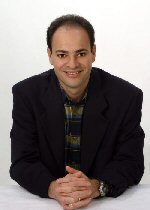 Hello. My name is Joel Greene, and I represent the Orlando area for Condo Hotel Center.
Today I'll be telling you about a condo resort located in an area that already has an international reputation as a vacation destination but is suddenly being reborn as its boundaries are being extended and new, upscale developments are suddenly appearing.
I'm talking about the world-famous International Drive Resort Area in Orlando, located just minutes from the city's theme parks. And the property I have for you today is WorldQuest Resort, a three diamond condo hotel.
A RESORT COMMUNITY
Built in the style of Mediterreanean architecture, WorldQuest Resort will be a 612-unit luxury condo hotel community located just minutes from the entrance to Walt Disney World in Orlando, Florida. It will consist of 18 five-story buildings, surrounding a large natural lake on over 42 acres of land.
In short, this will be a large resort community. It will offer two- and three-bedroom condo hotel units, ranging in size from 1,286 sq. feet to 1,541 sq. ft. They will have full kitchens and living areas as well as balconies. These units are true condos, not hotel rooms, making them ideal for extended stays and comfortable living.
THREE DIAMOND AMENITIES
While not all amenities are operational yet, WorldQuest will offer many world-class features including:
10,000 sq. ft. main pool
Shuttle service to theme parks
Convention center
3rd story restaurant overlooking Disney World
Office suites
Secured gate house with 24/7 security
Elegant clubhouse
Business center
Fitness center
Signature pool with over ½ acre deck space
Kid's pool and play area
Beautifully landscaped grounds
Sturdy concrete construction
Optional rental management program
The individual condo hotel units at WorldQuest will be luxuriously furnished and will include:
Granite countertops
Tile floors
Private balconies
Spacious master bathrooms
High ceilings
Central air conditioning
Smoke detectors and sprinkler systems throughout
Lockable owner's closet in each residence
Entertainment center
Luxurious furniture package
High-quality fixtures
Premium Maytag appliances
Balcony furniture
House wares
High-speed internet, cable TV and phone
A SUPERB LOCATION
Let's face it. If you come to Orlando, you want to be near the action, close to the theme parks, attractions, shopping, restaurants, golf and more. WorldQuest Resort is there!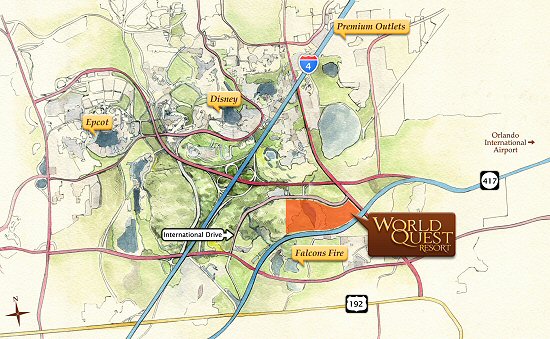 It will be located just across from the entrance to EPCOT. It's so close to Walt Disney World that you'll be able to watch the nightly fireworks display from your balcony.
It's also located on what will be an extension of world-famous International Drive. I-Drive, as the locals call it, has literally hundreds of retailers, restaurants, attractions and theme parks such as Sea World, Universal Studios and Wet 'n Wild.
The new extension will be called World Gateway Development and is a large chunk of land zoned for hotels, restaurants, retailers and other upscale establishments. The first property there just opened this summer, the Nickelodeon Family Suites hotel, named and themed after the children's TV network.
WorldQuest Resort will be the first condo hotel in the World Gateway Development. It's premier location will place it:
Less than a mile from the entrance to Walt Disney World
15 minutes from Universal Studios Florida & Islands of Adventure
10 minutes from Wet 'n Wild
5 minutes from Sea World & Discovery Cove
15 minutes from Orlando's premium outlet malls
20 minutes from Orlando International Airport
Walking distance to International Drive's attractions, dining, shopping
MORE ON INTERNATIONAL DRIVE
For 35 years, International Drive has been the Main Street of Central Florida's tourist economy. First established in 1970 as a place to stay for families visiting Disney World, it has morphed into an outlet shopping, amusement and convention Mecca. New resorts, luxury timeshares and upscale retail outlets are sprouting up, triggering predictions of a new wave of tourist growth in the coming years.
I-Drive is touted as "the most spectacular tourist and convention destination in the world." What can you do on I-Drive? Pretty much anything you want.
You can ride roller coasters, swim with dolphins, drive go-karts, "skydive" in a vertical wind tunnel or be flung 365 feet into the air from the inside of a mock volcano. You can play miniature or championship golf; tour a recreation of the Titanic; and shop at Armani, Fendi or Ralph Lauren designer outlets.
You can eat the $3.99 breakfast buffet at Ponderosa, the $85 porterhouse steak at Dux or catch dinner and a show at Fiascos Circus & Magic Dinner Show, complete with its intentionally klutzy performers, trained-dog act and goldfish races.
Hoteliers and tourist executives cite the Orange County Convention Center, with its 2.1 million sq. ft. of meeting space, as one of the area's biggest draws. It is, after all, the nation's second largest convention center after Chicago.
 A new $748 million addition boosted last year's attendance to over 1 million conventioneers, a performance officials say the center is on pace to repeat.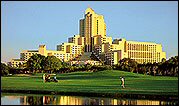 International Drive is 14.5 miles long. Nearly half of its southern leg remains undeveloped, and that's where WorldQuest Resort will appear.
Its proximity to theme parks and the convention center will keep guests coming year round. In addition, WorldQuest Resort is located next to the Marriott World Center (pictured below), an immense hotel with 1,993 rooms and suites. With its 400,000 sq. ft. of meeting and convention facilities, it often needs somewhere to send its overflow, and WorldQuest Resort will provide that solution.
MORE DETAILS ON WORLDQUEST RESORT
The developer for WorldQuest is Jordan, LLC, a Central Florida-based land acquisition and development company with subsidiary companies in construction, insurance and communications. Established in 1995, its core business is single family residential communities and condo developments targeted toward the short-term rental market.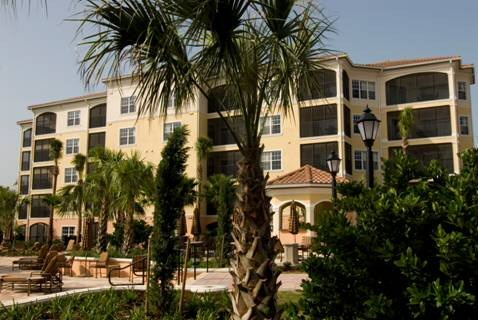 Participation in the WorldQuest Resort rental program will be optional. The rental split is 60/40 in the unit owner's favor. Although no franchise has yet been selected, the developer intends to select one of four-star caliber.
A TOP MANAGEMENT COMPANY
Remington Hotels will manage WorldQuest Resort. In business for 35 years, it manages nearly 50 upscale hotels around the country including properties for Hilton, Sheraton, Crowne Plaza, Embassy Suites, Doubletree and Radisson. It is one of the largest independent hotel service companies in the U.S.
CONSTRUCTION HAS BEGUN
Construction at WorldQuest is already underway. The first 102 condo hotel units are finished and hotel operations have begun. The entire project is expected to be complete by the third quarter of 2009.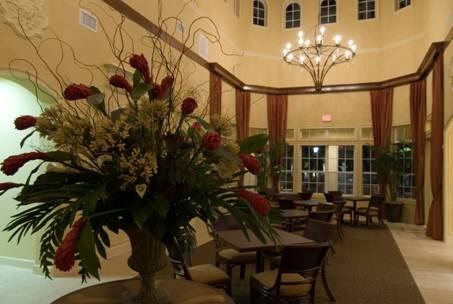 RESERVE YOUR UNIT
Available now are two-bedroom condo hotel units priced from $415,000. Three-bedroom condo hotel units start at $445,000. Units are available with deposits as low as 5%.
DATA SHEET AVAILABLE
Want to know more? I've prepared a data sheet that outlines the key points regarding WorldQuest Resort and gives specific information on how to reserve a unit.
The developer has asked that you provide your name, address and phone number in order to receive this data sheet. Please understand that if you request this data sheet, you will be registered with WorldQuest Resort as a client of Condo Hotel Center, a licensed real estate broker.
Request data sheet for WorldQuest Resort here.
Joel Greene
Licensed Real Estate Broker
Condo Hotel Center
1368 NW 165th Ave.
Pembroke Pines, FL 33028
(954) 450-1929
Joel@CondoHotelCenter.com
www.CondoHotelCenter.com
www.CondoHotelsDubai.com
www.WorldClassCondoHotels.com
www.CondoHotelsBahamas.com 
www.CentralAmericaSecondHomes.com
www.DominicanRepublicVacationHomes.com
Want to know more about me? Click below:
//www.condohotelcenter.com/joel-greene.html
Follow us on Facebook.