CONDO HOTEL FOR
NOTRE DAME FOOTBALL FANS
Waterford Estates Lodge in South Bend, Indiana
November 29, 2005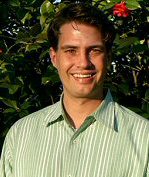 Whether you're a football fan or not, you've likely heard of the Fighting Irish. Hello, I'm Henry Perfilio, and today Joel Greene is lending me the Property Alert spotlight to present to you a first-of-its-kind condo hotel. It's a boutique property targeted at football fans or at least, those investors who recognize that loyal football fans, like those of the University of Notre Dame, fill hotel rooms and can greatly contribute to a condo hotel's success.
Waterford Estates Lodge
The concept for Waterford Estates Lodge in South Bend, Indiana is that of Mike Brenan. As you might expect, he's a Notre Dame graduate (class of '71). He's also a 30-year hospitality industry veteran who is enthusiastic about bringing the condo hotel concept to his alma matter.
He believes the school's fiercely loyal and wealthy fans make South Bend a promising market. And he plans to use this condo hotel as a model for similar ventures in other university towns.
Condo Hotel Conversion & Upgrade
Waterford Estates Lodge is a conversion of a former Ramada Inn, just minutes from the Notre Dame campus. It will consist of one building, two-stories, with four separate wings spread over 8.5 acres. When the conversion is complete, it's intended to receive a three- or four-star rating.
Over $6 million is being put into the property's renovation. The original building is about 30 years old. It will receive a complete facelift. What was tan, pink and green plaster will be replaced by brick and stone to resemble a quaint Irish cottage. Dormer windows will be added to the roof over the banquet center. Inside, doors of red steel and stainless steel doorknobs will be replaced with dark wooden doors and gold handles. The lobby, with its dated mirrors, will be completely redone.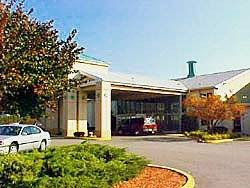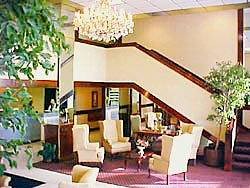 The original building, previously a Ramada, will receive a $6 million renovation.
Two full-service restaurants, one of which will include an Irish pub with a mahogany bar, will be completely renovated. According to Brenan, "There won't be a thing left from before."
Amenities will include:
Outdoor pool & jacuzzi
Indoor pool & jacuzzi
Fitness room
9,000 sq. ft. ballroom and 2 meeting rooms
Brigid's – Irish Pub with a collegial atmosphere
Lismore's – Upscale dining
Concierge services
Shuttle transportation
Catering services available to all hotel owners and guests for football tailgates and other local events
Guest Room Features
The condo hotel units at Waterford Estates Lodge will be upgraded hotel rooms with kitchenettes. Forum Architects of South Bend along with Heidi Bash, ASID, are handling the renovation and interior design. The firm is comprised of seasoned professionals familiar with both the South Bend market and the hospitality business. Their stated objective for Waterford Lodge is to "blend comfort, style and simple elegance into the guest experience."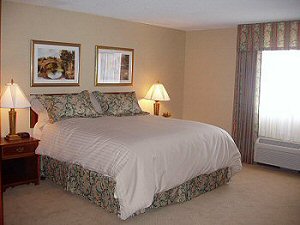 Unit features and amenities will include:
Flat screen televisions
Bose Wave radios
Wireless internet access
First-class bedding
Upgraded bathrooms
Refrigerator
Microwave
Coffeemaker
Owner's storage chest for personal effects
Convenient Location
Waterford Estates Lodge is centrally located. It's only a mile to the Notre Dame campus. Downtown South Bend is three miles away. There are several highly rated golf courses in the area while dining and shopping are within a short distance of the hotel. The South Bend Airport is eight miles away. Shuttle transportation to the campus, the airport and throughout South Bend is available.
Minimal Competition
In addition to Notre Dame, there are two other universities nearby, Saint Mary's College and the Indiana University South Bend. These three schools are a continual draw of guests to the area and should help keep rooms filled year-round.
There are no competitive condo hotel properties in the market and fewer than three have the facilities that would even merit the consideration of a conversion. Currently, there is a lack of quality hotel rooms. The two main competitor properties are the Downtown South Bend Marriott, and The Inn at St. Mary's, both of which are dated products, and in the case of The Inn offer very limited services and amenities. Waterford Estates Lodge will quickly become the preferred hotel choice in the area.
Premier Lodging Facility Near Notre Dame
The primary asset for Waterford Estates Lodge is its location near the University of Notre Dame. Notre Dame, along with two other colleges in town, is one of the leading economic generators in Northwest Indiana. The affluent alumni and fan base, which is spread throughout the country, continually make their "pilgrimage" to South Bend on fall weekends.
The alumni of Notre Dame are often regarded as some of the strongest and most supportive in the country. Waterford Estates Lodge, located in close proximity to the University, will be the premier lodging facility in the market.
Good Timing Should Contribute to Waterford's Success
As the baby boomer generation ages to their golden years, many demographers are projecting a strong return to university towns that offer continuing education, cultural enlightenment and entertainment. Notre Dame's academic reputations and athletic prowess meet all of these needs.
College football is one of the strongest attractions during the fall throughout the Midwest. Notre Dame's expansion from six home games this year to seven home games next year and beyond, speaks to this demand. Each home game, Notre Dame Stadium holds over 80,000 fans, and hotel rooms in the area are at a premium.
The developer of the Waterford Estates Lodge expects to see significant demand from those empty nesters and retirees who are looking for a link back to their college years. One of the goals for the condo hotel is to provide that collegial atmosphere within a country club environment.
The timing of this opportunity could not be better. Notre Dame recently announced the extension of Charlie Weis's five-year contract until the year 2015. The Notre Dame alum and former coach of the NFL's New England Patriots, has proven "he's the man." His new 10-year contract combined with the recent outstanding success of the Notre Dame team, has given the football program a tremendous resurgence. The outlook for Notre Dame football has never been brighter.
About the Developer
Mike Brenan is a successful hotel veteran of 30+ years with ITT Sheraton and several independent properties, among them the Allis Plaza in Kansas City and the Indian Lakes and Nordic Hills resorts in suburban Chicago. As a Notre Dame alumnus, he sees this venture as bringing his professional and personal passions together.
Mike's son, Keith Brenan, is also involved in the project. Keith is a senior vice president at The Weitzman Group of New York City, a well-respected real estate advisory firm that has been involved in several condo-hotel projects. Keith's financial and real estate experience will act as the perfect complement to Mike's creative operating drive.
Living Restrictions & Rental Split
Mike Brenan believes that the vast majority of owners will use their units primarily during football weekends or on other occasions associated with Notre Dame University. Owners can live in their units for up to five months but should not consider Waterford Estate as a primary residence.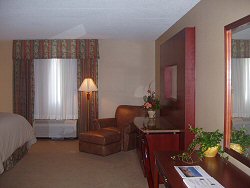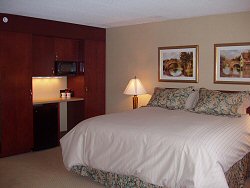 Each condo hotel unit will include a kitchenette, flat-screen TV and owner's storage chest.
Each owner will have the option of participating in the rental program. It is expected that the initial split of room revenue for owner and operator to be 50/50 on days other than football weekends. On football weekends, however, the operator will only take $50.00, and the owner will receive the remainder.
Prices & Deposit Information
Construction is currently underway and should be complete by summer 2006. Sales have just begun, and prices are at first tier.
The 199 units in Waterford Estates Lodge are studios and one-bedrooms. Units range in size from 276 sq. ft. to 617 sq. ft. Prices range from $99,500 to $149,000.
A 10% deposit is required at contract, which is immediate. The balance will be due at closing which is expected in June of 2006. The developer has lined up two lenders who will offer financing.
Request a Detailed Data Sheet
I've put together a data sheet on Waterford Estates Lodge that will give you more information on the property. It can be emailed to you immediately. In accordance with developer requirements, we ask that you first provide your name and contact information.
Request the Waterford Estates Lodge Data Sheet
Condo Hotel Symposium Coming to Las Vegas
A quick note to the many developers and hotel owners who read our Property Alerts. It's not too late to register for "The Symposium on Financing, Developing & Operating Condo Hotels" that will be held in Las Vegas at the Mandalay Bay Resort on Dec. 6 and 7, 2005.
Condo Hotel Center is offering a $150 courtesy discount on ticket prices. See the sessions being offered and symposium pricing here.
Wrap-up
I hope you enjoyed learning about Waterford Estates Lodge, a unique application of the condo hotel concept. We're always looking for exciting condo hotel opportunities, wherever they may take us. Go Fighting Irish!
If you like reading our Property Alerts, please feel free to share them with a friend. They can sign up to receive our Alerts on our website, www.CondoHotelCenter.com. We are always trying to grow our community of Condo Hotel Property Alert readers.
Have a good week!
Joel Greene
Licensed Real Estate Broker
Condo Hotel Center
1368 NW 165th Ave.
Pembroke Pines, FL 33028
(954) 450-1929
Joel@CondoHotelCenter.com
www.CondoHotelCenter.com
www.CondoHotelsDubai.com
www.WorldClassCondoHotels.com
www.CondoHotelsBahamas.com 
www.CentralAmericaSecondHomes.com
www.DominicanRepublicVacationHomes.com
Want to know more about me? Click below:
//www.condohotelcenter.com/joel-greene.html
Follow us on Facebook.