Waldorf Astoria Residences Pompano Beach
Exclusive Residences, Private Beach Access
Hello, Joel Greene here from Condo Hotel Center.
Did you know that Florida has more than 1,800 miles of coastline, more than any other state in the continental United States? To ensure safe marine navigation along that vast stretch of waterfront, Florida has an impressive collection of lighthouses, many with a storied history and 30 of which are still standing.
One of them is the Hillsboro Inlet Lighthouse in Pompano Beach. The structure is an octagonal pyramidal, iron skeleton tower. The lower third of the structure is painted white to stand out among the trees, while the upper two-thirds and the lantern are painted black to contrast with the daytime sky.
The lighthouse was commissioned to be built in 1903, after the government purchased a three-acre parcel from a local landowner for $150. Such a deal!
The property I have for you today is no such bargain, but it does offer exclusive residences with beach access just 10 minutes down the road from the Hillsboro Inlet Lighthouse. Read on for details.
Opulent Beach Condos
Waldorf Astoria Residences Pompano Beach will be a 28-story tower located on two oceanfront acres with 200 feet of private beachfront access. A boutique-style property with stunning architecture, it will have 92 exclusive residences offering an unparalleled coastal lifestyle experience.
First-Class Amenities
The Waldorf Astoria name has always been synonymous with luxury, and the Waldorf Astoria Pompano will live up to that reputation. Among the impressive features and amenities will be:
Curated lobby with impressive porte-cochere
Breathtaking oceanfront location directly on the sand
Private oceanfront pool with designer beachside cabanas
Pool deck with spa, dining, outdoor bar, summer kitchen
Waldorf Astoria signature restaurant & bar
Exclusive beachside café with inspired seasonal fare
Legendary Waldorf Astoria Peacock Alley cocktail bar
State-of-the-art fitness studio
Wellness center with massage treatment room, sauna, steam room
Billiards & entertainment lounge
Multi-sport simulator room with VR gaming
Children's entertainment center
Electric vehicle charging stations
Waldorf Astoria personal concierge
24-hour security, reception, valet parking, doorman
Additionally, owners at Waldorf Astoria will have access to some off-site amenities including a world-class marina, Resident Yacht Club Membership, and 19 boat slips available for purchase.
Ultra-Upscale Condo Units
The individual residences will each feature a private elevator and entry foyer. They'll have stunning Atlantic and Intracoastal Waterway views with spacious balconies. They'll have Smart Home capability with high-speed internet and Wi-Fi.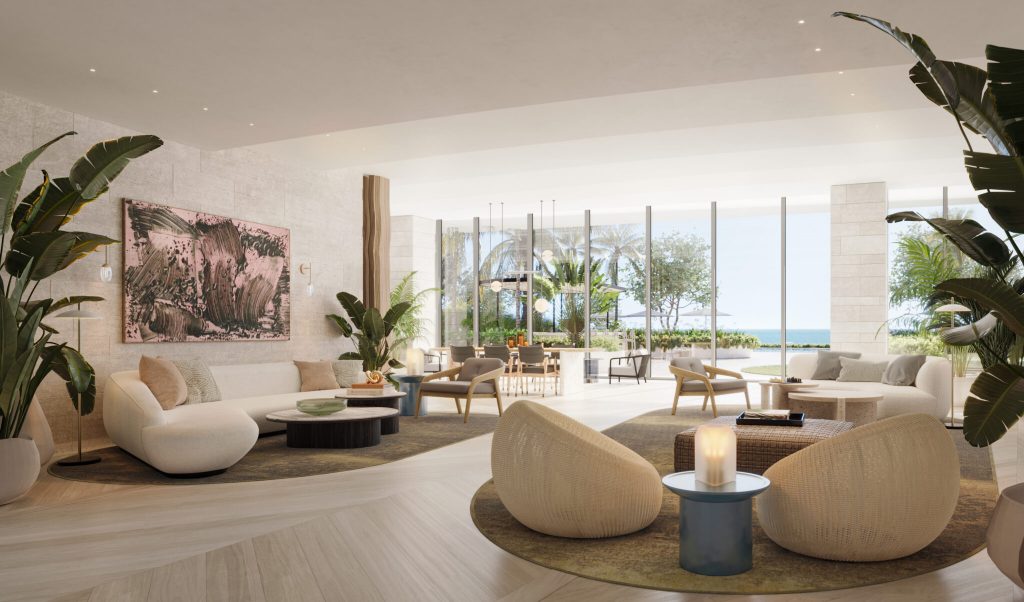 Kitchens will be gourmet styled, with custom Italian cabinetry, natural stone countertops, and fully- integrated Sub-Zero and Wolf appliances.
I often feature condo hotels or residences that allow short-term rentals in these write-ups. To be clear, the Waldorf Astoria Pompano Residences doesn't fall into either of those categories. Owners will be permitted to lease their units, but for a period of no less than six months.
Prominent Developers
The development team of Waldorf Astoria Pompano Residences includes The Related Group, Florida's leading developer with a portfolio in excess of $40 billion, and Merrimac Ventures with assets of over $3 billion in numerous South Florida properties.
Construction is scheduled to begin in winter 2024. Waldorf Astoria Pompano Beach should be complete by the end of 2026. The location is approximately 30 minutes from Fort Lauderdale International Airport, Las Olas Blvd., Boca Town Center Mall, Galleria Mall and Delray Beach.
Prices Start at $2.5 Million
The Waldorf Astoria Pompano Residences are extremely large, ranging from 2,097 sq. ft. to 3,557 sq. ft. They come in a variety of floor plans with two- to four-bedrooms plus dens. And they range in price from $2.5 million to $5.9 million. Want to know more? Request my detailed data sheet below.
Request the Waldorf Astoria Pompano Beach data sheet here.
Can a Lighthouse Be Too Bright?
At the top of this write-up, I told you about the Hillsboro Inlet Lighthouse. If you're still with me, let me fill you in on a few little-known historical facts about it.
1) Fire starter – Soon after the lighthouse was operational, unexplained reports of fires in the Everglades began to come in. It took a few months to determine the cause. Turns out it was the lighthouse's lens.
When it stopped in the morning at just the right position, the lens would focus the sunlight west towards the Everglades, causing the brush to catch fire. Once diagnosed, the problem was solved by installing a landward baffle, which also had the added benefit of shielding nearby residents from the bright light at night.
2) Complex Construction – The skeleton of the lighthouse was built by a foundry in Detroit, MI in 1906. It was then disassembled and shipped via Lake Erie, Lake Michigan, Mississippi River, the Gulf of Mexico, around Key West, and north to the Hillsboro Inlet – for a total of 4,000 nautical-miles! Once reassembled, the lens, imported from Paris, France, was added like a cherry on top.
3) Oh Brother! – In 1911 Thomas Knight became lightkeeper. In additional to running the lighthouse, he was known to have rescued many stranded seafarers, saving numerous lives. It's said that his solid work ethic helped the local authorities turn a blind eye when he would signal his brother Eugene Knight, a rum-runner, when the coast was clear. That's Florida for you!
Again, here's the link to request the Waldorf Astoria Pompano Residences data sheet. Or, if you're in the market for a less expensive vacation home, just give me a call. I'd be happy to shine a light on available properties that meet your needs.
Joel Greene
Licensed Real Estate Broker
Condo Hotel Center
1368 NW 165th Ave.
Pembroke Pines, FL 33028
(954) 450-1929
Joel@CondoHotelCenter.com
www.CondoHotelCenter.com
Want to know more about me? Click below:
//www.condohotelcenter.com/joel-greene.html