Vizcayne
Downtown Miami Luxury Condos from $153,900
April 26, 2011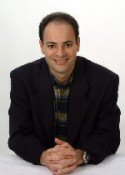 Joel Greene here from Condo Hotel Center.  Today I'll be talking about a property in my own backyard, downtown Miami.  Although this is a new property, I have some personal history with it, going back about 25 years.  (When did I get so old?)
Early in my real estate career, I visited what had been the 376-room, downtown Miami, Everglades Hotel.  I was trying to get information for a buyer who loved massive renovation projects.  Built in 1925, this former grand dame of a property fit the bill to a "T."
As I recall, it was an old relic of a hotel, boarded up, with broken windows, beer bottles lying around and chunks of the floor were missing.  The doors were chained shut to keep out bums and other unsavory types.  It looked like it had been vacant for decades.  The old hotel was in such bad shape, my buyer felt it was beyond renovation and decided to pass on it.
The Everglades Hotel Sat on Prime Real Estate
Everyone knew the old Everglades Hotel should have been torn down.  But that wouldn't happen for about 15 years.  During that time though, the area surrounding the hotel improved.  A lot.  Downtown Miami grew up and became a thriving business center with numerous companies opening offices and a surge in new commercial, retail and residential construction.
In January 2005, a developer with a vision for the future finally demolished and imploded the old Everglades Hotel to make room for two new, ultra-contemporary towers.  They would primarily be residential condos but with a retail component.
The timing for a new residential development wasn't the best, as I'll explain later, but the towers were built and, after the property changed hands a few times and was renamed Vizcayne, the condos are finally available.
The sales and marketing campaign for Vizcayne will be kicked off in a couple of weeks, so you have the opportunity to get in early on this project, before sales take off and prices start climbing.
So now, after about 25 years, I've come full circle.  I finally get a second shot at selling the property on the site of the old Everglades Hotel.  Read on for more details.
Vizcayne, Contemporary Towers on Miami's Skyline
Vizcayne consists of twin 49-story towers overlooking downtown Miami.  It is a mixed-use development that includes condos, as well as a ground-level promenade of upscale shops and restaurants.
Besides its great downtown location, this property has a lot to offer.  The mix of available condominiums includes luxurious penthouse units, residences, flats and lofts with prices starting at just $153,900, surprisingly affordable for a property of this quality.
Vizcayne is a $450 million development.  The buildings have a contemporary style with elegant limestone and granite facades and blue/green glass.
In addition to 849 condos, the development includes 58,000 square feet of retail space that is accessible via a walkway that runs through the center of the building, creating a pedestrian-friendly environment on the ground floor with high-end shops, restaurants and services open to the public.
Fully Loaded – Amenities & Services
Vizcayne has an impressive array of amenities including four swimming pools, an outdoor bar, a jogging track and a private Residents' Club. Other first-class features are:
State-of-the-art health spa, 15,000 sq. ft., private treatment rooms
Sauna, steam room, plunging pool
Exercise areas for yoga, aerobics, etc.
Private residence lounge
Card room
Multi-functional party room with kitchen
Billiards and library room
Juice bar
Meeting room
Business center
Theater for private showings
Two lagoon-style tropical swimming pools
One lap pool and one quiet pool
Jacuzzi
Bar overlooking the bay
Tiki bar in pool area with grill
Tanning deck
Additionally, Vizcayne includes many services for residents:
24/7 attended lobby for each tower
24-hour security
24-hour valet parking
Concierge
"Smart building" communications system
Aah, the Views & More
Vizcayne, by virtue of its design and height, is already an icon on Miami's skyline. Distinctive and contemporary, the architectural design is by Miami's renowned Fullerton Diaz Architects.
The property is situated in a prime location along Biscayne Boulevard, which offers convenience to both the Brickell Financial District and to the Arts District.
Residents of the towers enjoy panoramic views of the city lights and brilliant sunsets as well as beautiful Biscayne Bay, the Port of Miami, Bayfront Park and Bayside Marina.
It's only a minute's drive to major arteries such as I-95, and to the Port of Miami, Miami International Airport and the beaches.  The location is within a couple miles of Miami's best attractions:
The Adrienne Arsht Center for the Performing Arts – Florida's largest performing arts center, home of the Florida Grand Opera and Miami City Ballet.
American Airlines Arena – Home to the Miami HEAT and the "Big Three:" LeBron James, Chris Bosh and Dwayne Wade.  As Florida's largest arena, it offers top shows and concerts all year.
Bayside Marketplace

– Bayside Marketplace is known for the best food, fun, and shopping Miami has to offer, attracting nearly 12 million people per year.
Bayfront Park

– 32 acres of lush greenery on Biscayne Bay, plus an amphitheater, large pavilion, small sand beach, tropical rock garden and waterfall, a cascading fountain, a Light Tower, and many different monuments commemorating events and people throughout history.
Bicentennial Park – A 29-acre park with an event capacity of 45,000 for outdoor events like the Lollapalooza Music Festival and the Grand Chapiteau of Cirque Du Soliel.
Freedom Tower – A 1925 landmark building that serves as a cultural and educational center memorializing Cuban immigration to the United States.
Miami Design District – The Design District is home to over 130 art galleries, showrooms, creative services, stores, antiques dealers, eateries and bars.
Jungle Island – A local attraction with animals and shows, also a popular venue for weddings, birthday parties and corporate events.
How Vizcayne Came to Be
I mentioned early on that the timing for building Vizcayne wasn't great.  Originally known as Everglades on the Bay, the Miami condo project opened in 2008.  It soon fell victim to the bad real estate market, as did so many other South Florida properties.  Project developer Cabi Downtown LLC went bankrupt, defaulted on the loan, and the property went to its lenders, a syndicate of banks led by Bank of America.
In November 2010, Rockwood Capital, a $4 billion private real estate investment firm, along with partners Duncan Hillsley Capital and Fortune Capital Management Services, purchased Everglades on the Bay.
The new owners invested millions of dollars on completing and upgrading the property. They renamed it Vizcayne, and very shortly, they will re-launch sales with a massive advertising and marketing campaign.  And that's where we are today.
What's Available at Vizcayne
At Vizcayne the 849 condominium residences, flats and lofts are spread between the two buildings: 409 units in the North Tower and 440 in the South Tower. Buyers have the choice of ready-to-occupy units or investment units, which come with tenants.
Floors 2-7 are flats and lofts, and floors 8-49 are condos.  The units range in size from flats at 563 sq. ft. to two-bedroom-plus-den residences at 1,970 sq. ft.  Prices range from $153,900 to $717,900.  There are also some beautiful penthouse units from about $1,100,000 to $1,850,000.  Specific details available upon request.
If you want more information, I've got plenty.  Request our Vizcayne Data Sheet below.  You'll just need to provide your full name and contact information per the developer's requirements and it will be sent to you immediately.
Please send me the Vizcayne Data Sheet
Miami Heating Up
It's exciting watching the real estate opportunities unfold in downtown Miami.  The real estate market is heating up.  With favorable pricing, properties are selling again.
We see developments having close-outs, so you can be sure that today's opportunities won't last forever.  If you've ever dreamed of a home in the sunshine state, this is your time.
Thank you for your interest in the properties we showcase at Condo Hotel Center and also for indulging me as I replay some of the memories from my early days in real estate.
If I can answer any questions for you or take you to visit any South Florida properties, please be in touch.
Have a great day!
Joel Greene
Licensed Real Estate Broker
Condo Hotel Center
1368 NW 165th Ave.
Pembroke Pines, FL 33028
(954) 450-1929
Joel@CondoHotelCenter.com
www.CondoHotelCenter.com
www.CondoHotelsDubai.com
www.WorldClassCondoHotels.com
www.CondoHotelsBahamas.com
www.CentralAmericaSecondHomes.com
www.DominicanRepublicVacationHomes.com
Want to know more about me? Click below:
//www.condohotelcenter.com/joel-greene.html

Follow us on Facebook.
© Copyright 2011 Condo Hotel Center
*All rights reserved. No portion of this Property Alert may be reproduced, exhibited or distributed without the express written permission of Condo Hotel Center. Although Condo Hotel Center believes the information contained in this Property Alert to be accurate and complete, Condo Hotel Center can make no such guarantee.