VIVA WYNDHAM, ROATAN, HONDURAS
White Sand Beaches, Turquoise Water, Unspoiled Coral Reefs, Breathtaking Views & World-Class Golf
April 2, 2004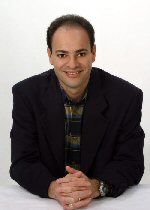 Hello, it's Joel Greene from Condo Hotel Center.  One quick item before I tell you about today's featured property.  You might remember my mention in a previous Property Alert that I was interviewed for an article about condo hotels.
That article came out today, April 2, 2004.  It's in "The New York Times" in the Escapes section entitled "Condo Hotels Move Beyond Resort Towns."  I'm attaching a copy of the article to this e-mail if you're interested in reading it and can't get your hands on a Times.  Okay, now on to our featured property.
Some time ago, while it was still in the concept phase, I brought to your attention an exclusive announcement about the Viva Wyndham, all-inclusive, condo hotel resort on Roatan, Bay Islands, Honduras.   Many of you responded with interest to this unique property which is why I'm sending out this update.
Last week I heard from the Viva Wyndham developer, Rick Mortell, and was pleasantly surprised to learn that the property description has changed and ultimately the development will be far more impressive than the original plans, which frankly were pretty awesome to begin with.
For starters, Rick did not purchase a seven-acre beachfront site after all.  Instead, he purchased 30 beachfront acres with 1,000 ft. of beautiful white sand beaches and some absolutely breathtaking views!
With the larger site secured, and with pre-sales of units going strong, he has decided to increase the size of the property.  Originally designed to be a total of 150 units, now Rick plans 200 units in the first phase and additional 150-200 units to follow.
The original plan called for only one- and two-bedroom units of 535 and 828 sq. ft. respectively.  The new plan calls for even larger one- and two-bedroom units, and he has added studio units into the mix.  Square footage and pricing are as follows:
Studio units of 423 sq. ft. will range from $119,000 to $139,900.
One bedroom units of 641 sq. ft. will range from $159,900-$179,900.
Two bedroom units of 1,064 sq. ft. will range from $264,900 to $284,900.
These units are expected to be complete in late 2005.
Although the plan for the property has changed, the original concept has remained the same.  The Viva Wyndham will be an all-inclusive resort built adjacent to a planned world-class 18-hole golf course and marina.  You will enjoy all meals, drinks, sporting activities and entertainment like welcome parties, theme parties, casino nights and much more.
You may select from daily activity programs, evening entertainment, sporting outings (including some of the best diving in the world), a supervised kid's club and the spectacular white sand and turquoise waters of one of the best beaches in the world, with unspoiled coral reefs for snorkeling just offshore.
This property, already on our website, is another excellent alternative for those of you who wish to enjoy an inexpensive, carefree condo hotel investment and a fabulous beachfront vacation home.
For more information on The Viva Wyndham, and to see a rendering and the beachfront view from the property, click on this link or copy and paste it into your browser, //www.condohotelcenter.com/condo-hotels/non-us/viva-wyndham.html. Then, for additional information, please contact me at Info@CondoHotelCenter.com and I will e-mail you my updated data sheet and the developer's very detailed letter about the project.
As always, if any of the properties I've mentioned here or others that you've seen on our website interest you, please let me know.  I have data sheets (size of units, price of units, maintenance costs, etc.) that I can instantly e-mail you, and I can have complete brochure packages sent FedEx if you want more detailed information.
Lastly, if you know of anyone else who might enjoy reading these Property Alerts and learning about condo hotels, please feel free to send me their name and e-mail address to me at Info@CondoHotelCenter.com, and I will add them to our mailing list.
Have a great Friday and weekend!
(If for any reason you want to be taken off the Property Alert mailing list, just reply to this e-mail and put Unsubscribe in the subject line.)
Joel Greene
Broker-Associate
Condo Hotel Center A division of Sheldon Greene & Assoc., Inc.
1368 NW 165th Ave.
Pembroke Pines, FL 33028
(954) 450-1929
Info@CondoHotelCenter.com
www.CondoHotelCenter.com
www.CondoHotelsDubai.com
www.WorldClassCondoHotels.com
www.CondoHotelsBahamas.com
www.CentralAmericaSecondHomes.com
www.DominicanRepublicVacationHomes.com
Want to know more about me? Click below: //www.condohotelcenter.com/joel-greene.html