Prices Reduced at
Trump SoHo New York
March 22, 2011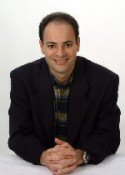 Joel Greene here from Condo Hotel Center. Today I'm going back to our roots, our condo hotel roots, to tell you about an amazing property that opened in April 2010.
Why am I featuring it today? The prices on the remaining condo hotel units have just been reduced. They're still a pretty penny, but this price reduction may put them in reach of more people.
Rising 46 stories above the City of New York is a striking silver glass tower — the Trump SoHo Hotel Condominium New York. This luxurious property is the only hotel condominium in SoHo and Donald Trump's first foray into this fashionable downtown neighborhood.
Downtown Manhattan's Only Condo Hotel
Located on the western edge of SoHo, the Trump SoHo New York rises against the backdrop of the neighborhood's historic cast-iron buildings. It's modern and stylish, offering panoramic views of the Hudson River, the Statue of Liberty, Empire State Building and the city skyline.
Trump SoHo contains a total of 391 condo hotel units, primarily studio and one-bedroom units, ranging in size from 422 sq. ft. to 905 sq. ft. Ten penthouse suites, from 1,194 to 2,331 square feet, will open this summer. Many suites can be combined with adjacent guest rooms to create two-bedroom suites.
Five-star Features & Amenities
As you would expect of any property bearing the Trump name, Trump SoHo has a full complement of impressive features and amenities.
The Spa at Trump will open in early summer and feature unique Turkish hammams and classic spa treatments, with an emphasis on wellness.
A full-service business center with computers is available. There is 12,000 square feet of meeting space, including the Trump Executive Boardroom, where you can channel some of your inner Donald and declare, "You're Fired!" There's also the TriBeCa meeting room and the SoHo and Hudson Square ballrooms.
SoHi, a 1,700 square foot private space on the 46th floor, offers unobstructed views on three sides, truly putting guests on top of SoHo.
Quattro Gastronomia Italiana specializes in Northern Italian cuisine. Kastel cocktail lounge has a nightly DJ. Rooftop and poolside Bar d'Eau will open this summer.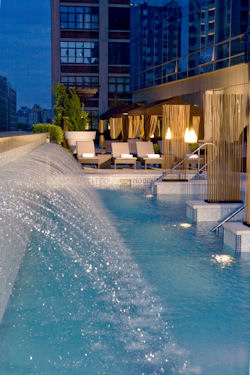 Features and amenities at Trump SoHo include:
6,500 sq. ft. spa and fitness center
Day resort with treatment rooms, hair & nail salon
Heated pool with full-service private cabanas
12,000 sq. ft. hotel function space
Business center with conference rooms
Quattro Gastronomia Italiana restaurant
Café and bar
Two-story lobby lounge
Private library
Landscaped outdoor garden
Trump white-glove service
24-hour security
24-hour concierge service
24-hour room service
In-room spa treatments
SoHo Is So Chic
Trump Soho is located at the corner of Spring and Varick streets. It's just a short walk to the heart of SoHo, Greenwich Village and TriBeCa, with subway and taxi transportation easily accessible.
SoHo is known internationally as a mecca for art, film and theater buffs. It has over 250 art galleries and four museums. SoHo also has world-class shopping with 100 trendy designer stores and the High Line, a promenade built on a former elevated railroad. And you'll never go hungry in SoHo. It has a diverse array of dining options with over 200 restaurants spread among its quaint cobblestone streets.
Proximity to the Holland Tunnel, West Side Highway and subway make for effortless travel to and from New York's three airports.
Luxurious Interior Design, Move-in Ready
The individual condo hotel units at Trump SoHo feature oversized interiors furnished by celebrated design house Fendi Casa. With floor-to-ceiling windows, they offer 360-degree views of the city and its impressive skyline. They are furnished and move-in ready.
Trump SoHo was developed as a joint effort between the Trump Organization, the Bayrock Group and Sapir Organization, all extremely reputable and experienced firms. The design for the building came from Handel Architects, with locations in SoHo and San Francisco.
Groundbreaking on Trump SoHo took place in mid-2007. Construction was completed in early 2010.
Today the hotel boasts 90% occupancy and nightly rates ranging from $299 for a studio to $808 for a one-bedroom deluxe suite. It's become a celebrity hot spot, with paparazzi often swarming the entrance.
Reduced Pricing at Trump SoHo
Trump SoHo New York is a condo hotel. That means owners of the individual suites have an opportunity to participate in a professionally-managed rental program. You can occupy your residence up to 120 days out of the year. When you're not there, it will be offered for rental and the revenue generated can be used to offset your costs of ownership.
As of last week, prices have been reduced up to 25% on the remaining condo-hotel inventory. According to Rodrigo Nino, president of Prodigy Network handling sales, "The new pricing represents market reality. We are starting fresh."
The average studio unit was reduced by about 16.5%, and the average one bedroom unit was reduced about 21.5%, based on the 30 units available today.
Subsequently, studio units that were starting at about $1,155,000-$1,850,500 just a few weeks ago are now priced at $1,023,000-$1,361,000.
One-bedroom units that were starting at about $2,057,688-$2,671,663 a few weeks ago are now priced at "only" $1,642,000-$1,923,000.
Of course, there are two-bedroom units too, and they have been reduced by 25%, and they are practically giving them away now at prices starting at a paltry $4,395,000. (A little humor).
I realize I've thrown a lot of information and numbers at you. If you'd like a clear summary, plus the exact stats on the available condo hotel units, please request our detailed Trump SoHo New York data sheet. You'll just need to provide your full name and contact information, per developer requirements.
Request the Trump SoHo New York data sheet here.
Other Featured Properties
Of course, I realize that Trump SoHo New York isn't for everyone. But it's an impressive property and already being touted as a NYC landmark. I hope you enjoyed hearing about it.
These days, the best deals to be had are on Florida condos. If you love bright sunny days, long walks on the beach, designer shopping and a smokin' hot nightlife, then South Florida is for you! You can see the list of Florida condos here. Or contact me with your property requirements, and I'll help you weed through the available inventory.
As always, thank you for your interest in the properties we showcase. Have a nice day!
Joel Greene
Licensed Real Estate Broker
Condo Hotel Center
1368 NW 135th Ave.
Pembroke Pines, FL 33028
(954) 450-1929
Joel@CondoHotelCenter.com
www.CondoHotelCenter.com
www.CondoHotelsDubai.com
www.WorldClassCondoHotels.com
www.CondoHotelsBahamas.com
www.CentralAmericaSecondHomes.com
www.DominicanRepublicVacationHomes.com
Want to know more about me? Click below:
//www.condohotelcenter.com/joel-greene.html

Follow us on Facebook.
© Copyright 2011 Condo Hotel Center
*All rights reserved. No portion of this Property Alert may be reproduced, exhibited or distributed without the express written permission of Condo Hotel Center. Although Condo Hotel Center believes the information contained in this Property Alert to be accurate and complete, Condo Hotel Center can make no such guarantee.