Trump Panama Bay Loft Studios
Just Released, From $332,000
Only four available, so move quickly if you want one!
February 22, 2008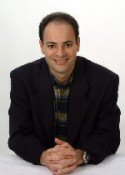 Hello, Joel Greene here.  I'm writing you today because you've expressed an interest in Panama real estate, and I have an exciting opportunity to tell you about.
The Trump Ocean Club International Hotel & Tower in Panama City has just released four (yes, only four!) specially priced Bay Loft Studio Suites.  These much-anticipated units will have a prime location along the water in front of the Trump Yacht Club.
Two units are located on the eighth floor and priced at $332,000, and two units are located on the ninth floor and priced at $343,500.  These are the lowest prices on any units currently available at Trump Panama.
If you like privacy and quiet, these are the condos for you, as they will be among the most exclusive units in the building.  They will have their own private lobby, private concierge, private elevators and a separate parking area.
These Bay Loft Studio Suites will have outstanding views.  They'll be facing the marina, and you'll be able to see the ocean in the distance.  They'll be delivered fully furnished and accessorized to the Trump level of superior quality.
Unsurpassed Luxury at Trump Ocean Club Here's a little more background on the Trump Ocean Club.  This property will be an immense $400 million mixed-use development.  A joint venture of the Trump Organization and K Group, a premier high-end resort developer in Panama, it will have a 68-story condominium tower with approximately 300 condo hotel units and an additional 500 condominium units, all featuring spectacular ocean views.
As a mixed-use project, the Trump Ocean Club, International Hotel & Tower will be much more than a typical residential high-rise. Its impressive list of amenities will include:
International casino
Yacht club and pier
24-hour marina
8,600 sq. ft. wellness spa
Fine dining restaurants
State-of-the-art gym
Two pools including an infinity pool
Pool deck
Boutiques & shops
Private beach club at Contadora Island
4,400 sq. ft. business center
24-hour valet service
Chauffeur-driven limousine service
24-hour medical service
An Outstanding Location The 1.8 million square foot project will occupy prime real estate in Panama City, overlooking the Punta Pacifica Peninsula. Punta Pacifica is an upscale, newly developed area on a peninsula that extends into the Pacific. An exclusive neighborhood, it is next door to high-end malls, high-rent offices and the most luxurious high-rise condos in Panama.
It will be directly linked to the rest of the city by the new highway currently under construction called Corredor Sur that provides access to any area, including the airport, in less than 15 minutes.  That project is expected to be completed by 2009.
Why Panama The development of Trump Ocean Club in Panama coincides with Panama's plans for a $5.5-billion improvement of the Panama Canal. This is the first time that the Trump Organization has invested in real estate development in Central America, highlighting the level of confidence Donald Trump has in Panama and its emerging economy.
Panama is rapidly becoming the hub for luxurious residences in Latin America, attracting millions of international investors who appreciate the affordable prices of Panama real estate. The Trump Ocean Club is destined to become the region's crown jewel.
Construction Is Already UnderwayTrump Ocean Club is beginning to take shape.  Construction began in May 2007 and is progressing at a rapid pace.  The development should be complete by late 2010.
Prices Far Below U.S. Real Estate Rest assured you could never purchase a condo in a Trump development at the prices these units are being offered at Trump Ocean Club in Panama.  Real estate, even ultra-luxurious real estate like this Trump building, is so much more affordable.
At the Trump Ocean Club, you can choose from a variety of units:
Condo hotel units, studios, 523 sq. ft.  Priced at $383,000.
Condominium residences, studios to three bedrooms, 1,035 sq. ft. to 18,000 sq. ft. for penthouses.  Prices range from $510,000 to $8,600,000.
Bay Lofts, studios to two-bedrooms, 695 to 1,397 sq. ft.  Prices range from $406,500 to $736,000.
Four specially priced Bay Loft studios, 607 to 629 sq. ft.  Prices range from $332,000 to $343,500.  You can be sure these four affordable units won't last long!
Want More Details? I've put together a data sheet that will give you a lot more information on the Trump Ocean Club including specific prices, unit sizes and deposit requirements.  You'll simply need to provide your full name and address, per the developer's requirements.
Request the Trump Ocean Club Data Sheet here!
Why You Want to Act Now Demand for this project has been phenomenal, and inventory is moving very quickly.  If you are sincerely interested in Trump Ocean Club International Hotel and Tower, I encourage you to act now in order to secure the best price and have the best selection of units.
As always, thank you for your interest in news from Condo Hotel Center.  Have a great weekend!
Joel Greene
Licensed Real Estate Broker
Condo Hotel Center
1368 NW 165th Ave.
Pembroke Pines, FL 33028
(954) 450-1929
Joel@CondoHotelCenter.com
www.CondoHotelCenter.com
www.CondoHotelsDubai.com
www.WorldClassCondoHotels.com
www.CondoHotelsBahamas.com
www.CentralAmericaSecondHomes.com
www.DominicanRepublicVacationHomes.com
Want to know more about me? Click below: //www.condohotelcenter.com/joel-greene.html
* Copyright infringement is taken seriously by Condo Hotel Center and will be prosecuted. © Copyright 2010 Condo Hotel Center
* All rights reserved. No portion of this Property Alert may be reproduced, exhibited or distributed without the express written permission of Condo Hotel Center. Although Condo Hotel Center believes the information contained in this Property Alert to be accurate and complete, Condo Hotel Center can make no such guarantee.