PLAYING THE TRUMP CARD AGAIN
Trump International Hotel & Tower
Las Vegas
December 22, 2004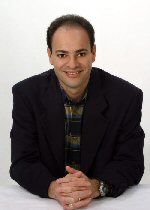 Hello, Joel Greene here. As many of you know, I've been quietly promoting the coming of the Trump Fort Lauderdale condo hotel, details of which I will be sending out within the next 30 days.
In the meantime, The Donald, has gone ahead and announced yet another mega-condo hotel project, the Trump International Hotel & Tower Las Vegas. Following the mention of the Trump Las Vegas on the TV program The Apprentice last Thursday, units started selling faster than ice in the desert, the Nevada desert that is.
We at Condo Hotel Center had been tracking this property for months and were unable to get any solid sales information until Donald made his "official announcement."
I immediately called my sales contact at the property only to hear, "We're practically sold out! The phone is ringing off the hook. We are all running around the hallways taking reservations. It's like the pit at the Wall Street stock exchange around here!" The good news is, despite all the excitement and selling frenzy, there is still an opportunity for you to get in. I am pleased to now be able to give you the facts on the actual current status of the Trump International Hotel & Tower Las Vegas.
Phase I, Sold Out; Phase II Coming Soon
Approximately 65% of the building, all of Phase I, is reserved. That's what happens when a property gets mentioned on a network TV show watched by 24 million people.
The sales staff at Trump International has stopped taking any more reservations in Phase I. They will begin taking reservations in Phase II (same building as Phase I), after the Christmas weekend. That gives us at Condo Hotel Center the opportunity to provide the following information, brief as it may be, and gives you a chance to own a piece of one of the most talked about properties, well since Donald mentioned his Chicago Trump property last season on The Apprentice.
The Donald Thinks Big!
The Trump International Hotel & Tower Las Vegas will be a 1.6-million sq. ft. condo hotel tower. At 64 stories, it will in fact be the tallest hotel in Las Vegas. It will be built on a portion of the Frontier Hotel property, across form the Wynn Las Vegas resort project and next to the Fashion Show Mall.
"It's a super high-end luxury residential hotel condominium tower," Trump said. "The project will be patterned after the ultra-successful Trump international Hotel and Tower in New York."
Scheduled to begin construction early next year, the $300 million project will feature 1,000 hotel and condo hotel rooms, 50 luxury penthouse condo hotel units of up to 10,000 sq. ft., a spa and various restaurants. It will not have a casino.
Available Units
Condo hotel units will start on the 16th floor and go up to the 64th. Room sizes are estimated to be about 550 sq. ft. for the studios and 1,000 sq. ft. for the one bedrooms.
Two-bedroom units are not available except on the top five PH floors, which are one-, two- or three-bedroom units. You can, however, purchase a one-bedroom and an adjacent studio to make a two-bedroom unit.
Pick Your View
I understand from my sales contact that most of the south units are gone. These are the ones that offered the best view of the Strip. The north view, however, also offers views of the downtown side of the Strip, which is the less developed part–for now, and a probable glimpse of the mountains. A request for a north studio has the greatest chance of being granted. Alternatively, they still have some good east and west view units as well.
Limited Pricing Information
Details are sketchy at the moment on pricing for Phase II units. In Phase I studio units were $520K-$765K, and one-bedrooms were $750K to $975K. Phase II prices will undoubtedly be higher. How much, even the salespeople do not know yet. My guess is 10%, but I could be underestimating this considering the overwhelming demand.
Purchase Requirements
If you want to reserve a unit, here is what needs to be done ASAP. Contact me and request a reservation agreement. I'll fax it to you immediately along with the address as to where to send it when complete. Be sure to include your fax number with your request.
You'll then need to send a check made out to First American Title Company along with your completed reservation agreement via FedEx or comparable carrier. (They are not accepting wire transfers.)
The reservation will not be accepted unless they have both the reservation form and the check in hand. The deposit is $20,000 per each unit you want, and you may only purchase a maximum of two. (Please talk to me if you want more, and I'll do my best to twist arms.)
Further Deposits
In approximately six months, or when the contracts are ready to be signed, the deposit will need to be increased to 10%. There will also be additional 10% deposits due six months, and 12 months from contract, for a total of 30% down.
On Monday, December 27, they will start opening all overnighted reservations, and in the order that they are received, you will be contacted and asked to choose your unit. You will be asked what size unit you want, which view and your floor preference. (Prices go up by $5,000 per floor in Phase I).
Wrap Up
As always, we try our best to get you the information as soon as possible, but this time The Donald trumped us. If only we had access to our own prime-time network TV program….
In any case, there is still time to get in. I hope that if you want a piece of Trump Las Vegas, you will contact me quickly and request your reservation agreement which I can fax to you right away.
Enjoy the Holidays and Best Wishes for a Healthy, Happy and Prosperous New Year!
Joel Greene
Licensed Real Estate Broker
Condo Hotel Center
1368 NW 165th Ave.
Pembroke Pines, FL 33028
(954) 450-1929
Joel@CondoHotelCenter.com
www.CondoHotelCenter.com
www.CondoHotelsDubai.com
www.WorldClassCondoHotels.com
www.CondoHotelsBahamas.com 
www.CentralAmericaSecondHomes.com
www.DominicanRepublicVacationHomes.com
Want to know more about me? Click below:
//www.condohotelcenter.com/joel-greene.html
Follow us on Facebook.