FINALLY AVAILABLE!
TRUMP INTERNATIONAL HOTEL & TOWER, FORT LAUDERDALE
February 28, 2005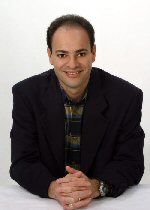 Joel Greene here from Condo Hotel Center. FINALLY, after three months of waiting and wondering, I have received the green light to tell you about what could be the most outstanding condo hotel to be built in South Florida–The Trump International Hotel & Tower, Fort Lauderdale.
I recently had a 2.5 hour meeting with the entire development team of the brand new Trump International Hotel & Tower, Fort Lauderdale, and I am still tingling with excitement.
I saw and studied renderings, floor plans and schemata for The Trump, and I was tremendously impressed. This may very well be the finest property of its kind in all of Ft. Lauderdale. And while the developer, Roy Stillman, agreed that the nearby St. Regis is going to be spectacular (scheduled to open in Dec. 2005) and that being mentioned in the same breath is an honor, "The truth is we expect ours to be even better," he said.
Property Description
The $200 million, 24-story, 298-room Trump International Hotel & Tower will encompass two buildings on a two-acre, complete city block. It will have approximately 200 front feet of direct oceanfront and a building plan that maximizes the ocean and Intracoastal Waterway views from almost every room.
The 298 units will all be condo hotel units. They will be made up of 150 studios, 75 one-bedrooms and 73 two-bedrooms. There will also be a four-level, all valet, parking garage.
Every single unit will have its own large terrace. And the top five floors of this 24-story building will have units with such great height, such large terraces and such magnificent views that these units will be equivalent to most buildings' penthouse units.
Less Floors, Higher Ceilings in Each Unit
The property was originally conceived as a 25-floor building, but the height was scaled back so that each floor would have nine foot ceilings. Now I know that unless your name is Yao Ming or Shaquille O'Neal, the difference between a nine-foot ceiling and one that is a mere 8′ 6″ is lost on you, but when five stars are to be awarded by AAA and Mobil, it is what is expected.
If you're a towering 5'8″ like I am, you may not even notice the little things like ceiling height. What you will notice, however, is all of the other ideas and concepts that will make this property the new benchmark for luxury and opulence.
A Dream Team of Architects
Part of the sizzle of this property, besides the Trump name, is the fact that world-renowned architect, Michael Graves, was chosen to do the project in conjunction with local architect, Oscar Garcia, who has crafted an equally impressive resume of South Florida properties of his own.
Stillman's understanding with the Donald was that the quality of this property had to meet the level of Trump's luxurious One Central Park West condo hotel in Manhattan. Stillman told me, however, that it was his plan "to substantially elevate the Trump standard." He said he wanted something so eye catching that it would sharply stand out from anything on the Fort Lauderdale Strip. What Graves and Garcia ultimately designed should do just that.
A High-Drama Look
The front of the building has gently sloping curves that give the building's front a very unique, rounded appearance. The buildings will be painted yellow and blue to capture the essence of Ft. Lauderdale, the sun and the ocean.
Art Deco circular windows will jut out in the middle of the front and the rear of the building, giving you the feel that this is definitely not a cookie-cutter type hotel. Even the rear of the building is every bit as attractive as the front, something its neighboring hotels can't say without winking.
When you arrive as a guest, you will pull up to this brilliantly crafted circular atrium between the two buildings and will step into a signature lobby with a dramatic entrance. We're talking imported marble floors and 20-foot ceilings. There will be nothing comparable to it on Ft. Lauderdale's beach.
Stillman wanted "something people will remember when they walk in this building" and Graves responded with a lobby that may be as much as five times the size of the Atlantic Hotel, an impressive five-star Fort Lauderdale hotel that in this developer's opinion is "only 1/10th as luxurious as what we have planned."
Another little Michael Grave's special touch is the convenient, pedestrian-friendly walkway that connects the front building to the 24-story tower. And these special touches in the building's common areas and exterior do not stop there.
Impressive Interior Design
The individual units reveal an interior design inspired by the feel of the 1920's French Cruise Liners like the Normandie and Ile de France. The theme is modern, but with 1920's heritage. Plus, every possible luxury and comfort you could imagine. For example, in the bathrooms, you'll find four fixtures in the studios and five, including two sinks, commode, and separate showers and tubs in the one- and two-bedroom units.
Everything You Could Imagine
The building closest to the ocean is six stories and will have an upscale five-star restaurant with residential condominiums on the 2nd-5th floors. And on the 6th floor, a large function space will be well-suited to handle weddings and catered events. If the party needs a change of venue, let the guests spill over to the adjacent tower's pool deck area with its oversized 1,600 plus sq. ft. swimming pool and spectacular ocean views.
Need a break from the sun? Grab some shade at any of five cabanas, two spas, a 3,000 sq. ft. health spa and a 1,700 sq. ft. gym. If you're one of those people who can never get enough of the pool and ocean views, you might consider purchasing one of their three poolside duplexes.
Sizing Up Trump
Just the size alone will make this property stand out on the Fort Lauderdale Strip. The 298-room condo hotel is more massive than would be allowed under today's development rules. But the city of Fort Lauderdale could do little to change the project because an earlier version of the condo hotel was approved in 2001, and that approval is still valid.
Nevertheless, as a compromise, the redesigned hotel has 22 fewer units than first approved, and the main restaurant has been reduced in size.
The Surroundings
Most of Fort Lauderdale's oceanfront was first developed in the 1940s and 1950s. Once the favored haven for college spring-breakers, its renaissance as an upscale resort area has proceeded in fits and starts.
A revitalized beach, in tandem with the county's dynamic airport and port, will put the city in a new light on vacation maps nationwide. Signs of the transformation are everywhere. Many of the older, smaller buildings have already been torn down. New construction is underway. Fort Lauderdale will ultimately encompass some of the finest new condos and hotels in all of Florida.
Next door to The Trump stands the new The Atlantic condo hotel, the first of the new luxury resorts and a Starwood Luxury Collection property, opened last year. At least eight major beachfront condo hotels were approved several years ago and are now in development, including the Q Club to be run by Hilton, the W Fort Lauderdale Hotel & Residences and the aforementioned five-star St. Regis. These upscale properties will enable the local visitors' bureau to reposition Fort Lauderdale as one of Florida's most upscale resort areas.
Living Restrictions
The Trump Fort Lauderdale has no living restrictions as of yet, but it is located in a hotel-zoned area and therefore, it is still unlikely that you will be able to make the Trump your permanent home.
The city of Fort Lauderdale hopes to create a posh tourist destination at the beach. To that end, they grappled with the new form of hotels-condo hotels. Generally, city officials don't want condo residents on the central beachfront; they want hotel tourists. So they recently announced plans to pass a new law to better define "hotel."
Specifically, they want any buyers of units in condo hotels to know they can't stay more than 30 days at a time, three times a year. The Trump Fort Lauderdale will have to abide by these guidelines and could even impose additional living restrictions as they see fit.
Information for Investors
For those of you considering this property with the intention of flipping it, please know that the developer is not allowing contracts to be reassigned prior to closing. This is pretty typical these days, but I wanted to be sure you were aware of this fact.
The Trump Fort Lauderdale will be managed by the highly-qualified Trump organization. The rental split has not yet been determined. My Trump contact says it will be "favorable" to the unit owner, but could not say what the percentage breakdown would be.
Although the rental income is of course a factor worthy of consideration, as I often say with regard to condo hotels as investments, your focus needs to be on appreciation. And when it comes to appreciation, nobody does it better than Trump. Case in point: Early buyers at Trump International Hotel & Tower, Chicago, which opened for sales in September 2003, have already seen their purchased suites increase up to 95% in value.
Construction to Begin Soon
I was at the Trump Fort Lauderdale site last week, and the old Gold Coast and Merrimac hotels on the Trump site have just been demolished. The site is being prepared. Current plans call for construction to begin in June 2005 and to be completed by mid-2009.
Expect a Fast Sellout
In my meeting with Stillman, developer, he said to me more than once, "We have put together a sensational property, one that we expect to sell out fairly rapidly." Judging by the level of interest I've had just from my clients, I don't doubt his statement.
One other relevant tidbit, lest you have any doubt that this Trump condo hotel will sell out quickly. The $220 million, 52-story condo complex in downtown Tampa being built with the Trump name had its official sales launch on TAE.
At the launch, which The Donald himself attended, it was announced that 98% of the 190 units were already spoken for, and the balance would go to people on a waiting list. Even Trump joked there was little need for such a lavish affair to drum up sales.
Deposit Requirements
To reserve a Trump Fort Lauderdale condo hotel unit, the developer is requiring 5% of the purchase price. Another deposit of an additional 5% is required at contract. You should be presented with an actual Florida contract in about 60 days. A final additional 10% deposit will be required for a total of 20% down, upon commencement of construction.
The Next Step
If you are interested in a Trump Fort Lauderdale condo hotel unit, I can provide you with my data sheet that gives a few more details on the project as well as explicit instructions on how to reserve a unit. To get this data sheet, please DO NOT CALL!
Instead, please reply to this email with your:
NAME ADDRESS PHONE NUMBER EMAIL ADDRESS
When I receive your completed information, I will email you the data sheet along with a cover letter that explains how to proceed. My advice to you is this: if you are sincerely interested in this property, MOVE QUICKLY! There are a limited number of units and an unbelievable amount of interest in this project due to the Trump name.
I fully expect to be inundated with requests. (Two weeks ago when I sent out information on the Cosmopolitan, Las Vegas, I received 140 requests for reservation forms in the first 48 hours).
As always, thank you for your interest in news from Condo Hotel Center and for the opportunity to tell you about this exciting new property.
Have a great day!
Joel Greene
Broker-Associate
Condo Hotel Center A division of Sheldon Greene & Assoc., Inc.
1368 NW 165th Ave.
Pembroke Pines, FL 33028
(954) 450-1929
Info@CondoHotelCenter.com
www.CondoHotelCenter.com
www.CondoHotelsDubai.com
www.WorldClassCondoHotels.com
www.CondoHotelsBahamas.com
www.CentralAmericaSecondHomes.com
www.DominicanRepublicVacationHomes.com
Want to know more about me? Click below: //www.condohotelcenter.com/joel-greene.html