GOT TIME FOR A STORY? STORIED PLACES, TREMBLANT, QUEBEC
June 3, 2005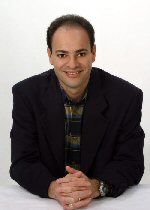 Joel Greene here, finally getting back on top of things after my brief trip to visit the site of the future Residences of Atlantis in Paradise Island.
Now, with the palm trees and deep blue Caribbean waters in my rear view mirror, this international traveler is trading in his swim suit, casino chips and Bahama mama's for spruce trees, breathtaking lake and mountain views, amazing foliage, freshly powdered slopes and, of course, hot chocolate with lots of mini-marshmallows.
I grew up in Miami Beach, so to me, the word "skiing" automatically conjures up pictures of boats and lakes, not lifts, lodges and fireplaces.
But if you don't have childhood memories of sunning on the beach on Christmas Day like I do, maybe skiing has a different meaning to you.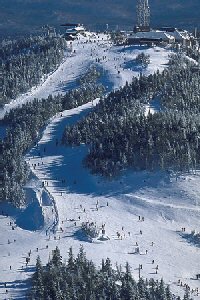 It's for you that I've written today's Property Alert. Even though, I've never snow skied or even seen leaves change color (Floridians lead such deprived lives), a close friend of mine who is a winter enthusiast has said many times, "There is no more spectacular place to ski than Tremblant, Canada."
No doubt that's why the intimate resort village of Tremblant has been Ski Magazine's "Best Ski Resort in Eastern North America" for eight straight years! So join me, eh, and let's visit our friends to the north.
STORIED PLACES, TREMBLANT, QUEBEC
Storied Places is not our typical condo hotel offering. In fact, let me be clear that this is NOT a condo hotel at all, but it IS a vacation-home ownership opportunity.
Storied Places is a private residence club, also known as a fractional. It's being built by Intrawest, which happens to be one of the biggest names in resort developments in the world.
SO WHAT EXACTLY IS A FRACTIONAL?
Fractionals allow you to enjoy four or more weeks of home ownership privileges per year on the dates of your choice at an upscale, indulgent resort at a fraction of the cost of whole ownership.
If you want to own an impressive second home complete with personalized services and located in an exclusive resort area but can't quite justify the expense because you'll only be using it a few weeks or months of the year, this type of real estate may appeal to you.
SO HOW DOES THIS DIFFER FROM CONDO HOTELS?
Fractionals are not condo hotels. There is no rental component and no income generated. Essentially, fractionals provide owners with the vacation home they want with flexible usage. All maintenance and upkeep issues typically associated with second home ownership are taken care of by the resort. But here is the best part of owning a fractional — price.
You can own an exquisite home for far less than the deposit, property dues and taxes ordinarily required to own such a home outright. It makes owning a vacation home in a sensational location more affordable and more practical.
And in the case of Tremblant, we're talking about a 3,000+ sq. ft., four-bedroom, lakefront home in the beautiful Laurentian Mountains at a price of $265,000 CDN (approximately $212,000 U.S.). Now, have I got your interest?
TREMBLANT IS A ONE-OF-A-KIND RESORT
Storied Places, Tremblant is a resort residence with a one-of-a-kind location. It will consist of 23 exquisitely designed ski-in/ski-out resort townhomes that sit at the base of the highest peak in the Laurentian mountains in Quebec, a 90-minute drive from Montreal. The area is known for its charming authentic resort village — full of shops, clubs and restaurants — inspired by the architecture of Quebec City.
Expect unparalleled personalized service, and access to a multi-million dollar resort home and intimate community, all for a fraction of the cost of whole ownership. Each home within the community is divided into 1/10th fractional interests, which may be owned separately.
ISN'T THIS JUST A TIME SHARE?
No, Tremblant is not your parent's time share. There are no "points" or "weeks." Each fractional owner receives a fee simple deeded title offering up to four weeks a year of guaranteed use and unlimited additional access whenever space is available. Ownership may also be acquired in the name of a legal entity such as a partnership, corporation or trust and can be resold just as any other real estate interest can.
Also because there are a lot fewer private residence clubs than there are timeshares, and the amenities and services you get are so superior, resale is not the problem that it usually is with timeshares. In fact, fractional real estate lists with the MLS and resells in the same way as traditional real estate.
WHAT SHOULD I EXPECT IN MY RESIDENCE?
Storied Places, Tremblant is a slopeside village. The ambience, in layout and architecture, is quintessentially Quebecois. Every home at Tremblant is fully furnished, wired and accessorized.
Townhomes
4 townhomes residences per building, over 3,000 sq. ft.
Single car garage
Deep, generous porch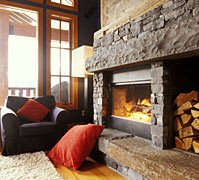 Vestibule
Contemporary architectural setting with sophisticated traditional accent furniture pieces
Stone floor
Traditional woven-grass area rug
Kitchen
Modern/open plan with granite countertop and stainless steel backsplash
Richly colored hardwood cabinets highlighted with accent lighting
Professional-grade appliances in stainless steel finish from renowned manufacturers
Upholstered stools with leather seats accessorize kitchen island
State of the art built-in Miele European style coffee machine
Dining Room
Elegant, streamlined solid wood dining table
Modern yet comfortable fully upholstered chairs
Tall, traditional Elizabethan chest contrasts with seating
Living Room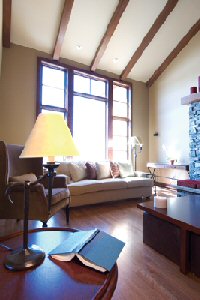 Traditional stone and wood fireplace with fireside seating
Mix of contemporary and classical furniture
Clean, modern lighting
Cathedral ceilings
Traditional coffee table with ottoman for additional seating (4).
Master Bedroom
Elegant, contemporary furniture with traditional flavor: poster bed, armoire freestanding full height mirror
Modern lighting
Second Master
Modern bench at foot of bed.
Classic lamps with bronze finish
Children's Bedroom
Kid-friendly setting with armoire to accommodate television and video games
Bunk beds
Bean bag seats and bright, punchy rugs
Technology
All rooms wired for high-speed data, cable TV and telephone
All major indoor rooms have built-in audio system
Large screen TV in media room, TVs in each bedroom
Internet access throughout home
Site-wide LAN high-speed data
As an owner, you'll have equal access to all the Storied Places Tremblant homes to provide the greatest access and date flexibility. That means you will likely stay in different residences during different visits, but all homes will provide you with the same quality furnishings and amenities.
THE OWNERS' LODGE
One of the things that makes Storied Places unique is their warm and genuine sense of community, a benefit found in few resort neighborhoods. Nowhere is this spirit felt more deeply than at the Owners' Lodge, a spacious, beautifully appointed gathering place. It's ideal for informal gatherings, and it's the center for a variety of shared amenities.
Here is what you can look forward to at the Tremblant Owners' Lodge:
Summertime outdoor pool with infinity edges on two sides
Year-round hot tub with easy access from the Lodge
Fitness room and change rooms
Steam room, sauna and massage rooms
Living room with fireplace, bar and screened-in porch
Outdoor living space with sheltered fireplace
Children's play area and games room
A HOST OF NEARBY AMENITIES
In addition to ski-in, ski-out slopeside access, Tremblant owners can also take advantage of some of the other activities and amenities that are nearby including:
The #1 and #2 ranked golf courses in Quebec, Le Diable and Le Giant
Lake Tremblant – 21 miles of pristine fresh water great for water skiing, fishing, sailing, kayaking, or just relaxing
A tennis club
All types of outdoor pursuits from hiking to mountain biking
The vibrant resort village, ideal for a casual stroll, shopping and dining
UNSURPASSED CONCIERGE SERVICES
Personalized service is delivered at the hands of the Resident Innkeepers and their team of assistants in a warm, friendly and unobtrusive manner. These professionals are chosen for their intimate knowledge of the destination and attitude towards exceeding expectations and anticipating owners' every need including:
Pre-arrival stocking of food and amenities in the home
Reservation of preferred tee times, lift passes, fine dining and theatre tickets
Coordination of a Storied Places chef to create a private dining experience for friends and family
Delivery of extra luggage and sporting equipment to your home
Baby sitting (This service is my personal favorite.)
HOW OFTEN CAN I USE MY NEW HOME?
Each ownership interest will provide for a minimum of four weeks of usage per year, split between the summer and the winter with additional usage possible depending on availability. Planned weeks of usage are scheduled in two selection rounds, based on a rotating priority reservation schedule.
TRADING STORIES
Here's one of the neatest things about buying a Storied Places fractional. Owners may participate in the Trading Stories program which provides exciting direct exchange opportunities within the Storied Places resort network and with outside select partners.
This is not a reciprocity program, but simply a program that assists owners with direct exchanges between one another for planned weeks. You may exchange weeks with another owner from another Storied Places resort if you like. So it could be Tremblant for a week of skiing and Sandestin, Florida for a week of soaking up the sun. From snow boots to flip-flops in just three short hours, eh?
You can exchange weeks for Storied Places locations in Whistler, British Columbia; North Lake Tahoe, California; and Sandestin, Florida; and eventually at proposed development projects in Mammoth, California and Lake Las Vegas, Nevada.
You may also access other resorts that are Storied Places exchange partners. They include three Four Seasons Residence Clubs in Troon, Arizona; N. San Diego, California; and Jackson Hole, Wyoming as well as a world-class ski resort in Aspen Snowmass, Colorado.
ABOUT INTRAWEST
Intrawest is the world's leading developer of village-centered resorts. It launched its Storied Places concept in 2002 based on a vision to create exquisite enclaves of private residences in the world's ultimate places to play. These residences are an ideal solution for those seeking exceptional resort home experiences without the maintenance, upkeep and expense that comes with whole resort home ownership.
CAN I RENT OUT MY PLANNED WEEKS?
No. To respect the intimate and exclusive nature of Storied Places, rental of homes is currently prohibited. However, an owner may assign (give) their planned weeks to guests, including friends and family.
HASSLE-FREE OWNERSHIP
As a fractional ownership, ownership is hassle-free. Included in your one Home Owners Association (HOA) fee is the following:
Professional management and operation of all homes and amenities
Supplies
Maintenance
Window washing
Trash removal
Legal/accounting
Insurance
Utilities
Property taxes
Transportation
Reserves for replacement and/or refurbishing of Association facilities
CONSTRUCTION SCHEDULE
Construction is already well underway at Storied Places, Tremblant. A pre-opening is planned for this August. The official opening will be this winter. Just think, you could be all set for the 2005 ski season!
PRICING
Current prices are $246,000 CDN or roughly $200,000 U.S. when you factor in the exchange rate. A 25% cash-down deposit is required right now at contract. When you compare Tremblant to any U.S. ski destination like Vail, Aspen, Lake Tahoe or Stowe, and consider that you're getting a fully furnished 3,000+ sq. ft. home with numerous luxury amenities and services, this is a smoking price.
By the way, there was a price increase of 5% that took effect on June 1st. Condo Hotel Center's clients, however, were unaffected as we have locked in the above price with the developer, good through June 24, 2005.
IS FINANCING AVAILABLE?
You will have options for financing your purchase similar to financing a second home. Storied Places has lined up three local banks that have already approved this property for financing with 25% cash down, and they can move quickly. You will be provided a list of recommended lenders upon request.
OTHER EXPENSES IF YOU PURCHASE
If you are considering a purchase, you need to be aware of two extra costs. There is a Canadian Federal Goods & Services Tax of 7% or $17,220 and a Quebec Provincial sales tax of 7.5% or $19,742. No one likes to pay taxes, but I'm telling you about this now, because most people also hate surprises, especially when it affects their wallets.
Fortunately, both taxes can be added to your purchase price and financed up to 75%. And when you factor in the strength of the U.S. dollar, it is still cheaper to buy a Canadian property than a U.S. property even with these taxes added on.
GREAT NEWS FOR OUR VALUED CUSTOMERS
Because of our long-standing relationship with the Intrawest Organization, Condo Hotel Center was able to negotiate a special bonus.
For the first 10 Condo Hotel Center buyers, the developer has agreed to waive the first two years of homeowner association fees. That's a bonafide savings of $19,200 for our customers! You would not get this benefit if you contacted them directly.
WHAT'S THE CATCH?
The developer wants to close out all of the units by the end of his fiscal year at the end of June. Therefore, all units must be closed in about one month's time, and the deadline to take advantage of our discounted prices and waived fees must be no later than June 24th. Again, the waived fees will only apply to the first 10 of you to respond!
RESERVING A FRACTIONAL UNIT
I have put together a Data Sheet with additional information on this property. To receive this Data Sheet, you'll need to provide your full contact information, in accordance with the developer's requirements. Request Data Sheet for Storied Places Tremblant here.
After you review my Data Sheet, let me know if you'd like to proceed with a reservation, and I'll send you the necessary paperwork and deposit instructions. Or if you'd like to see their brochure package, it would be my pleasure to take care of this for you too.
WRAP UP
As I mentioned in the beginning of this Property Alert, I've never been to Tremblant. But after doing my research and reviewing the materials sent to me, I can't wait to go! I have made my reservations for this September so my twin six-year-olds can see the fall foliage (wouldn't want them to feel they had a deprived childhood).
The next time I write about this resort, I plan to speak from first-hand experience. And, yes, there will be a next time because future plans for this property include a massive 450-room condo hotel and possibly a casino (to be confirmed in the next few months), and Condo Hotel Center has been assured that we will get this information prior to it hitting the market.
That means you, our Property Alert subscribers, will be able to get first-tier pricing and the best selection. The prices though will likely be much higher than fractional ownership, and the units will be much smaller (probably around 600 sq. ft.), not the 3,000+ sq. ft. range we're talking about for the fractionals.
Again, if you'd like to see the Data Sheet on the fractionals and/or you'd like to be kept informed about future developments at Storied Places, Tremblant, you'll need to provide your full contact information, in accordance with the developer's requirements. Look forward to hearing from you, eh? Submit contact information here. One last unrelated item. Condo Hotel Center doesn't often get into the resales market. We usually focus on preconstruction opportunities. However, every once in a while we come across a resale worth mentioning.
This one is at the beautiful Ritz Carlton in Key Biscayne, Florida. This is a sold-out property, a five-star luxury oceanfront resort and spa.
The available unit is a 900 sq. ft. penthouse (one of only three) with double balconies and spectacular views of South Beach, Coconut Grove and Key Biscayne. Asking price is a non-negotiable $1.1 million. If you're interested, shoot me an email with your full name and phone number, and I'll forward you more details.
Enjoy the weekend!
Joel Greene
Broker-Associate
Condo Hotel Center A Division of Sheldon Greene & Assoc., Inc.
1368 NW 165th Ave.
Pembroke Pines, FL 33028
(954) 450-1929
Info@CondoHotelCenter.com
www.CondoHotelCenter.com
www.CondoHotelsDubai.com
www.WorldClassCondoHotels.com
www.CondoHotelsBahamas.com
www.CentralAmericaSecondHomes.com
www.DominicanRepublicVacationHomes.com
Want to know more about me? Click below: //www.condohotelcenter.com/joel-greene.html