Toscana Club Residence Apartment Tower
New Dubai Condo Hotel in Discovery Gardens
January 21, 2006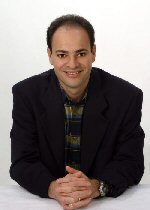 Joel Greene here from Condo Hotel Center.
I am pleased to tell you today about our newest offering in Dubai, Toscana Club Residence. For all of you who have been shut out of buying a studio (the least expensive type of unit) in the past, you have an opportunity now to get one, but as you'll see, you will have to act fast. Let me explain.
Because of the success Condo Hotel Center has had selling units in their four other Dubai projects, Middle East Development (MED) enjoys working closely with us as their North American representative. Often, our efforts have been rewarded with exclusive inventory, and on occasion, with defaulted inventory that we could offer at discounted prices. That's the good news.
The bad news is that every time they've released a new property, they've done so on a Saturday morning (the beginning of their work week), making it a challenge for me to get the word out to all of you. And, as it turns out, today's news is too urgent to sit on until Monday, as it is extremely time sensitive.
First Crack at Dubai's Newest Condo Hotel
This is our first and only exclusive listing on any of MED's properties, for the entire building, even if our exclusivity only runs for less than 48 hours.
This is the note that I got today from my on-site salesperson, Zeina, followed by a half dozen emails that came directly from Nigel, the Director of Sales and Marketing, that each said "Joel, only!!!"
Dear Joel,
We are launching Monday morning this building. It is not included in the promotion for the Dubai shopping festival, but you can prepare yourself and you have today and tomorrow to send it to your customer before anyone else.
No one has this info. till now. All the agents will get the info. simultaneously on Monday, only 66 units available and they will be sold on Monday on a first come first served basis, so you have a two day head start. I know it is the weekend but you might do something in these two days.
This project is being developed by NAKHEEL, which is part of the Dubai government and the project is already at 2nd floor level. Like all of our projects this is a prime location and an excellent investment. I am aware that you usually like to get a tremendous amount of information so that you can digest it prior to launch, but in this case, I cannot allow you that luxury.
Best regards,
Zeina
Project Overview
Toscana Club Residence is a new community of spacious, multi-sized condo hotel apartments located within Discovery Gardens. It is paradise for anyone who's ever wanted to live among a choice of lush foliage, desert blooms or beautifully manicured lawns. Capturing a rich diversity of nature and inventive landscaping, this unique community features courtyard gardens and rich examples of cultural heritage brought to life in an exceptional place to live. Here, residents will find a spacious home amid tropical surroundings that's priced within reach. Toscana Club Residence will be a five-story building with 66 condo hotel units. It is expected to receive a three-star rating.
Building Features
Concrete walls and floors between apartments provide acoustical privacy
Exterior walls are sand cement finish with exterior grade epoxy paint
Operable windows shall be plastic powder coated aluminum frames with insulated double glazing Insulated roofs exterior walls
Waterproofing membranes under all ceramic tile works in wet areas
District chilled provided
Living & Dining Rooms
Single maple veneer solid core entry door with security view hole
Feature apartment entry hallways with ceramic tile floor
Ceramic floor tiles to all other living areas
Feature and accent lighting to entry, living and dining rooms
Kitchen
Quality Kitchen cabinetry
Ceramic floor tiles
Marble bench tops and splash backs
Stainless steel sinks and drains board
Space and services provided to major appliances
Bedrooms
Ceramic Floors tiles
Walk-thru closets or compartmentalized wardrobes
En Suites
Quality bathroom fixtures with bidet
Vanity lighting
Ceramic floor and full height wall tiles
High quality mixer tap ware to vanity, basins, bath and shower
Composite stone vanity tops
Technology and Security
High-speed internet access with future technology ready features
Apartments ready for cable TV and telephones
High quality switches and outlets
In-house security guard /janitor in each building
Health and Recreation
Community swimming pools
Landscaped gardens
Jogging path
Cycling path
Football pitch
Tennis court
Special Features
Reception at main entry in each building
Formal port cochere featuring polished marble entry
Fully air conditioned
Feature entrance hallways to apartments
Great Location in Discovery Gardens
This project is located in Discovery Gardens, which is in Dubai in the area called Jebel Ali. It is five minutes away from the Gardens Shopping Mall called Ibn Battota Mall, which will contain clothing retailers, art shops, supermarkets, laundry, beauty salons, tailors and all other services for daily living. (Read more about this mall at the end of this document.)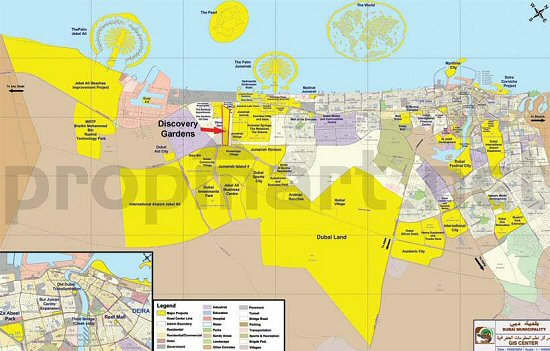 It is 10 minutes from Emirates Mall, Dubai Internet City, and Dubai Media City. 15 minutes away from Dubai Land. This project is also 10 minutes away from the new Jebel Ali Airport. (Read more about Discovery Garden, at the end of this document).
Unit Size and Pricing
At this time the developer is only releasing the units on the ground floor and the third floor. Studios units are 484 sq. ft. — Ground floor, $108,734 — Third floor, $111,386 One bedroom units are 958 sq. ft. — Ground floor, $215,221 — Third floor, $220,471
Payment Schedule and Requirements
Please understand that there is no seller financing being offered at this time for Toscana Club Residence units. This means that all purchases must be paid in full in installments as follows:
Deposit 10% due upon signing reservation form
1st Installment 10% due within 30 days of reservation
2nd Installment 10% due within 90 days of reservation
3rd Installment 20% due July 30, 2006
4th Installment 20% due March 31, 2007
5th Installment 20% due December 31, 2007
6th Installment 10% upon completion
As you can see, a 10% deposit is required with the reservation form. However, to accommodate my buyers, the developer has given me a little extra time. To reserve one, you will need to send in a non-refundable deposit for AED5000 on a credit card. This is equivalent to about $1,369.
Then, by no later than this Tuesday, the balance of the first 10% deposit must be wired to them and confirmation of this will need to be faxed to them. If this is not done within the allotted timeframe, your unit will be released and quite possibly, your deposit lost. So if you cannot get to the bank by this Tuesday, do not reserve a unit!
Discovery Gardens Project Overview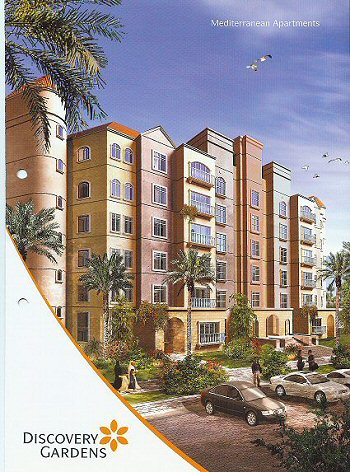 Discovery Gardens, a 420,000 square meter development, is a pre-designed complex comprised of themed communities, styled in a variety of garden experiences.
The apartments in Discovery Gardens are exquisitely designed using marble and ceramic tiles from around the region, with maple finishing and attractive lighting to bring warmth and comfort.
The distinct cultural influences of each themed community are evident in the external design of the buildings – stucco-colored architecture of Mediterranean Gardens, domed rooftops of Mogul Gardens, simplistic Asian style of the Zen Gardens, a touch of the South West in Contemporary Cactus and the courtyard gardens of Mesoamerica. Here, residents will find a spacious home amidst lush surroundings priced within reach.
Discovery Gardens features a new community of spacious, multi-sized apartments; a paradise for anyone who's ever wanted to live among a choice of lush foliage, desert blooms or beautifully manicured lawns. The stucco-colored architecture blends in with the surrounding lush greenery, enveloping residents in a relaxing lifestyle. The Discovery Gardens apartments have all the comforts of life including a variety of dining options and fine retailers. Discovery Gardens offers access to all the key communities in Dubai including Jumeirah Islands, Jumeirah Lake Towers and Dubai Marina. For more shopping and entertainment, the city center is just a short drive away.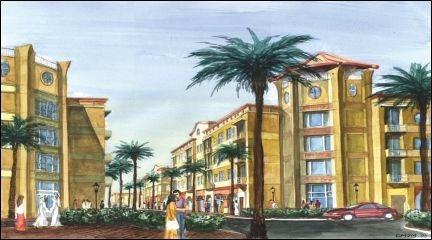 Discovery Gardens is situated in an ideal location. Community swimming pools, landscaped gardens, jogging paths and tennis courts provide excellent recreational venues. Just five-minutes away, the new Gardens Shopping Mall offers clothing shops, art shops, laundry, supermarkets, salons, tailors and other necessary services. Discovery Gardens is situated along Sheikh Zayed Road between interchanges five and six. The development encompasses the area between Sheikh Zayed Road and Emirates Road. It is close to Jebel Ali Freezone, Dubai Internet and Media Cities, The Palm islands and Hard Rock Café.
Shopping malls in the form of culturally beautiful Ibn Battuta Mall and the Mall of the Emirates with its indoor ski slope are in close proximity of the communities. Discovery Gardens is located in a convenient and beautiful location with the palatial towers of Jumeirah Lake Towers towering in the background, and the greens of the Emirates Golf Club beckoning enthusiasts.
Ibn Battuta Mall Project Overview
Ibn Battuta Mall continues to change the face of shopping and leisure entertainment in Dubai, revitalizing the entire Western area of the city with world-class entertainment and contemporary leisure facilities.
Ibn Battuta Mall's distinct architecture, brand new interchange providing easy access, 16-outlet food court and unique restaurant court, retail zoning, and huge 21-screen megaplex, including the UAE's first IMAX theatre, have provided an attractive lure to the thousands of visitors who have poured through the doors since it opened April 2005.
In keeping with the promise to deliver the most innovative mall concept in the region, Nakheel has delivered an original theme based on the life of Arab traveler and adventurer Ibn Battuta.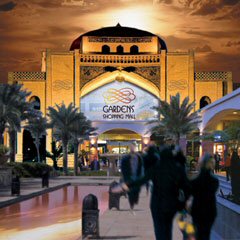 A globetrotter and a man of great vision, Ibn Battuta set off on his legendary journey of the world as a young man around 700 years ago in search of knowledge and excitement. Ibn Battuta's 75,000 mile voyage led him on many dangerous and thrilling adventures as he journeyed through Andalusia, Tunisia, Egypt, Persia, India and China.
The main geographical themes of these six regions have been reflected in the architecture and the general ambience of the mall's six courts, which are laid out in sequence of the path Ibn Battuta took to explore the world.
This tremendous experience is unique to all visitors and has already featured many exciting events ranging from festivals and exhibitions, to special offers and shows for all ages.
Additional Information Available on Toscana Club Residence
Here is what I have been provided so far, and which I am able to share with you:
Building image (see rendering attached to this email)
Press release
Floor plans
Credit card form to make the purchase
Reservation form with payment schedule
Initial inventory to be released
A video of the project
Rendering of Discovery Gardens
Frequently asked questions about Dubai condo hotels
Summary
So there you have it, with as much detail as I can offer at this time. I'm available all day and night, (preferably by email) Saturday and Sunday to answer your questions as best I can, and to send you the above-mentioned information if you need it. If you are serious about buying a unit, I urge you to act promptly. If you delay contacting me until Monday, you may not get a unit. Again, there are only 66 units available. There are 1,100 brokers in Middle East Development's global network, all of whom will get this info. Monday morning. Here in the U.S., we are at least eight hours behind most of these other brokers who are located in Europe and Asia. I fully anticipate that all units will be gone by Monday afternoon. Thank you for your interest in this new, exciting Dubai condo hotel development and for allowing me to interrupt your weekend with this news. To receive the aforementioned information, simply reply to this email or write me, Joel Greene, at Joel@CondoHotelCenter.com. And if you haven't visited it already, please refer to our newest website, www.CondoHotelsDubai.com, for more on condo hotels in Dubai. All the best,
Joel Greene
Licensed Real Estate Broker
Condo Hotel Center
1368 NW 165th Ave.
Pembroke Pines, FL 33028
(954) 450-1929
Joel@CondoHotelCenter.com
www.CondoHotelCenter.com
www.CondoHotelsDubai.com
www.WorldClassCondoHotels.com
www.CondoHotelsBahamas.com 
www.CentralAmericaSecondHomes.com
www.DominicanRepublicVacationHomes.com
Want to know more about me? Click below:
//www.condohotelcenter.com/joel-greene.html
Follow us on Facebook.