Reno, Nevada Pre-construction Opportunity
The Summit at Grand Sierra Resort
December 6, 2005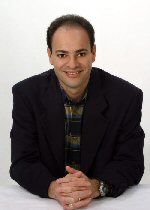 When I was a teenager, I was fortunate that my father sent me on teen tours "to broaden my horizons," and allow me to do some traveling during the summer. I only realized later that he had an ulterior motive, to get me out of his hair for six weeks.
Nevertheless, one of my trips out west took me to Reno. This was the first time that I had ever seen a casino or even a slot machine for that matter. And no age limit was going to stop me from trying my hand at lady luck. After hitting a $25 jackpot on a nickel slot (a virtual fortune to a 14 year old), and having the money I needed to buy myself a new pair of earth shoes (remember those things?), I've always had a warm place in my heart for the biggest little city in Nevada.
Fast forward 27 years and the place that I recall so fondly has come into my life again. This time, as you might have guessed, it's in the form of a condo hotel. We were contacted a couple of months ago by the buyers of the 2,000-room Reno Hilton.
Two members of Condo Hotel Center even flew out to Reno to meet with the development team and tour the site. We were told then of their early plans for the purchase, conversion and addition to this massive development that will now include about 2,000 condo hotel rooms and 2000+ additional residential condominium units along the Truckee River.
Now, their plans are firmed up, and because we have been tracking this property for months, we are able to bring this to you at early selection and first-tier pricing.
The Summit at Grand Sierra Resort
No longer called the Reno Hilton, The Summit at Grand Sierra Resort, located in the heart of Reno, will be a four-star property. It will offer families, travelers, conventioneers, and gaming enthusiasts the opportunity to stay and play at the gateway of the Sierra Nevada Mountains.
From The Summit at Grand Sierra Resort, it's only minutes to championship golf courses, hiking and biking, along with world-class fishing and boating on Lake Tahoe, and some of America's finest ski resorts.
The Summit at Grand Sierra Resort is located on 145 beautifully landscaped acres with a picturesque 38-acre lake. The whole project will consist of nearly 2,000 units. First, the top 11 floors of the existing tower will be converted into 824 condo hotel units. Construction will start February 2006. Currently, the property has the following existing amenities:
Full-service spa
Fitness center
Variety of restaurants
200,000 sq. ft. of convention space
107,000 sq. ft. casino, with 1,300+ slot machines
Superbook – watch and bet on sports (see photo right)
70,000 sq. ft. shopping promenade
40,000 sq. ft. children's adventure center
Aquatic golf driving range staffed with pro instructors
Indoor golf simulator
Jogging track & walking track
Thrill rides
Go-cart track
24-hour, 50-lane bowling alley
A world-class dinner theater, seats 1,800
Wedding chapel
Shuttle service to local ski/bike areas
Sound good? Well wait until you hear what's in the works for the future.
Planned Amenities for The Grand Sierra Resort
The Summit at Grand Sierra Resort will not be resting on the laurels of its days as the Reno Hilton. Its developers will be investing over $120 million above the purchase price of the hotel in total cost of renovations in the existing tower and a total of $1.8 billion as they fully develop the new project including the building of an additional tower and two water parks as well as other incredible amenities.
The master plan for the development of this project will take five to seven years to complete and will make the Summit at Grand Sierra Resort one of the west's premier resorts.
Here's what is in store for this property in the years ahead:
Conversion of the top 11 floors of the existing 27 story building into 824 condo hotel units, available for purchase now in pre-construction (Phase I)
Two 43-story towers of luxury residential condominiums – 700 units on the banks of the scenic Truckee River
10 restaurants, clubs and bars with plans to add some of the most popular establishments from Los Angeles, The Bay Area, and Las Vegas including; Dolce (owned by many of the stars from "That 70's Show" including Ashton Kutcher), Charlie Palmer Steak and soon to be announced fish concept.
The nation's largest indoor water park (150,000 sq. ft.)
"James Bond-like" Water Park
As mentioned, there will eventually be an immense indoor water park built at The Summit at Grand Sierra Resort. KKE Architects in conjunction with Ramaker and Associates, one of the country's leading civil engineering firms specializing in warterpark development, are currently working on plans for a 150,000 sq. ft. themed attraction to be built with a fully modernized concept being referred to as "the James Bond of water parks."
The plans being discussed include light and water show technology, as well as slide bowls, tube slides, surfing machines, wave pools, caves, raft rides on a lazy river, an elevated mountain spa, children's areas and pools for younger visitors, and adult areas with swim-up bars, hot tubs and nightlife entertainment.
More on the Casino
The waterparks at The Summit at Grand Sierra Resort will certainly be a huge draw to bring guests to the resort. But so will the immense casino, at one time the largest in the world at 107,000 sq. ft. Upon approval of the Nevada Gaming Control Board and the Nevada Gaming Commission, Larry Woolf, former chief executive officer and chairman of MGM Grand Hotel, Las Vegas, will lease the property's gaming operations from Grand Sierra Resort Corp and will operate the casino under his company, The Navegante Group. The Navegante Group has more than 50 casino/hotel projects worldwide.
About the Condo Hotel Units
The Summit at Grand Sierra Resort is now offering condo hotel suites priced from $205,000 to $1.6 million. Available are studios and one- and two-bedroom units ranging in size from 427 sq. ft. to 2,000 sq. ft.
Units will be remodeled with the following amenities:
Flat-screen TV's
Custom cabinetry in the butler pantry
Black granite kitchen/bar countertops
Other upgrades expected in a four-star hotel room
An Impressive Development Team
The developer for the property is a Nevada-based company called Grand Sierra Resort Corp. It was formed by a group of developers and investors who collectively have more than a century of combined experience in real estate development, hospitality, and gaming. For this reason, there is currently no plan to franchise the operation of the resort.
The developers of this project look like a Who's Who team of specialists:
Thomas J. Schrade, (President), a 35-year veteran in conceiving, building and financing multi-million dollar projects in the casino, resort, hotel, restaurant, entertainment and amusement park industries.
Roberts H. Pace, Jr., (Executive Vice President of Operations), whose 15-year-old Central Group Companies provides consulting services, development expertise and management services for hospitality projects nationwide, including hotels and themed indoor water parks.
G. Scott Bayless, (Executive Vice President of Business Development), a Harvard alumnus with over 17 years of experience in national and international corporate development and strategic planning.
Terry Ramaker, (Director) founder and C.E.O. of Ramaker & Associates, the nation's premier water park engineering firm who during more than three decades has designed over 50 indoor/outdoor water parks.
A Central Location
The Summit at Grand Sierra Resort is located in the heart of Reno, "America's Adventure Place," only minutes away from dozens of championship golf courses, some of the country's finest ski resorts, and hiking, biking, fishing and boating on Lake Tahoe. It offers spectacular views of the surrounding Sierra Mountains and Reno Valley. It is three miles east of downtown Reno and just 1.5 miles to Reno Tahoe International Airport.
The 12-mile Truckee River Recreation Trail runs along Reno's scenic waterway and right past the hotel. It is ideal for walking, biking, skating and viewing local waterfowl.
The location of The Summit at Grand Sierra Resort is strategic. It is bounded on the west by U.S. Hwy 395, a major arterial which averages more than 140,000 vehicles per day. It is the primary north-south highway in Reno, connecting it with Carson City and the Lake Tahoe area, approximately 40 miles to the south.
Interstate Highway 80 is the primary east-west route in the region, located less than one mile north of the property. I-80 provides access to Sacramento and San Francisco. The Grand Sierra Resort will have access to more than 14.6 million people within a 250-mile radius. This population base is projected to grow to nearly 15.5 million by 2009.
A Little Background on Reno
Reno, Nevada is a popular tourist destination in the northwestern portion of the state near the California border and Lake Tahoe. Approximate distances are as follows:
130 miles northeast of Sacramento, CA
210 miles northeast of San Francisco, CA
425 miles northwest of Las Vegas, NV
580 miles southeast of Portland, OR
Northern Nevada offers a high quality of life and a business-friendly environment. The ongoing economic ills of California have contributed to the region's economic growth in recent years, attracting both population and business growth from the neighboring state. The housing and construction industry has exploded fueling the recent expansion.
Meanwhile, economic indicators reveal that the regional economy is transitioning into a more diversified economy from its reliance on the gaming industry. The transformation is being led by the technology, healthcare, construction and education sectors.
Reno Evolves as a Destination
Downtown Reno, less than one mile from The Summit at Grand Sierra Resort, is in the midst of an economic and cultural resurgence. The Reno Events Center is a newly built 118,000 sq. ft., $27.5 million facility. It includes seating for 7,500 and is a draw for conventions, concerts and sporting events.
According to award-winning designer Dodd Mitchell, "Reno continues to evolve as a destination and deserves a resort property that will meet the needs of leisure and business travelers alike. While the new property's nightclub, bar and casino scene will be vibrant for adults looking to party, we've placed an equal emphasis on family fun as well as business amenities. We like to say this resort will represent 'the re-creation of recreation.'"
Want More Information?
I've put together a data sheet on The Summit at Grand Sierra Resort that will give you more details on the property and specific instructions on how to reserve a unit. It can be emailed to you immediately. In accordance with developer requirements, we ask that you first provide your name and contact information.
While there is no cost to you for this data sheet or for Condo Hotel Center's services, please understand that upon requesting this data sheet, you will be registered with the developer as a client of Condo Hotel Center, a licensed real estate broker.
Request The Grand Sierra Resort data sheet here.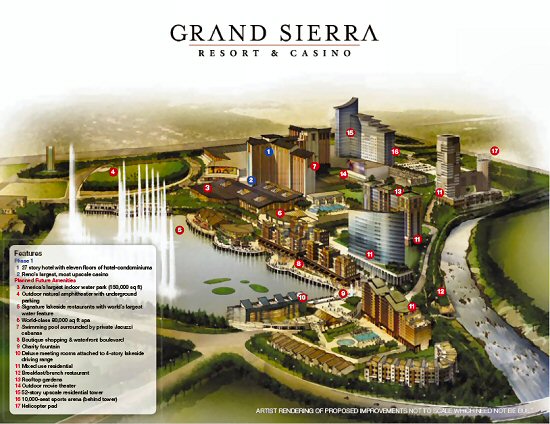 Wrap-up
So, it's been 27 years since I was last in Reno. I went from a teenage boy wearing a three-piece leisure suit (gimme a break, it was the 70s) trying to look older to a 41-year-old realtor trying to look younger and wishing he had the head of hair that he did when he was 14.
Like me, the Reno Hilton has grown up too and is still growing, from a luxury hotel with the nation's biggest casino to a premier resort with incredible amenities that you and your family can enjoy owning and visiting for years. Sometimes looking back can be fun, but in this case, I think the promise of what lies ahead is even more exciting.
Thank you for your interest in news from Condo Hotel Center. If you enjoy reading our Property Alerts, please feel free to forward them to a friend. (You can unsubscribe at any time using the link at the bottom of each Alert).
Again, if you'd like The Grand Sierra Resort data sheet, click here.
Have a great week!
Joel Greene
Licensed Real Estate Broker
Condo Hotel Center
1368 NW 165th Ave.
Pembroke Pines, FL 33028
(954) 450-1929
Joel@CondoHotelCenter.com
www.CondoHotelCenter.com
www.CondoHotelsDubai.com
www.WorldClassCondoHotels.com
www.CondoHotelsBahamas.com 
www.CentralAmericaSecondHomes.com
www.DominicanRepublicVacationHomes.com
Want to know more about me? Click below:
//www.condohotelcenter.com/joel-greene.html
Follow us on Facebook.