The Condo Hotel Summary 2005
December 21, 2005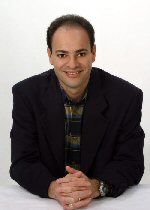 Joel Greene here from Condo Hotel Center. Well, 2005 is just about over, and so I thought I'd use this holiday week as an opportunity to look back at the previous year and summarize some of the trends that we're seeing in the condo hotel market and also give you some indications of what we expect to see in the future.
Condo Hotel Overview:
There is a spreading enthusiasm about the condo hotel concept. More buyers are recognizing the benefits of owning a hassle-free vacation home with numerous amenities and the potential to appreciate.
More developers are creating product to meet the increasing demand. Whereas we used to receive a couple of developer calls a week, we are typically being contacted by one or two each day now, and not just from the U.S., but from as far away as Australia, India, Scotland, Ireland, Spain and Belize.
Condo Hotel Buyers:
Buyers come from all over the U.S. On the international front, the largest concentration of buyers comes from Great Britain, other parts of Western Europe and Canada. We also see buyers, particularly of South Florida condo hotels, from various countries in South America.
Purchase Objective:
Despite the fact that the Securities and Exchange Commission prohibits selling condo hotels as investments, most buyers do take investment potential into greater consideration than the vacation home aspect when making a condo hotel purchase. They want a second home that they will enjoy, but they also appreciate the diversity that owning real estate can provide in their investment portfolio.
Having said all that, we find that few people will invest in a location that they could not see themselves visiting, even if "I have no intention of using it," unless they have a truly compelling reason to invest anyways. Our condo hotel offerings in Dubai, which are amongst our clients' favorite non-U.S. locales for investment, provided this type of compelling reason with its guaranteed 8% annual returns. (See Arabian Crowne in Dubai, pictured right.)
Sales Process:
Most condo hotel properties sell at least 50% of their units before beginning construction. Often this is a requirement the developer must meet before they receive their construction loan.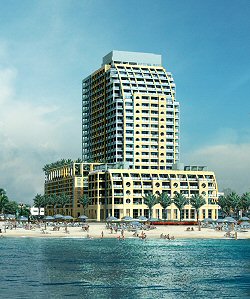 Sell-outs of large condo hotels with 200 or more units typically take one to two years. However, those properties that are much anticipated due to their brand name, such as Trump International (pictured left) or Hard Rock, sell out much more quickly, and the most highly desirable units are often gone within days of the property coming on the market.
Best Time to Buy:
The best time to purchase a condo hotel unit is in early pre-construction phases. Most properties experience three to six price hikes before completion. Those buyers who get in when the condo hotel first comes on the market, or even better during the "whisper campaign" phase, realize the greatest appreciation of their condo.
Hot Areas:
Prime vacation destinations continue to be the most popular areas for condo hotel development. Buyers want a location that is convenient to local attractions, shopping, restaurants and a major airport.
I would be remiss if I didn't mention Orlando, FL. Orlando is quickly becoming one of the hottest condo hotel areas. Once considered the timeshare capital of the world, it now seems intent on also capturing the title of condo hotel capital. Projects like WorldQuest Resort, Sage Resort Orlando, Venturella Resort, Mona Lisa at Celebration and Bella Casa Resort were all launched in 2005.
Not a week goes by that we don't get a call from an Orlando hotel owner or developer thinking of converting or building a condo hotel. And even with a 27% real estate appreciation rate from 2004 to 2005, many people still see Orlando property as undervalued. We expect at least 10 and possibly as many as 20 new condo hotel projects to become available in Orlando within the next year.
Other hot areas for condo hotels are:
Beach locations like Miami, Fort Lauderdale, Myrtle Beach and Caribbean islands.
Casino locations like Las Vegas, Reno and the Caribbean.
Theme park destinations like Orlando, the Wisconsin Dells and Dubai in the Middle East.
Mountain and ski areas like Vermont, Colorado and Canada.
Metropolitan areas like Chicago, San Diego and Toronto.
Growth in Florida:
Looking at South Florida, it's easy to see what is happening. Miami Beach, the hottest area, is all built up. There just isn't any undeveloped land. That's causing developers to head to the northern end of Miami Beach (North Beach) and areas still further north such as Sunny Isles, Fort Lauderdale and Pompano Beach.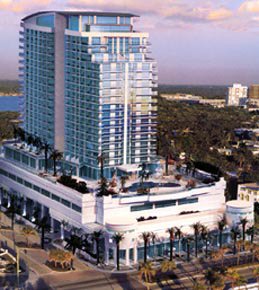 A new trend is developers buying existing structures and upgrading them, as is the case in many of the South Beach condo hotels like The Breakwater, The Royal Palm South Beach, and the new-on-the-market Saxony. (Info available upon request, but not yet posted on our site.)
We also see developers knocking down existing structures and starting over, as in the cases of the Q Club (pictured right), the W South Beach, Regent Bal Harbour and The Trump Fort Lauderdale in which existing older hotels were demolished and four- and five-star condo hotels are being built in their place.
Some properties are beginning to crop up inland. These condo hotels may not have oceanfront views; however, they're within a few short blocks of a beach. An example is the Gallery One in Fort Lauderdale.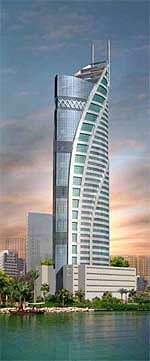 Another condo hotel, The Wyndham Resort in Weston, FL, offers proximity to championship golf courses and has a popular onsite name-brand spa, The Golden Door Spa.
Because they're not on the ocean, these properties tend to be priced more economically. As the cost of oceanfront units soar, we see these alternatives being bought more by the user/buyer than the investor.
Growth Outside the U.S.:
We are seeing some very exciting developments in this regard. By far the most dynamic area is Dubai, one of the United Arab Emirates. It has come out with several five-star condo hotels in the last six months including the Arabian Crowne, the Windsor, (pictured right), Business Bay, and the newest one, Red Residence in Sports City, and more are on the way including one to be developed by Donald Trump.
The Caribbean is also very active in the condo hotel arena. Consider The Bahamas with The Residences at Atlantis, Belize with Bella Maya (to be featured soon in one of our first Property Alerts of 2006) and Jamaica with The Palmyra. We also know of new developments coming to The Turks & Caicos Islands, St. Lucia, Antigua and the Dominican Republic.
Canada has numerous condo hotels in development as well. We will be introducing an exceptional condo hotel to you in spring 2006 coming to the great ski area of Tremblant, Canada. (Please let us know now if you'd like preliminary info to be sent to you as soon as it is available.)
Franchises:
The most popular properties continue to be those with a franchise name, one that brings a reputation for four- to five-star quality. The brand names that bring instant attention and sales to a property include Hilton, Starwood, Ritz-Carlton, Hard Rock, W, Four Seasons, Trump International and Hyatt.
Unique Condo Hotels:
Not all condo hotels are brand name high-rises in typical vacation destinations. We're seeing good quality, independently-owned properties popping up in unique locations as well.
Consider The Lodges at Lake Lawn Resort in Delavan, WI which offers access to a large lake and will soon have its own indoor water park. There's also Waterford Estates Lodge in South Bend, IN which will cater to University of Notre Dame alumni and football fans.
The Bilmar Beach Resort in Treasure Island, Florida, is a relatively small independently owned beachside condo hotel that has a successful 40+ year history operating as a hotel. And there's The Grand Sierra Resort in Reno which when complete will have two indoor water parks, a huge casino and access to Lake Tahoe water sports and snow skiing.
Standard Amenities:
The bar is continually being raised with regard to amenities. More properties are now including full-service spas, fine dining restaurants, fitness centers and concierge services.
We're also seeing a trend toward including indoor water parks which have the ability to draw hotel guests from hundreds of miles away. That's not to say that all condo hotels are adding water parks, but for cities that lack beaches and have long, cold winters, a condo hotel with an indoor park that allows people to use their vacation homes year-round has an amenity that appeals to families and helps it stand out from the competition.
The Selling Process:
A lot of properties take reservations of more than half the total project long before they've even prepared their purchase contracts. This means that many of the best units are reserved months before any money changes hands and often before even the first spade of ground has been turned over.
Those early investors often see significant appreciation on their investments, but in some cases, they also must cope with project delays, such as when a developer makes improvements or modifications to their plans based on buyer feedback, necessitating a delay in getting condo documents approved by the state.
The San Marco Resort in Lake Buena Vista (Orlando), FL is a prime example of a property where we got many Condo Hotel Center buyers in early, but condo document approval and construction have been delayed several months while the developer purchased additional land next to the property to add amenities including a lake with a jogging path around it, two tennis courts, and a putting green. On the plus side, from the time we first introduced our clients to The San Marco Resort a little over a year ago until now, the average price of the units has risen 38%.
Prices:
Like anything for which there is more demand than supply, prices keep going up, up, up. Developers typically implement three to six price hikes of 5% to 10% each from the time they start selling until they sell out of all units.
Developers are no longer discounting prices at the beginning of the selling process when they are anxious to get a few sales under their belt. This used to be common practice; it is no more because demand is so great.
Quality:
Condo hotels are adding to the quality of their product in numerous ways. They're adding state-of-the-art technology such as wireless Internet access and Plasma TVs. They're incorporating designer furnishings and finishes like granite countertops, tile and marble flooring, crown molding, brand-name kitchen appliances like Sub-Zero and Miele and using European styling throughout. They're putting in name-brand amenities wherever possible like full-service spas, trendy clubs, fully-equipped business centers and hot restaurants with popular chefs.
Most condo hotels being built are of four- to five-star quality. The reason is two-fold: 1) There is demand for the types of services provided by four- and five-star properties, and 2) Prime land (oceanfront or near a major theme park) is so costly that it makes more sense for the developer to put in a luxury property with units that he can sell at a premium price rather than lower priced units.
Quantity:
According to new research by Lodging Econometrics, a hospitality research group out of Portsmouth, NH, the market for condo hotels is expected to stay hot. The current pipeline for condo hotels over the next few years is estimated at 29,042 units in 105 hotels (an average of 276 units per project) either under construction or in the planning stages. About 75% of these units are new construction, with the remainder converted from existing hotel guest rooms. About 88% percent of the hotels are considered luxury or quality; 46% of them are in Florida. In 2006, 32 projects with 4,831 condo hotel units are forecasted to open while 27 projects with 5,025 units will open in 2007.
Financing:
Financing a condo hotel unit has become easier for buyers. There was a time when most banks and mortgage companies weren't even familiar with the term "condo hotels." They now know it and also recognize the viability of these properties. And with more competition from various lenders now in the market, they are more accommodating in expediting these loans.
Perhaps the only major hurdle we still see is financing of condo hotel units that are under 500 square feet and do not have kitchen facilities. For this reason, most developers, even those who are converting existing hotel rooms into condo hotels units, will find ways to increase their unit sizes (often by combining two rooms into one unit) and will install at least basic kitchen facilities.
Contracts:
Contracts that allow assignability have become rare. In the past, at some properties, buyers could place a deposit on a unit in the pre-construction phase and then flip their contract prior to closing. Developers now want to be sure that they don't compete to sell their last few units with investors who purchased early at pre-construction prices and are now re-selling them at below the developer's current prices. Among the methods used to discourage flippers are asking buyers to put up higher than usual cash down deposits at reservation and requiring that the same name that appears on the reservation also appear on the contract.
Resales:
The condo hotel resale market is still extremely limited. Because only a relatively few condo hotel properties have been completely constructed to date, there are few resales on the market at this time. Most sales are therefore taking place between the developer and new buyer. Of course, as more properties are completed, we will see more resale properties become available.
Conversions:
As alluded to earlier, one of the next big trends within the condo hotel market will be the conversion of pre-existing hotels into condo hotels. Many smaller independently owned hotels and many grand old hotels such as Cheeca Lodge in Islamorada, FL and The Inn at Pelican Bay in Naples, FL are welcoming individual investors.
Hotel owners are using the conversion process as a way to finance improving their property with updates in amenities and services to become more competitive in the market. Selling off units as condos to individual buyers allows the developer to finance the upgrade without increasing his debt or putting up more of his own money.
A conversion could also be a potential exit strategy for the developer. A hotel may be sold off unit by unit for more than an outright sale of the whole property, and the developer can still retain his 50% income stream and hire a professional management company to operate it for him. In addition, if he chooses, he could sell that income stream to another investor now or in the future.
Finally, another reason why we're seeing conversions of existing hotels and resorts to condo hotels is simply that there is limited desirable land on which to build new structures. For example, a developer wanting to create an oceanfront condo hotel in say Miami Beach, must buy an existing structure. He is then faced with the decision of demolishing the old building and starting fresh or simply renovating and upgrading the existing structure. The latter strategy is a less costly and much quicker option, but depending on the initial footprint of the existing building and current building and height allowances, he must decide if that is the best use of the land.
1031 Exchanges:
We see many people using condo hotel units to complete 1031 exchanges. A 1031 exchange allows a taxpayer (exchangor) to sell his or her existing property (relinquished property) and purchase more profitable and productive property (replacement property) while deferring federal, and in most cases state, income taxes.
Most people doing 1031 exchanges look for condo hotel conversions. Preconstruction opportunities will not work for them as they have to close on their purchase within six months, and it may take up to or even more than two years for a property to be built from the ground up. The conversions take less time to build than new construction and have more predictable completion dates, thereby ensuring that the buyer will be able to meet a 1031 exchange deadline.
Developers:
Some of the biggest names in the hospitality industry are becoming involved in condo hotels. Donald Trump, for example, now has six condo-hotel projects in the works in Chicago, Fort Lauderdale, Miami, Phoenix, Las Vegas, and Dubai.
Mixed Use:
We're seeing lots of hybrid situations. Large-scale condo hotel properties such as The Cosmopolitan Resort and Casino in Las Vegas will contain a mix of several thousand condo hotel units and traditional hotel rooms. In addition, there will be 150,000 sq. ft. of meeting space; 300,000 sq. ft. of retail, restaurant and entertainment space; a 70,000 sq. ft. casino; and a 50,000 sq. ft. spa.
Condo Hotel Alternatives:
Just as the condo hotel market has grown in the past year, we see more fractionals, private residence clubs and destination clubs coming on the market.
While these alternatives do not offer revenue-generating potential, they do provide a way to own an ultra-luxurious home or multiple homes in fantastic destinations all at a fraction of the cost of whole ownership. Owners get four to eight weeks of use at places like Calistoga Ranch in Napa Valley, CA; The Ritz-Carlton Club in Aspen, CO; One St. George in St. George Island, FL; Coral Gardens in he Turks & Caicos Islands; The Waterford Private Residence Club in the Cayman Islands; and Lighthouse Key in Orlando, FL.
The Future of the Condo Hotel and Fractional Market:
75 million baby boomers in the U.S. will retire in the next 15 years. If just 5% choose to own just one condo hotel unit or fractional as a seasonal second or third residence, 3.75 million units will be sold or 250,000 units annually.
Advice to New Buyers:
How can buyers choose a condo hotel unit that will be a good investment? It's best if they can work with a real estate broker who specializes in condo hotels and can make them aware of the pros and cons of all products currently on the market. Aside from that, they should look for the following elements:
Location: Real estate is all about location. Beachfront properties in South Florida, as an example, have done exceptionally well in recent years. Their appreciation has been significant. If you prefer a property that is not on the ocean, it's a good idea to select one in an area where you can expect to have business driven to your property, such as near a major convention center, a large metropolitan area or theme parks.

Franchise: It's always safest to go with a major company, well-known internationally. Four Seasons, Hilton, Starwood, Rosewood, Setai, Ritz-Carlton and Trump are excellent examples. Investors and hotel guests will pay a little more for the comfort level they get with a well-known, well-respected franchise.

Management Company: Compare the management companies and their rental-sharing program. You will likely feel more comfortable investing your money in a condo hotel with an experienced, top-notch management company vs. an independent operator. Also, it's worth noting that an established management company does worldwide marketing and likely has a state-of-the-art reservation system that will help ensure your unit is rented as much as possible.
Wrap Up
Well now you have an idea of what we at Condo Hotel Center see as the current state of the condo hotel market. We welcome your questions and your input. We also want to take this opportunity to thank those of you who have tipped us off about new properties coming on the market and extend gratitude to those who have referred friends, family and associates to our website and our services as buyer brokers.
Thank you to all of you, our Property Alert subscribers. In the coming year, we look forward to serving as your information source for all things condo hotel. We hope you find our Alerts helpful in making educated buying decisions and will choose Condo Hotel Center for assistance with all of your condo hotel purchases.
From all of us here at Condo Hotel Center, we extend best wishes to you for happy holidays and a healthy and prosperous new year.
Joel Greene
Licensed Real Estate Broker
Condo Hotel Center
1368 NW 165th Ave.
Pembroke Pines, FL 33028
(954) 450-1929
Joel@CondoHotelCenter.com
www.CondoHotelCenter.com
www.CondoHotelsDubai.com
www.WorldClassCondoHotels.com
www.CondoHotelsBahamas.com 
www.CentralAmericaSecondHomes.com
www.DominicanRepublicVacationHomes.com
Want to know more about me? Click below:
//www.condohotelcenter.com/joel-greene.html
Follow us on Facebook.