Oceanfront Condos from $169,900
Shores of Panama, Panama City Beach, Florida's Gulf Coast
April 8, 2013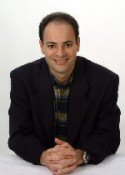 Hello.  Joel Greene here from Condo Hotel Center.  I'm writing you from beautiful South Florida where spring has definitely sprung.  The sun is shining and our temps are back to their usual spot in the low-80s. Love it!
Today I'd like to take you to a different part of Florida, a city about as far from South Florida as you can get.  It offers a more relaxed lifestyle than the Miami area and makes the most of the state's beautiful Gulf coastline.  The condominium development I'm featuring is right on the beach and has great potential as a second home and rental property.
Shores of Panama is a large residential development in Panama City Beach, Florida and is located directly on the beautiful Gulf of Mexico.  This 23-story, Venetian-style, luxury resort is already built and operating.  It's become one of the most popular places to stay and play when visiting Panama City Beach.
The development has a total of 709 residences, many of which are already owned by individual investors.  In the just-released Resort Condo Collection there are only 280 units, all new and ready for occupancy.  They're available at attractive pricing and with financing options.
Plenty of Amenities
Shores of Panama features a porte cochere entry.  Pass through the dramatic arches into a Venetian environment with a grand lobby and reception.
Then head right for the resort-style pool & playground.  This $2 million dollar centerpiece includes almost 14,000 square feet of pools, fountains, beaches and gardens.  With over 250 lounge chairs, multiple cabanas and day beds spread out on a deck that spans over 22,000 square feet, there's always a place to relax.
Other amenities include:
Poolside gourmet food tiki & grill
Gulf-side hot tub with privacy stone wall
Beach loungers, umbrellas and water sports
Indoor pool, hot tub and sanctuary
Private spa with full services
Fitness center with cardio and weight-training equipment
Elegant private banquet hall with seating for over 200
Kids' club and playground
Lush landscaping throughout the property
About Panama City Beach
Panama City Beach boasts over 27 miles of sugar white sand, emerald green waters and all the picturesque beach bliss you can imagine.  It averages 320 days of sunshine per year with a median temperature of 74 degrees.
The city is known for its great water sports including swimming with dolphins and sport fishing for Blue Marlin, Red Snapper, Mackerel, Trout, Pompano and Copia.  It's also a favorite of scuba divers, who can explore historical shipwrecks that date back to the pirate days.
Panama City Beach is located just 98 miles southwest of Tallahassee, FL and 297 miles southwest of Atlanta, GA.  Direct flights are offered from many cities throughout the United States.
Property History
Construction on Shores of Panama began in 2005 and was done in two phases.  It was completed in 2008.  Like so many Florida condo developments, the building went into foreclosure in 2009 and was taken over by the FDIC for three years.  No sales took place while this property was in the hands of the FDIC.
In March 2012 the development was sold to the current owner, Shores of Panama, LLC. The inventory now being offered as the Resort Condo Collection is new and has never been lived in.  It is ideal as a second home and as an investment generating rent revenue.
Shores of Panama is run very similar to a hotel in that it has a front desk reception area and offers rental opportunities for as little as a few nights.  A new on-site management company, Emerald View Management, was brought in as of January 2013 to service owners and renters.
Condo Features & Pricing
The Resort Condo Collection now available at Shores of Panama includes 15 different floor plans ranging from one to three bedrooms.  The sizes range from 864 to 1,523 square feet.
The condos have private balconies offering views of the Gulf of Mexico and the pool area.  They feature full appliance packages and granite countertops in the kitchen.  One assigned parking space comes with each condo.  There are no restrictions on you renting out your unit, but again, the on-site management company can handle this for you, if you prefer.
Prices range from $169,900 to $399,900.  Attractive financing options are available with 15- and 30-year fixed rates available for second-home buyers.  Closings can take place within 60 days, putting you in your Florida vacation home just in time for summer fun.
I thought about adding a relevant photo of myself in a Speedo at this point but my wife rolled her eyes when I told her my idea.  "Nobody wants to see your chicken legs, honey."  Fine, fine.
So instead, I'm offering you a data sheet with lots more details about Shores of Panama.  You'll just need to provide your full name and contact information to receive it, per the developer's requirements.
Request the Shores of Panama data sheet here.
Positive News About Florida Real Estate
I continue to see upbeat reports on the turnaround of Florida real estate, particularly with regard to condos.  Inventory levels are rapidly declining, and the tidal wave of foreclosures is fading into history.
Today Florida has again become a premier destination for people from across the world, many of whom flock here to bask in its sunshine and glistening beauty.  It's why I can't imagine living anywhere else!
As always thank you for your interest in the properties we showcase at Condo Hotel Center.  Please contact me with any questions about Shores of Panama or any other property in our Florida inventory or global inventory that interests you.  I am happy to help you find the home that perfectly meets your needs.
Have a sunshine-filled day.  I am!
Joel Greene
Licensed Real Estate Broker
Condo Hotel Center
1368 NW 165th Ave.
Pembroke Pines, FL 33028
(954) 450-1929
Joel@CondoHotelCenter.com
www.CondoHotelCenter.com
www.CondoHotelsDubai.com
www.WorldClassCondoHotels.com
www.CondoHotelsBahamas.com
www.CentralAmericaSecondHomes.com
www.DominicanRepublicVacationHomes.com
www.BiscayneLandingMiami.com
Want to know more about me? Click below: //www.condohotelcenter.com/joel-greene.html

Follow us on Facebook.
© Copyright 2013 Condo Hotel Center
*All rights reserved. No portion of this Property Alert may be reproduced, exhibited or distributed without the express written permission of Condo Hotel Center. Although Condo Hotel Center believes the information contained in this Property Alert to be accurate and complete, Condo Hotel Center can make no such guarantee.