Sereno, a Marina Community Coming to Bay Harbor Islands
Townhomes, Villas and Condos from $494,000
June 16, 2014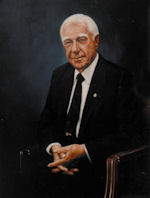 Hello.  Joel Greene here from Condo Hotel Center.  No, I haven't aged prematurely.  The photo to the left is of a gentleman named Shepard Broad.  In a minute, I'll explain why I've included it.
Today's featured property is a to-be-built development in beautiful Bay Harbour Islands, Florida.  Bay Harbour Islands is an upscale city located midway between Miami Beach and Aventura/North Miami, about 15 minutes in either direction. Let me begin by sharing the story of how this city came to be.
The Founding of Bay Harbour Islands
Born in 1906 in Pinsk, Russia, Shepard Broad was orphaned by the age of 10.  An uncle in New York learned of Shepard's plight and sent for him.  A six-month journey brought him to Montreal instead of New York. The 13-year-old boy narrowly avoided deportation when Adolph Stark, the head of a Canadian organization that aided Jewish immigrants, intervened and helped him get to his uncle.  In New York, Shepard was placed in first grade because he couldn't speak English. Incredibly, just seven years later, in 1927, he graduated from New York Law School.  He began to practice law just as the Great Depression hit and devoted his practice to keeping people out of bankruptcy.  A 1937 fishing trip with friends introduced Shepard to Florida, and he instantly fell in love with its great weather and lifestyle.  By 1940, he, his wife Ruth, and their two children had relocated.  In Miami he founded the law firm Broad and Cassel, today one of the largest law firms in Florida.
But law wasn't Broad's sole interest.  He had a second love – real estate.  Broad became intrigued with 253 acres of mud, mangroves and swampland that rose out of Biscayne Bay.  He envisioned the land as a town with many homes, golf courses and shops.
While others laughed at his grandiose plans, Broad decided to pursue his dreams.  He paid the $600,000 asking price and began plans for development.  He called his community Bay Harbor Islands and was successful in getting it incorporated in 1947.
Broad was elected to 26 consecutive one-year terms as the town's mayor for which he was paid $1 a year.  Fortunately, he didn't need a big salary as he made his investment back many times over developing the land into individual properties.
Today, Bay Harbour Islands contains some of South Florida's most exclusive neighborhoods.  And the property I'm featuring today will be one of its finest.  I think Shepard Broad would be pleased.  Read on for details.
Sereno on the Water
A to-be-built, luxury residential development, Sereno will be a waterfront marina community.  It will be unique in that it consists of three buildings; two of which have bay-views:
An 8-story waterfront tower with 40 residences
A 7-story residential tower with 49 residences
A 2-story villa/townhouse cluster with 18 residence
It will have a total of 107 units, 40 of which are directly on the waterfront.  Sereno will offer a full complement of amenities for residents of the three buildings:
3 community pools: lap pool, family pool, rooftop pool
Poolside cabanas and chaise lounges
Jacuzzi
Outdoor movie theater with surround sound
Landscaped gardens with covered deck
Bar and BBQ grill with lounge area
Fire pit
Party-sized outdoor dining table
Gaming lounge area with life-size chess design
2 fully-equipped fitness centers
Sauna and steam rooms
Breakfast café room
Private park and children's outdoor play area
24-hour security
24-hour front desk
Sereno will also have a Bay Club with its own marina, which offers direct ocean access for boat owners.
The marina will contain 13 slips: 11 slips for sale to homeowners and two containing water sport equipment for use by the residents including paddleboards, kayaks and jet skis.  A lounge area with fire pit will also be located on the Sereno community dock and viewing deck.
Bay Harbor Islands
Sereno will be located on the east side of Bay Harbor Islands.  A destination known for island chic living, it has evolved into one of the great communities for lifestyle.
On the mainland side, Bay Harbor Islands is bordered by the city of North Miami, while to the east it borders the villages of Bal Harbour and Surfside.  It is about 30 minutes driving distance away from Miami International Airport, and is situated between the cities of Aventura and Miami Beach.
Sereno is just a few minutes away from the white sand beaches of Haulover Park.  It's even closer to luxurious shopping and fashion at the exclusive Bal Harbour Shops, which has retailers Saks Fifth Avenue and Neiman Marcus as well as 90 specialty shops including Fendi, Gucci, Prada, and Tiffany.
Pre-construction Prices on Sereno Condos 
Construction on Sereno is expected to begin January 2015 and be completed by mid-2016. The residential units can be reserved now at pre-construction prices.
The traditional condos range in size from one- to three-bedrooms, 1,065 square feet to 1,721 square feet.  Prices range from $494,000 to $892,000.
The villas and townhomes range in size from one- to four-bedrooms, 1,186 square feet to 2,196 square feet.
Want to know more?  I've put together a detailed data sheet with additional information and photos.  At the link below, you'll just need to provide your contact information, as required by the developer.
Request the Sereno data sheet here.
The Rest of the Broad Story
I started this write-up by telling you about Shepard Broad, so I'll share the rest of his story.  In addition to founding Bay Harbor Islands, Broad also founded the American Savings & Loan Association of Florida, a public company listed on the New York Stock Exchange.  And in 1974, he established the Shepard Broad Law Center at Nova Southeastern University in Florida.
Shepard's career was marked by magnificent success and great fortune. Ironically, making money was never the main goal, his daughter, Anne Bussel, says. "He wanted to create things.  Money making was only ancillary to his desire to create, whether that was the law firm or Bay Harbor Islands or whatever project he undertook."
The crowning achievement of Shepard Broad's career was his instrumental role in the creation of the State of Israel.  David Ben-Gurion, who later became Israel's first prime minister, called on Shepard and 18 other Jewish leaders to assist in the relocation of displaced persons and to help secure the existence of Israel.  "My father's assignment was to purchase and equip boats that would bring Holocaust survivors to what was then Palestine," his son, Morris Broad, says.
Shephard Broad died in 2001 at age 95.  He and his beloved wife Ruth left behind a philanthropic legacy that included generous support to major universities and hospitals in Florida and throughout the world.
As I mentioned earlier, Bay Harbor Islands, where Sereno will be located, is separated from the mainland by Biscayne Bay.
It is connected via a causeway with a drawbridge that allows tall boats to pass under.  Its name?  The Broad Causeway to honor the achievements of Shepard Broad.  And now you know the whole story.
If you're going to be in South Florida and would like to see Bay Harbor Islands and the location of Sereno, please don't hesitate to call me.  It'd be my pleasure to show you the fine city Shepard Broad created and any South Florida properties that interest you.
Have a great day!
Request the Sereno data sheet here.
Joel Greene
Licensed Real Estate Broker
Condo Hotel Center
1368 NW 165th Ave.
Pembroke Pines, FL 33028
(954) 450-1929
Joel@CondoHotelCenter.com
www.CondoHotelCenter.com
www.CondoHotelsDubai.com
www.WorldClassCondoHotels.com
www.CondoHotelsBahamas.com
www.CentralAmericaSecondHomes.com
www.DominicanRepublicVacationHomes.com
Want to know more about me? Click below: //www.condohotelcenter.com/joel-greene.html

Follow us on Facebook.
© Condo Hotel Center.  All rights reserved. No portion of this Property Alert newsletter may be reproduced, exhibited or distributed without the express written permission of Condo Hotel Center.  Condo Hotel Center takes copyright infringement seriously.  Violators will be prosecuted to the fullest extent of the law.
Although Condo Hotel Center believes the information contained in this newsletter to be accurate and complete, Condo Hotel Center can make no such guarantee. All features and descriptions are subject to change.
Please speak with your personal legal and financial advisors to determine whether this property is suitable for your objectives.