New Hawaii Condo Hotel Ritz-Carlton Brand
The Residential Suites at The Ritz-Carlton, Kapalua on Maui
August 16, 2007
In the past year, many of you have expressed interest in one of our Hawaiian offerings, Honua Kai in Maui, The Trump Waikiki or Koloa Landing in Kauai. Well today, it is my pleasure to bring to you the next great opportunity to get in early on a gorgeous Hawaiian condo hotel at first-tier prices.
The Residential Suites at Ritz-Carlton, Kapalua on Maui represents a ground-floor opportunity to buy a proven property at pre-construction prices!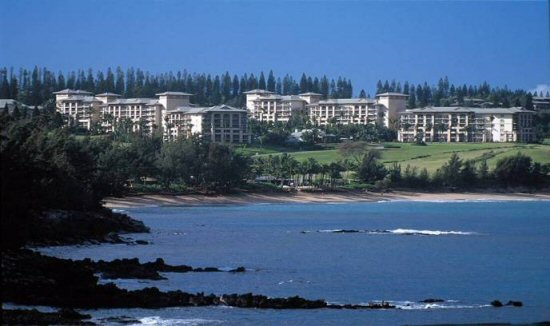 Only 107 Residential Suites Available
The existing Kapalua Resort is located in the Kapalua resort area, a 23,000-acre collection of resorts, residences, golf courses and pineapple fields. It is an existing 363-room resort hotel that is currently closed and is undergoing major renovations. When completed in spring 2008, the spa and fitness center will be twice their previous size, and they will add a new pool with a bar and grill. But best of all, they will be building a brand new wing of the property that will be named The Residential Suites at The Ritz-Carlton, Kapalua. The Residential Suites at The Ritz-Carlton, Kapalua will have only 107 one- and two- bedroom suites available for purchase at the launch sales event in early December.
Prices
Pricing will start at just under $1 million for a 900 sq. ft. one-bedroom residential suite. Prices for the two bedroom, 1,350 sq. ft. units, have not been released yet. In fact, very little information has been released at this time, but here is what I can tell you now about the new Ritz Carlton units.
Unit Features:
Guest Room and Suites Amenity Enhancements
New king and double queen beds, wooden bed frames, pillows and sheets
New furnishings, including a dark wood armoire, closet and table, flat panel LCD televisions, new chaise lounge, lamps, CD radio, Hawaiian inspired artwork
Wireless Internet access
Dark wooden floors, Hawaiian accented area rugs
In-room coffee machines and mini refrigerator
Redesigned bathroom with new soaking bathtub, dual vanity and renovated shower
New lanai furniture
New Residential Suites
Suites will include a large living room, central "Calabash" gathering table and a kitchenette offering butler dishwasher and refrigerator appliances.
Additional flat panel LCD television, Bose sound system.
Club rooms, Club suites and Club Lounge
Will be enhanced with similar room and suite furnishings with enhanced amenities.
Hallways
The guest room hallways will also feature new wallpaper, carpet, lighting and furniture with new wallpaper, carpet, lighting and furniture.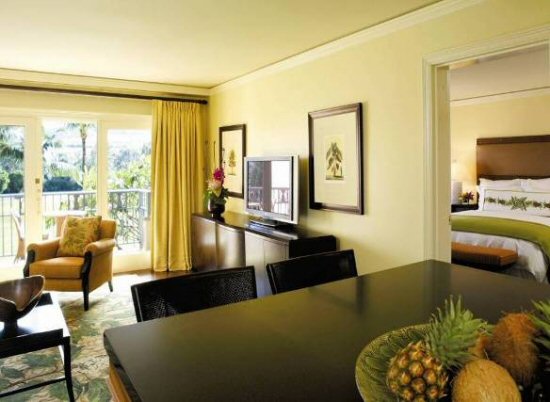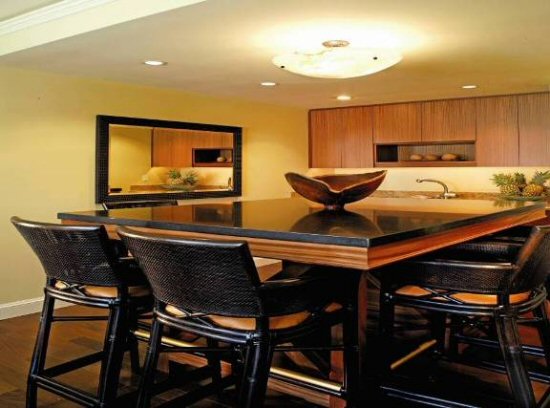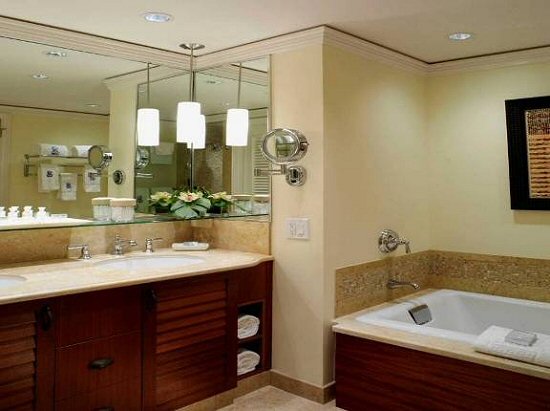 Hotel Features/Amenities: Meeting Space Enhancements
All of the meeting rooms will be refurbished with new carpeting, lighting, and wall silks.
Redesigned public area
New pool surface, adding a children's pool, new pool bar, new pool fixtures
Expanding the main lobby with new furnishings, flooring and design attributes
All public hallways will be brightened with new carpeting, artwork, lighting and furniture
Restaurant Enhancements
Kai Sushi Bar will have a new restaurant space offering a true Asian atmosphere.
Terrace Restaurant will increase the size of the lanai seating, plus adding a new private dining room
Banyan Tree will have a new kitchen, new furnishings and a private dining room, to create a special atmosphere
Newly designed lobby bar with a volcanic design theme
Waihua Spa Enhancements
Doubling the total size of the Waihua Spa and Fitness Center from 6,000 sq. ft. to 16,500 square-feet
Relocating the fitness center on top of the Spa with a new yoga and spin class studio
15 treatment rooms with private outdoor gardens including couples treatment rooms
Larger men's and women's locker rooms and lounges
2,500 sq. ft. state-of-the-art fitness center overlooking the pool and ocean.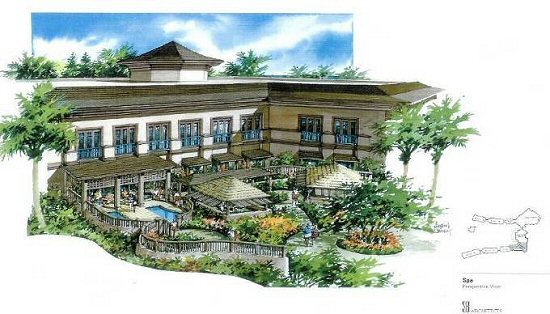 An Outstanding Oceanside Location
The hotel fronts one of Kapalua's white sand beaches, ideal for snorkeling, sailing and other water activities. A zip line and trails for hiking and biking were added to the area recently.
Owners will receive privileges like preferential tee times and discounted fees at the resort area's two 18-hole golf courses, one of which hosts a PGA Tour event each winter. Membership at a new Tom Fazio-designed course, scheduled to open next year, will also be available. The closest airport with flights from the mainland is only about 30 miles away.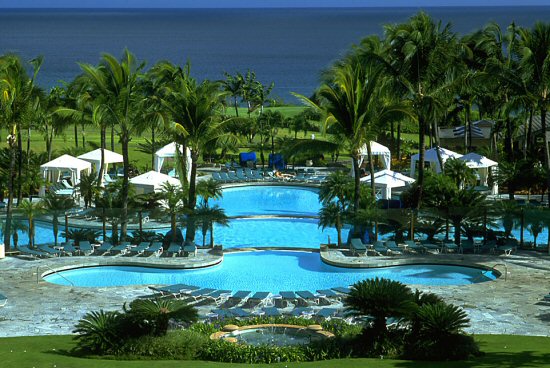 The Ritz-Carlton Brand
The name, Ritz-Carlton, defines sophisticated style, sumptuous furnishings and impeccable service. Its resorts are recognized worldwide as elegant retreats in premium destinations.
From housekeeping and valet services to gourmet dining and dedicated concierge, you'll always enjoy five-star living at a Ritz-Carlton property.
Interested? Here's What You Should Do
Units at The Residential Suites at Ritz-Carlton, Kapalua will be sold in a launch process in early December 2007, and as time passes, many of the details about this property will be finalized. By the time complete information is available, however, there will probably be more reservations than there are units available for sale, and it will then be too late to get one. Remember, there are only 107 residential units!
At this time, I'm preparing a list of interested clients who would like to be registered to receive more information as it becomes available. There is no obligation to be placed on this list. It simply means that you'd like to be kept updated on this property and to receive a reservation form when they become available.
When you receive a reservation form, if you think that you may want to buy a unit, (again, no obligation), you'll want to complete your form quickly, as the launch process favors those who reserve earliest, giving them first choice of the units with the best views and the lowest prices, depending, of course, on your preferences.
For now, I can offer you a preliminary Microsoft Power Point Presentation that will give you a little more information on the property. And, as stated above, I will soon have additional details and a reservation form to send to you.
At this time, I would simply ask you to reply to this email with your full name, mailing address, phone, and preferred email. You may have given this to me before, but this is how we keep our company records current, as many people do not think to update us when they move or change their contact information.
I do appreciate your interest and thank you for rewarding Condo Hotel Center with your business.
Aloha.
Joel Greene
Licensed Real Estate Broker
Condo Hotel Center
1368 NW 165th Ave.
Pembroke Pines, FL 33028
(954) 450-1929
Joel@CondoHotelCenter.com
www.CondoHotelCenter.com
www.CondoHotelsDubai.com
www.WorldClassCondoHotels.com
www.CondoHotelsBahamas.com 
www.CentralAmericaSecondHomes.com
www.DominicanRepublicVacationHomes.com
Want to know more about me? Click below:
//www.condohotelcenter.com/joel-greene.html
Follow us on Facebook.