Pyramisa Beach Resort on the
Red Sea Riviera, Egypt
Existing Five-star Condo Hotel, Units From $87,000
September 3, 2008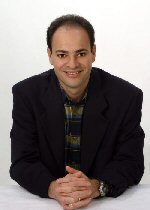 When I think of memorable historical events, the thoughts that come to mind are of the World Wars and Vietnam, Rosa Parks refusing to give up her seat on a bus, the Boston Tea Party, Lou Gehrig delivering his passionate speech, "Today day day, I consider myself self self to be the luckiest man man man on the face of the earth earth earth."
Amazingly, all of these events took place in the past 250 years.  And, growing up in the U.S., we think of this as "history" because American history is what we know best.
So it is hard to fathom a land where history is not counted by the hundreds of years a nation has been around, but by the thousands!
Long before Christopher Columbus sailed to America, history included pharaohs, sphinxes, pyramids, plagues and tombs filled with mummy kings and their riches.
I'm of course talking about Egypt and its longggg history.  Flash forward a few thousand years, and Egypt is rapidly becoming a tourist hotspot, offering everything from coral reef diving to cultural and historical attractions.
To meet the demands of its burgeoning tourism economy, Egypt is developing some magnificent resorts and at the same time courting international real estate investors.
So, come stroll along the Nile with me, and let me tell you about the first condo hotel property, complete with some very enticing investment incentives, that we've dug up in this desert paradise.
Pyramisa Beach Resort, Already a Success
Pyramisa Beach Resort is a stunning beachfront hotel.  It occupies a prime location in Egypt's first mega-resort community, Sahl Hasheesh.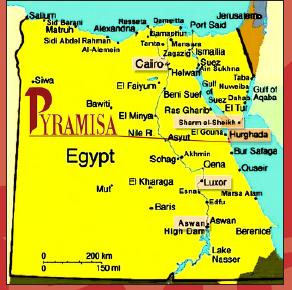 The Sahl Hasheesh development spans nearly eight miles of beach along the pristine shoreline of the Red Sea next to the town of Hurghada, Egypt.  It is one of the world's fastest-growing vacation destinations.
I'll tell you more about Sahl Hasheesh in a minute.  First, let me describe Pyramisa Beach Resort.
This property is a five-star hotel with 800 suites, each offering views of the sea and gardens.  It opened in April 2007 and already enjoys occupancy rates in excess of 80%.
Recently, the developer decided to follow the lead of progressive cities like Dubai and offer its suites for sale to individual buyers.  The offering includes some attractive buyer incentives, which I'll soon explain.
Exceptional Amenities
As a five-star property, Pyramisa Beach Resort is a hotel fit for a pharoah!  It offers refined living with a full complement of luxury features including:
Two huge swimming pools with slides
Health club with spa facilities, jogging track and gym
Tennis and squash courts
Diving and aqua sports center
Pool and beach bars
In-house nightclub
Convention center
Business center with internet access
Outdoor amphitheater
Five restaurants
Daily live evening entertainment
Children's club and playground
Beauty salon
Retail shops
24-hour room service
24-hour security
24-hour pharmacy and in-house doctor
Concierge, valet and doormen
Airport shuttle
Sahl Hasheesh, Egypt's First Mega-resort
As I mentioned, Pyramisa Beach Resort is located within the Sahl Hasheesh master-planned community, fast becoming a leading waterside destination.  It has 7.76 miles of shoreline, including one of the most prominent diving spots on the Red Sea, famous for its precious coral and sandy beaches.
Development is moving at a rapid pace at Sahl Hasheesh.  Construction has started on the first two golf courses and will begin on a third in early 2009.  Another five (yes, five!) golf courses are planned for the surrounding area.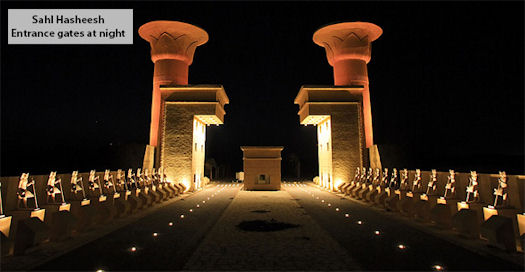 Seven five-star hotels are already open in the neighborhood, offering a dazzling variety of restaurants, boutiques and bars.  Another 15, for a total of 22 hotels (five-star minimum), are planned for completion by the year 2014.
Sahl Hasheesh will have one of the largest marinas in the region, as well as a popular yacht club.  When completed in the next two to three years, the marina and yacht club will offer access to world-class beaches, scuba diving, snorkeling, swimming, sailing, surfing, diving, wind surfing and other water sports.
Sahl Hasheesh will also have a variety of upscale stores and boutiques, a cinema complex, bars, restaurants, authentic Egyptian marketplaces and first-rate sport facilities.
Finally, one of the main attractions at Sahl Hasheesh is a "Sunken City" created for divers.  Already built, it is an entire historic city underwater.  Think Lost City of Atlantis but with "pharonic" architecture.
Why Invest in Egypt?
In 2004 the Egyptian government made a commitment to economic growth and reform.  New custom reforms, tax incentives and privatizations have created a growing economic climate that encourages foreign investment and tourism.
Today a number of heavyweight international property developers have begun building in the country.  While prices remain low and capital growth projections are high, many investors from abroad are purchasing property in high-demand resort areas like Sahl Hasheesh.
Egypt has much to offer:
Beautiful, well established tourist hotspots offering everything from diving to cultural and historical locations
Steady annual growth in tourist figures
No capital gains or inheritance tax
Political stability
Strong economic growth creating a rich investment climate
Relatively low cost of living and maintenance costs
Cairo International Airport modernized and expanded in 2008
Warm desert climate year-round
Although Arabic is the national language, English is widely spoken
An Established Developer
Pyramisa Group is a market leading hotel chain and resort company with over 25 years of experience and a strong financial position (market valuation of $750 million).
It developed, owns and manages six large, five-star properties, each carrying the Pyramisa name.  The other resorts' locations are in the Egyptian cities of Cairo, Luxor, Aswan, Hurghada and Sharm el Sheikh.  There is also a Pyramisa Resort coming to Dubai, UAE scheduled to open in 2010.
Attractive Pricing
Pyramisa Beach Resort has a variety of condo hotel units, with prices starting as low as $87,000.
Choose from studios, one-and two-bedroom suites, and four-bedroom villas.
Square footage ranges from 470 to 2,300 square feet.
Units have private balconies overlooking the sea, pools and gardens.
Units are provided fully furnished and turnkey ready.
Prices range from $87,000 to $790,000.
Three payment plans are available to buyers.
A Unique Condo Hotel Rental Program
Since we at Condo Hotel Center focus on the sale of vacation homes and not on the investment aspects of a condo hotel purchase, you'll be pleased to know that you may live in your Pyramisa Beach Resort residence year-round if you like.  However, if you prefer, you can receive rent revenue by placing your unit in the rental program.
In fact, the developer has created a program that pays the owner a very favorable guaranteed annual rate, regardless of hotel occupancy, for a period of 10 years to make investing in Pyramisa a "sure thing."  Upon request, we can ask the developer to provide these details directly to you.
Even when participating in the rental program, you can use your unit for four to eight weeks (depending on the type of unit you purchase) per year. There is also the option to exchange part of that usage for time in any of the five other Pyramisa Resorts in Egypt.
One More Buyer Incentive
As I mentioned, construction on Pyramisa Beach Resort was completed in early 2007.  So any concerns about making a pre-construction purchase do not apply to Pyramisa, as this hotel is already open and operating successfully.
Also, the developer is offering a "safety net" in the form of a guaranteed buyback after you've owned your unit for a minimum of one year.
That is, if after a year you decide you no longer want to own your condo hotel unit, the developer will buy it back from you at the initial purchase price.  Or, you can of course sell it on the open market, which has in recent years seen annual appreciation rates in excess of 15%.
More Information Available on Pyramisa
I've put together a detailed data sheet that can give you more information on Pyramisa Beach Resort.  You can receive it by simply providing your name and address, as required by the developer.
Request the Pyramisa Beach Resort data sheet here.
If you've always dreamed of buying a property abroad but have erred on the side of caution, Pyramisa Beach Resort might be the investment for you.  Already operational and with the developer offering attractive buyer incentives, this condo hotel on the Red Sea Riviera could be a chance to purchase your piece of the land of the pharaohs.
As always, thank you for your interest in the world-class properties we showcase here at Condo Hotel Center.
Joel Greene
Licensed Real Estate Broker
Condo Hotel Center
1368 NW 135th Ave.
Pembroke Pines, FL 33028
(954) 450-1929
Joel@CondoHotelCenter.com
www.CondoHotelCenter.com
www.CondoHotelsDubai.com
www.WorldClassCondoHotels.com
www.CondoHotelsBahamas.com
www.CentralAmericaSecondHomes.com
www.DominicanRepublicVacationHomes.com
Want to know more about me? Click below: //www.condohotelcenter.com/joel-greene.html
* Copyright infringement is taken seriously by Condo Hotel Center and will be prosecuted. © Copyright 2010 Condo Hotel Center