ph Premiere Hotel & Spa Orlando
A New Condo Hotel from the Founder/CEO of Planet Hollywood
February 19, 2015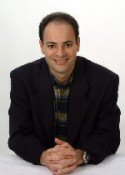 Joel Greene here from Condo Hotel Center.  As I've mentioned in the past, I live in South Florida.  But at least once a year, my family and I take a trip to Orlando, about 3.5 hours north, where there's an endless array of theme parks, attractions and restaurants.
When there, one of our favorite restaurants is Planet Hollywood.  Three floors of Hollywood artifacts provide ample eye candy while you eat.
It has authentic costumes and props, creatures from aliens to King Kong and, of course, Disney characters.
You can even stargaze as you dine under a planetarium-like nighttime sky, while rocking out to music videos playing on multiple screens.  Great fun.  So when I heard that the founder and CEO of Planet Hollywood would soon be involved in the opening of a condo hotel in Orlando, I couldn't wait to find out more.  Read on for details.
New Condo Hotel in Orlando
I've watched the revival of the condo hotel concept in the Miami and Ft. Lauderdale areas.  Now I am delighted to see it returning to Orlando as well.
The ph Premiere Hotel & Spa Orlando, will be an innovative condo hotel offering first-class luxury accommodations in Orlando as well as some of the best dining and nightlife options in the city.
As I mentioned, Robert Earl is part of the development team behind the project.  He is a serial entrepreneur who knows business, hospitality and food.  Even if you don't recognize his name, you've most likely visited, stayed or eaten in one of his many establishments.  He is the owner of the popular restaurants Earl of Sandwich and Buca di Beppo.
He is also the founder and CEO of Planet Hollywood International and the Planet Hollywood Resort and Casino in Las Vegas, which is the inspiration for the ph Premiere Hotel & Spa Orlando.  He says, "Like its Las Vegas sister property, the Orlando condo hotel will provide first-class accommodations and some of the best dining and nightlife options in the city."
According to Architectonica, the architects for the project, "Expect sophisticated, New York–style interiors, a sandy beach pool deck with a sensuous Miami vibe, and spirited, Las Vegas–style architecture."
Property Features
The ph Premiere Hotel & Spa Orlando will be located on a 14-acre site overlooking picturesque Lake Bryan, a private, 400-acre spring-fed lake.  Owners will have access to a lakeside pavilion where they can take advantage of lake activities including boating, sailing, kayaking, paddle boarding, jet skiing and water skiing.
From the condo hotel's private rooftop, owners will have a 360-degree view of the nightly fireworks displays from nearby theme parks.  On premises they'll find the following amenities:
State-of-the-art fitness center
Luxurious full-service signature spa
Adult rooftop pool
Family pool with 35,000 sq. ft. sandy beach deck with cabanas
Fitness and nature trails
Rooftop restaurant
Kids' camp
Business center
Indoor/outdoor lobby lounge that opens onto main pool deck
Expansive indoor dining serving breakfast, lunch and dinner daily
Rooftop restaurant & bar
Casual poolside bar
Meeting and banquet space
Fully equipped business center/technology center
Boutique retail shopping
Features of the Condo Hotel Units
As I mentioned at the beginning, ph Premiere Hotel & Spa Orlando is a condo hotel.  That means owners will have the option to place their unit in the rental program when they're not using it.  The revenue it generates will defray some of the costs of ownership.
The individual condo hotel units will be delivered fully furnished.  Interior design is being handled by the NYC firm of Meyer Davis Studio, which has specialized in high-end residential design since its founding in 1999.
The condo hotels will have dramatic balconies with glass and aluminum railings.  Other condo hotel features include the following:
European-style kitchen cabinetry
Slab stone countertops
European appliances in kitchen
Custom upholstered sofas and chairs
Built-in wood or lacquered room cabinetry and shelving
Porcelain/wood plank or tile floors with accent runners
Custom dining table converts to large working/gaming area
Luxury linens and bedding
Orlando, America's Top Tourist City
With over 59 million visitors each year, Orlando is America's top tourist city exceeding even New York City.
ph Premiere Hotel & Spa Orlando is located in the heart of Orlando's Lake Buena Vista region.  From there, all of Orlando's popular attractions are just minutes away.
Less than 10-Minute Drive:
Disney's EPCOT (5.8 miles)
Disney's Hollywood Studios (6.1 miles)
Disney's Typhoon Lagoon (3.4 miles)
Orlando Premium Outlets Vineland (1.9 miles)
SeaWorld (4.4 miles)
15-Minute Drive:
Walt Disney's Magic Kingdom (8.3 miles)
Universal Studios Orlando (8.5 miles)
Mall at Millenia (10.96 miles)
Florida Mall (11.1 miles)
Orlando Premium Outlets 5 (9.55 miles)
20-Minute Drive:
Downtown Orlando (16 miles)
Orlando International Airport (17.9 miles) with nonstop flights to 205 cities including 36 cities in Europe, South and Central America
Proposed Construction Schedule
Groundbreaking on ph Premiere Hotel & Spa Orlando is expected the first quarter of 2016.  Construction completion should take place approximately 24 months later.
However, the condo hotel units have just been released for sale at pre-construction prices. They can be reserved now with a 10% deposit.
While some details of the property are not available at this early pre-construction stage, buyers who reserve now will do so at prices that are approximately 10% lower than prices are expected to be when they are officially released to the public once these items are determined.
Variety of Floor Plans
ph Premiere Hotel & Spa Orlando will have a total of 436 condo hotel residences.  They'll range from studios to units with one to four bedrooms, and from 437 sq. ft. to 2,835 sq. ft.  Prices will go from $259,200 to $1,875,000.
Want to know more?  I have lots of details on this exciting project.  Just request my ph Premiere Hotel & Spa Orlando data sheet at the link below.
Request the ph Premiere Hotel & Spa Orlando here.
Hanging Out with Fez
To launch the sales of the ph Premiere Hotel & Spa Orlando, Robert Earl hosted a party the other night which, like all things Planet Hollywood-related, attracted its share of celebrities.
My wife and I attended and got to hobnob with the likes of five-time world champion, NY Yankee, Jorge Posada; and a "kid" I grew up watching on "That '70s Show," Wilmer Valderrama, better known as Fez.
Like the launch party, you never know who you'll meet at your ph Premiere Hotel & Spa Orlando.  Again, if you'd like more details, just request the data sheet at the above link.  And if you have any questions or are interested in any of our other condo hotels and condos, I hope you'll give me a call.  It'd be my pleasure to assist.
Joel Greene
Licensed Real Estate Broker
Condo Hotel Center
1368 NW 165th Ave.
Pembroke Pines, FL 33028
(954) 450-1929
Joel@CondoHotelCenter.com
www.CondoHotelCenter.com
www.CondoHotelsDubai.com
www.WorldClassCondoHotels.com
www.CondoHotelsBahamas.com
www.CentralAmericaSecondHomes.com
www.DominicanRepublicVacationHomes.com
Want to know more about me? Click below: //www.condohotelcenter.com/joel-greene.html

Follow us on Facebook.
© Condo Hotel Center.  All rights reserved. No portion of this data sheet may be reproduced, exhibited or distributed without the express written permission of Condo Hotel Center.  Condo Hotel Center takes copyright infringement seriously.  Violators will be prosecuted to the fullest extent of the law.
Although Condo Hotel Center believes the information contained in this data sheet to be accurate and complete, Condo Hotel Center can make no such guarantee. All features and descriptions are subject to change.
Please speak with your personal legal and financial advisors to determine whether this property is suitable for your objectives.