Miami's Opera Tower
Luxury Condos Start in the Mid-$200,000s
May 9, 2012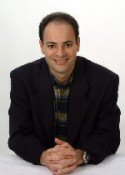 Joel Greene here from Condo Hotel Center. If you've been reading my Property Alerts here for some time, then you've probably come to think of me as an extremely refined, sophisticated and classy gentleman. (Are you laughing yet?) So when I tell you, I love the opera, you have no reason to doubt me.
However, the opera I'm talking about doesn't involve orchestras and chubby ladies singing in Italian but rather my newest condominium offering, Opera Tower.
It's a 56-story, oval-shaped condo that's become a landmark in one of the country's most prominent skylines, Miami, Florida. And it is today's featured property. So, won't you please accompany me to an evening at the Opera?
Opera Tower, the Behind-the-Scenes Story
Upstaging anything that has appeared before, Opera Tower rises high above beautiful Biscayne Bay, standing out with its unique architectural shape.  The condominium was constructed in 2007.
It consists of 635 condos with a mix of studios and one- and two-bedroom residences. The developer originally had sold about 35% of the building by 2008. He then made the decision to halt further sales and rent out the units in the rest of the building.
At the time, the real estate market had collapsed right after the largest boom of new inventory hit the market ever. Over 17,500 new condos became available again when buyers who contracted to buy them in 2006 and 2007, before the crash, walked away from their contracts, forcing developers to take them back, and causing some of the developers to lose their properties to the banks.
Opera Tower was one of those properties that had a financially strong developer, but lots of units to sell. Competition was fierce. Prices were dropping. Buyer financing wasn't available. And Opera Tower was a monster-sized property sitting 2/3 empty. Turning the condos into rental units until the market heated up again was a good idea.
Now, with little developer inventory on the Miami market except at Vizcayne (75% of condos sold), and properties like 1100 Millecento and BrickellHouse taking sales reservations but still two years away from construction completion, the developer felt the time was right to put the remaining 388 Opera Tower condos back on the market.
Plenty of Attractive Features
Opera Tower offers a full complement of appealing amenities including:
Dramatically designed lobby with 20+ foot ceilings
Oversized recreation level overlooking Biscayne Bay
Fitness center, fully equipped, on-site fitness staff
Nove Kitchen and Bar offering Japanese cuisine with indoor and outdoor seating
An additional 9,000 sq. ft. restaurant is under construction
Oversized swimming pool and multiple whirlpool spas
His and hers saunas
Social hall, lounge, and media room
Fully-equipped business center
Prewired for digital television and high-speed Internet
Ample storage facilities
Ground-level beauty salon, dry cleaners and mini mart
Additionally, Opera Tower has a doorman, 24-hour valet, concierge, 24/7 security personnel and a sophisticated electronic security system throughout the building and in each residence.
The individual residences each come with oversized, wrap-around terraces, which when combined with the building's unique, elliptical shape, provide magnificent views of Biscayne Bay, South Beach, downtown Miami, the Performing Arts Center and beyond.
Great attention has been paid to interior architectural details. Deluxe features in the European gourmet style kitchens include custom European-style cabinetry with frosted glass inserts, granite countertops, large porcelain tile flooring, stainless steel appliances and ample storage.
The master bathrooms have sumptuous baths, tiled floors, marble vanity tops and exclusive cabinetry.
Downtown Miami, the Place to Be
Opera Tower offers residents all the conveniences of downtown Miami, a myriad of recreation and entertainment venues all within walking distance. Shop or dine at nearby Bayside Marketplace, catch a Miami Heat basketball game or concert at American Airlines Arena, and easily get around downtown by using the Metro Mover.
Just outside Opera Tower is the eight-acre, waterfront Margaret Pace Park, which features a variety of sports fields, tennis and basketball courts, playgrounds and barbeque areas.
Enjoy the cultural wonderland that is Miami and take in a ballet, opera (yes, seriously Miami has an opera company), or symphony at the new Adrienne Arsht Performing Arts Center, which is about one block south of the property, literally a two-minute walk.
Opera Tower is also located just two blocks from Museum Park Miami at Bicentennial Park, which boasts an exquisite public park and sculpture garden, as well as new facilities for the Miami Art Museum, Miami Children's Museum, Jungle Island, and Miami Museum of Science.
The location of Opera Towers is also just south of the to-be-built Resorts World Miami (Genting) project, which will be a $3 billion development spanning approximately 19 acres.  It will encompass a destination resort hotel, luxury condos, waterfront restaurants, retail space and an 800-foot long promenade along Biscayne Bay.  If (really, when) gambling comes to South Florida, it will be the #1 site where it will be located.
Also near Opera Tower are spectacular entertainment, fine dining, choice shopping, and exciting nightlife at South Beach, Coconut Grove, the prestigious shops of Coral Gables, and the pristine beaches of Key Biscayne.
Opera Tower as an Investment
If you're interested in purchasing a condo at Opera Tower and then renting it out, you'll be glad to know that rental rates in the area are high. A furnished studio is $2,000 monthly, $2,600 for a one-bedroom condo, and $3,000 for a two-bedroom condo.
Unfurnished unit rental rates range from $1,000-1,500, $1,400-$2,000, and $2,600-$3,000, respectively.  Best of all, unlike most condominiums that require a minimum six or 12 month lease, units at the Opera Tower can be rented out on a month-to-month basis.
Now currently the Opera Tower is 100% full.  100% is crazy!  Even the best properties typically run no more than 95% occupied.  The rents will be increased shortly.  Furthermore, demand for rentals should boom for years to come because of the Resorts World Miami (Genting) project I mentioned earlier.
The developer will even lease back your unit for you for the first three years at a guaranteed 6% return.  However, because of all of the facts above, you might be able to do substantially better renting it out on your own.
Priced Right, Financing Available
Opera Tower has studios and one- and two-bedroom condos. They range in size from 503 to 1,048 sq. ft. Prices start at approximately $263,500 and go up to $596,700 for the best units.
Up to 70% financing, without lengthy qualifying or credit score checks, is available for both local and international buyers.  Again, upon request, I can provide complete details.
Also, it's worth mentioning that owners at Opera Tower will get preferential consideration at Sea Isle Marina and Yachting Center, located just across the street.
I have lots more specifics to offer on Opera Tower, which you can read in my data sheet.  You'll just need to provide your full name and contact information, per the developer's requirements at the following link.
Request the Opera Tower data sheet here.
If you're going to be in Miami and would like to attend "The Opera," it'd be my pleasure to give you a complete tour of the property. Then, you'll want to return year after year for a command performance.
As always, thank you for your interest in the condos and condo hotels we showcase.  Have a wonderful day.
Joel Greene
Licensed Real Estate Broker
Condo Hotel Center
1368 NW 165th Ave.
Pembroke Pines, FL 33028
(954) 450-1929
Joel@CondoHotelCenter.com
www.CondoHotelCenter.com
www.CondoHotelsDubai.com
www.WorldClassCondoHotels.com
www.CondoHotelsBahamas.com 
www.CentralAmericaSecondHomes.com
www.DominicanRepublicVacationHomes.com
Want to know more about me? Click below:
//www.condohotelcenter.com/joel-greene.html
Follow us on Facebook.
© Copyright 2012 Condo Hotel Center
*All rights reserved. No portion of this Property Alert may be reproduced, exhibited or distributed without the express written permission of Condo Hotel Center. Although Condo Hotel Center believes the information contained in this Property Alert to be accurate and complete, Condo Hotel Center can make no such guarantee.