Ocean Sands Lives Up to Its Name
Pompano Beach, Florida Condo Hotel
Prices Start at Just $305,000
February 27, 2007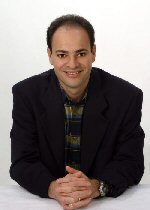 Hello, Joel Greene here from Condo Hotel Center. Quick question for you. When you look out your window right now, what do you see? If the answer includes the words "snow," "ice" or "people wearing winter coats," then this Property Alert is for you! That's because those are exactly the things you won't see when you visit the property I have for you today.
Today's featured condo hotel has the one attribute that nearly every buyer considering a Florida vacation home wants — a beach. In fact it has 852 square feet of beautiful South Florida beachfront.
No, this condo hotel is not in South Beach or Miami Beach. It's up the road a bit, in Pompano Beach, just a few miles north of Fort Lauderdale (read: much more affordable). And it's just come on the market, so you can get in when prices are at first-tier levels and unit selection is wide open. Come with me on a sunny little visit to this new property.
The Ocean Sands Spa & Resort Residences
A boutique condo hotel, The Ocean Sands Spa & Resort Residences is located in charming Pompano Beach, Florida. And, as its name suggests, it is literally right on the beach.
Consisting of just 89 condo hotel suites, it provides owners a unique mix of sophistication and warmth combined with four-star quality amenities.
The Perfect Vacation Getaway
When you walk into the Ocean Sands' lobby, the first thing you'll notice is the large wall on the right. What's so unique about a wall? Well this one is made completely of glass, and it overlooks the beach and the ocean. It is an awesome sight, and one that truly says "FLORIDA!"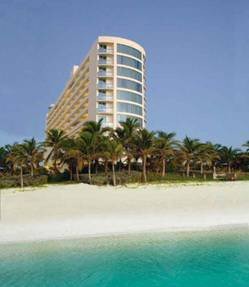 The hotel has 852 feet of beach frontage, complete with private cabanas. Don't like the feel of sand between your toes? Relax in one of the two swimming pools or the whirlpool spa, all overlooking the ocean.
The Spa at Ocean Sands is a full-service salon and spa with nine treatment rooms, offering every type of pampering and therapy you can think of.
The fitness center is well equipped with more than 25 cardio and weight-training machines, an aerobics/yoga and spinning studio, Pilates reformers and gyro-technics. A personal trainer is on-hand to offer one-on-one assistance. There are also men's and women's locker rooms with steam and sauna. A rooftop running track offers 360 degree views.
The Ocean Palms restaurant serves contemporary cuisine including traditional favorites and locally caught seafood. There's also a lounge, a putting green and a fully-equipped business center.
Hotel services include a concierge, valet parking, in-room and poolside dining. The Sandbox Kids Program keeps the youngsters occupied and the Doggie Paws Pet Program is for those of you who just can't bare to leave your four-legged friend at home.
The Charm of Pompano Beach
Located on the southeast "Gold Coast" of Florida, midway between Miami and Palm Beach, Pompano Beach was at one point the southernmost railroad station of the famous Florida East Coast Railway built by Henry Flagler.
In fact, one of the railroad's employees, Frank Sheene, gave the city its name when writing down the name of the fish he had for dinner one evening. The fish "Pompano" runs abundantly in the warm waters of the Atlantic off its sandy beaches.
Pompano Beach spans 25 square miles. The City has about 102,000 residents which raises to over 150,000 during the season, when part-time residents return to enjoy its most famous resource — the sun.
Conveniently located close to major shopping and attractions, Pompano Beach is only 12 miles from the Ft. Lauderdale International Airport and Port Everglades, one of the world's largest cruise ports. Pompano Beach provides the lifestyle of a quiet, seaside community with the benefits of a major metropolitan area.
Just a few miles south of Pompano Beach is the Seminole Hard Rock Hotel with its 130,000 square foot casino and Las Vegas-style entertainment. Throughout the area are great golf courses to challenge the skills of every level golfer.
Boating is also a popular diversion with numerous marinas offering fishing and diving excursions as well as small boat rentals. Shopping is available in many fine boutiques and the newly renovated Pompano Citi Centre Mall.
It's just a few minutes to the famed Las Olas area of Fort Lauderdale known for its unique shops, art galleries and fine dining restaurants. Also close is the Galleria Mall in Fort Lauderdale with upscale stores like Saks Fifth Avenue, Neiman Marcus and a Macy's flagship store. And nearby Boca Raton has plenty of world-class shopping and dining venues as well.
Then again, if all you want to do is sit back and relax, you will love this area's 3.5 miles of sandy beach where you can take a stroll or sit and enjoy the cool breezes and gentle waves of the Atlantic Ocean.
The Property's History
Originally built in 2002, Ocean Sands was a privately owned hotel that developed a loyal following over the years. It was purchased in 2005 by Mercury Investments, a national real estate developer based in Duluth, Minnesota with over 20 properties nationwide including hotels, multi-family real estate and office/industrial.
When Mercury Investment purchased Ocean Sands Spa & Resort Residences, it immediately set into action a multi-million dollar transformation of the property into a condo hotel resort.
It redid the common areas, upgraded the individual rooms and replaced all furnishings and fixtures. The end result is a condo hotel of four-star caliber.
The property also became a member of WorldHotels, a portfolio of 500 hotels in 70 countries worldwide that guarantees high quality standards and service levels. Ocean Sands is listed in WorldHotels First Class Collection and recently won the WorldHotels award for Highest Ranking for Customer Experience.
Beautiful Suites
The condo hotel units at Ocean Sands are provided fully furnished, and as mentioned, all furnishings are brand new. The units each have private balconies with sweeping views of the Atlantic Ocean.
Other features include:
Granite-topped wet bars with sink
Refrigerator, microwave and coffee maker
Luxurious baths with granite counters
Custom European-style cabinetry
Flat-screen televisions
Washer and dryer
Spacious storage in addition to an owner's closet
Affordable Pricing
As a boutique condo hotel, Ocean Sands has a mere 89 suites available for purchase. They range in size from 556 to 919 square feet. You are getting in at the very beginning of the sales process, so prices are at first-tier levels, and the unit selection is wide open.
Prices range from $305,000 to $820,000. Compare this to Fort Lauderdale condo hotels just a few miles south, most of which start at over $500,000, and you can see the true appeal of Pompano.
Want a Florida Beach Home Now? Then This Is for You!
The renovation and conversion of this five-year-old property into a four-star condo hotel has just been completed. Therefore, if you've been craving an escape from the snow and cold of up north, you'll be glad to know you can close on an Ocean Sands unit immediately. Plus, it's ideal for people who need to complete a 1031 Exchange within a 90-day deadline.
Need More Information?
I've put together a detailed data sheet that will provide you with the facts you need to make an informed decision on this condo hotel property. It also includes some additional photos. To receive it, you'll have to provide your full name and contact information, in accordance with the developer's requirements.
Request the Ocean Sands data sheet here.
Check Out Our New Listings
Here's a quick reminder to you to be sure to check our new listings. We've added more than a dozen new properties in the last 60 days!
Wrap Up
As always, thank you for your interest in our Property Alerts and for making Condo Hotel Center the #1 source for information on condo hotels. Have a great day!
Joel Greene
Licensed Real Estate Broker
Condo Hotel Center
1368 NW 165th Ave.
Pembroke Pines, FL 33028
(954) 450-1929
Joel@CondoHotelCenter.com
www.CondoHotelCenter.com
www.CondoHotelsDubai.com
www.WorldClassCondoHotels.com
www.CondoHotelsBahamas.com 
www.CentralAmericaSecondHomes.com
www.DominicanRepublicVacationHomes.com
Want to know more about me? Click below:
//www.condohotelcenter.com/joel-greene.html
Follow us on Facebook.
* Copyright infringement is taken seriously by Condo Hotel Center and will be prosecuted. © Copyright 2010 Condo Hotel Center.
* All rights reserved. No portion of this Property Alert may be reproduced, exhibited or distributed without the express written permission of Condo Hotel Center. Although Condo Hotel Center believes the information contained in this Property Alert to be accurate and complete, Condo Hotel Center can make no such guarantee.