Natiivo – Coming Soon to Downtown Miami
New Hospitality Concept Designed to Generate Revenue for Owners
July 9, 2019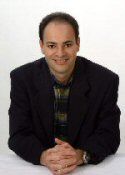 Hi, Joel Greene here from Condo Hotel Center.
Roughly 20 years ago, the condo hotel trend first began to gather steam in Miami, FL. The concept of owning a hassle-free, luxurious vacation home that you could enjoy but also generated revenue when you weren't using it, quickly caught on.
Despite a few hiccups during recessionary years, the condo hotel concept has endured and has even spread worldwide.
Since then, we've seen variations on the original idea, such as the recent trend toward leaseback programs that guarantee owners a set amount of revenue for a set period of time. (Hit me up if you want to know more.)
Today, I'll be telling you about another variation on traditional condo hotels. It's too new to call this a trend, but the concept makes so much sense I feel confident it will soon spread. The property I have for you today is likely to be the first of many in this new category. Read on for details.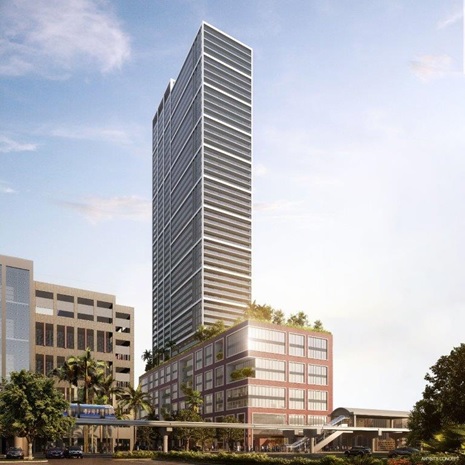 Natiivo, Powered by Airbnb
Natiivo will be a 50-story combination condo and hotel building located in downtown Miami. It will use Airbnb as its method for generating reservations for the condos for rent.
Airbnb is part of the "sharing economy," similar to such companies as Uber, Lyft and TaskRabbit. On its website you can find homes to stay in instead of a hotel. On the flip side, if you want to rent out extra space in your own home, you can host through Airbnb and make money for allowing a guest to stay the night.
So what does this look like for Natiivo? The development will consist of 412 condos for sale to individual investors and 200 hotel units to be retained by the developer.
Owners of the 412 condos will be able to select how they use or rent out their unit. They'll have four choices:
Owners of the 412 condos will be able to select how they use or rent out their unit. They'll have four choices:
Live in their condo as a primary residence.
Treat their condo as a vacation home and use it whenever they want.
Let Natiivo management handle the renting of their condo through Airbnb.
Rent out their condo on their own through Airbnb or any other platform.
As you can see, option #4 puts the owner in charge of rentals, something you don't see with traditional condo hotels. It also maximizes what owners can make, because they don't have to share their rental revenue with Natiivo management. They would only pay Airbnb's 3% listing fee.

Independent analysis shows that homeowners in popular tourism markets like Miami can make more money renting on Airbnb than through traditional long-term leases.
Why Natiivo Will Appeal to Airbnb Renters
Most Airbnb renters expect to stay in someone's home, but the tradeoff for not staying in a hotel is they usually don't get access to amenities. Airbnb renters of a Natiivo condo, however, will enjoy resort-like features such as:
Exotic resort pool with pool-side cabanas
Bar and grill on pool deck
24/7 co-working lounge
Private meeting rooms and event room
Fully equipped, state-of-the-art fitness center
Private Peloton studios
Yoga lounge and terrace
Additionally, Natiivo will offer:
24-hour welcome desk with concierge
24-hour valet parking
24-hour secure access
"Natiivo fills a gap in the hospitality landscape by combining an elevated, professionally-hosted experience, great design and cutting-edge technology with the service, security and consistency of a great hotel," said Harvey Hernandez, founder and CEO of NGD Homesharing, one of the developers involved in the project.
An Exciting Location

Natiivo will have a prime location in downtown Miami. It is steps away from the new Virgin Miami Central Station, (formerly Brightline) providing local and multi-city transit options, and the American Airlines Arena, the sports and entertainment arena and home of the Miami Heat.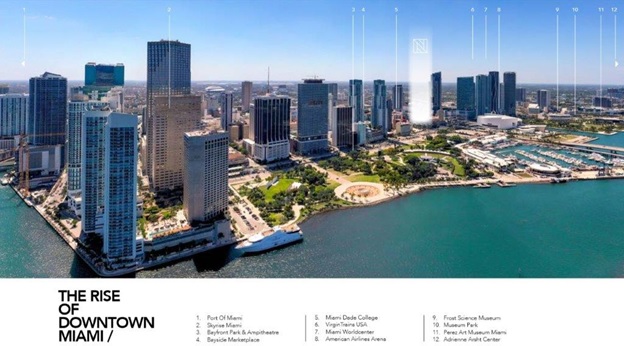 Other area attractions include:
Bayside Marketplace – restaurants and shops
Bayfront Park – 32-acre public park
Adrienne Arsht Center for the Performing Arts
Wynwood Walls – street murals by world-class artists
Marlins Park – home of the Miami Marlins
Port of Miami – cruise ships
Miami Beach and Key Biscayne beaches
Numerous restaurants and popular art and science museums
The Condos
Natiivo is being designed by the legendary architecture firm, Arquitectonica. The condos, featuring private balconies and floor-to-ceiling sliding glass doors, will offer spectacular panoramic views of the ocean, Biscayne Bay and the Miami skyline.
The condos will have high ceilings and advanced technology Smart Building wiring. They'll be delivered fully finished and equipped with fixtures and furniture curated by Urban Robot, a top Miami Beach boutique design firm.
Kitchens will have high-quality appliances. And both kitchens and master baths will feature imported European-style cabinetry and elegant imported stone countertops and backsplashes.
Pre-construction sales at Natiivo have just begun, so we're at the very earliest stage of this project. Buyers can choose from floor plans that include studios and one, two or three bedrooms, ranging from 409 square feet to 1,373 square feet. Prices range from $330,900 to $1,200,900. Choose from a Variety of Floor Plans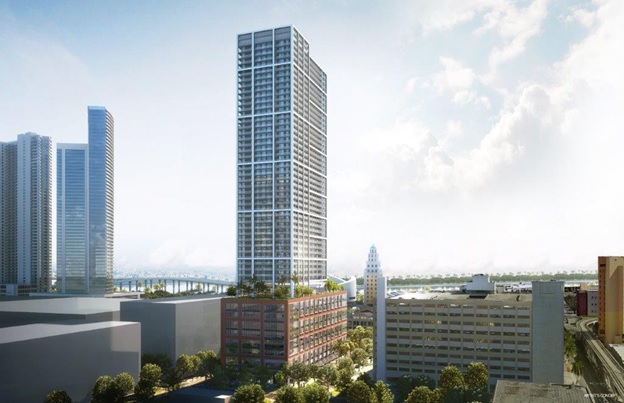 Fun Facts About Airbnb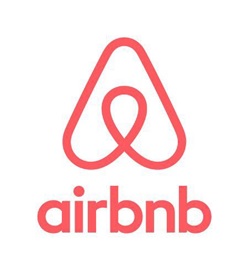 Airbnb is a pretty amazing company. Here are five Airbnb facts you probably didn't know:
1. The "Air" in Airbnb
In 2008 to help pay their San Francisco apartment's rent, Brian Chesky and his roommates rented out an air mattress on the living room floor on a weekend when area hotels were sold out for a convention. The fast cash maker has since blossomed into a company valued at over $35 billion. The use of "air" in the name is a tribute to the company's roots.
2. Living Spaces – All Kinds
Most Airbnb rentals are houses or apartments, but you can also rent tree houses, igloos, furnished caves, lighthouses, yachts, castles and private islands.
3. Incredible Growth
In its first year, Airbnb hosted roughly 400 guests. Now, after 11 years, it's become a home-sharing juggernaut. Roughly 400 guests check into an Airbnb every two minutes. That's a check-in increase of 26,280,000%. Mind = blown.
4. All Over the Map… Almost
Airbnb is active in every country on Earth except Iran, Sudan, Syria and North Korea. That's 97.95% of the world!
5. Airbnb IPO?
By this time next year, Airbnb will likely have gone public. The home-sharing company hasn't formally announced it will file for IPO this year, but expectations have been mounting from media and industry watchers. Keep an eye out if you want to purchase some shares!
As always, thank you for your interest in the properties we showcase at Condo Hotel Center. Again, you can request the Natiivo data sheet here. And if I can answer any questions for you or help you find the perfect vacation home property, I hope you'll give me a call.
Joel Greene
Licensed Real Estate Broker
Condo Hotel Center
1368 NW 165th Ave.
Pembroke Pines, FL 33028
(954) 450-1929
Joel@CondoHotelCenter.com
www.CondoHotelCenter.com
Want to know more about me? Click below:
//www.condohotelcenter.com/joel-greene.html
© Condo Hotel Center. All rights reserved. No portion of this Property Alert newsletter may be reproduced, exhibited or distributed without the express written permission of Condo Hotel Center. Condo Hotel Center takes copyright infringement seriously. Violators will be prosecuted to the fullest extent of the law.