Mondrian South Beach
Miami Beach Condo/Condo-Hotel Units from the High 200,000's
January 18, 2011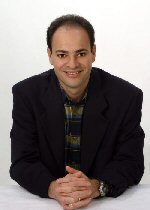 Joel Greene here. Hope your new year is starting off great. As a teen growing up in the 1970's, one of my favorite bands was Van Halen.
Even now, 35+ years later, I still crank up the radio when they come on. A few years ago, they had a big hit, "Best of Both Worlds," referred to in the song as "a little bit of heaven right here on earth."
I'm writing you today about the Mondrian South Beach, a combination hotel and condo residence that could very well have been the song's inspiration, well, if not for the fact that the song came first.
A $70 Million Renovation
Located in the fashionable South Beach neighborhood of Miami Beach, Florida, The Mondrian South Beach is a five-star property offering every type of amenity and service you might expect from a first-class resort. In fact, it not only made the Conde Nast Traveler's Hot List that featured the hottest new hotels of 2009, but it actually made the cover!
The Mondrian South Beach is also a residence, offering condominiums that you may live in year-round, rent out on your own without restrictions, or have professionally managed for you by their hotel management group. It's one of the only South Florida condo residences that offers that flexibility.
With new, sophisticated interior designs and custom finishes throughout, the Mondrian South Beach has just emerged from a major $70 million renovation. It is now complete and is a fully operational and busy hotel. It has impressive amenities like two restaurants, a lobby and a poolside bar, private marina, 4,000 square foot spa, fitness center, business center, private rooftop bar and access to not one, but two beaches.
Best of all, the developer has announced that the remaining inventory, approximately 90 units, will be offered at great discounts, up to 50% off from the original pre-construction prices of a couple of years ago. Cash buyers will enjoy even bigger discounts.
Sleeping Beauty's Castle
The Mondrian South Beach is being described in the hotel industry as a fairy tale story come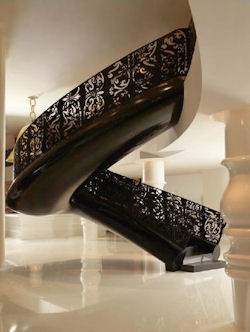 to life. Dutch designer, Marcel Wanders, winner of several Elle Decor Awards as 'Designer ofthe Year,' gets the credit. He's the brainchild behind the Morgan's Group-owned hotel and condo. He nicknamed the property "Sleeping Beauty's Castle."
The laser cut steel staircase serves as the hotels centerpiece, where you'll see that Marcel is a fan of playing with scale. In every room he wanted to have a host; so she's there looking at you as you walk into the lobby and she's there welcoming you to your guest room too.
And throughout the hotel, you'll find his special touches, from the hidden gardens with swinging chairs, the "horse-drawn" elevators, the foliage curtain private cabanas or the very unexpected chandelier shower heads in your guestroom.
If that doesn't say unique, how about a semi-automatic wall in the lobby that takes this fantasy to another level, allowing you to purchase almost anything from fake eyelashes to a Rolls Royce, or the most popular item, 24-carat gold handcuffs?
A Prime Location
With dozens of oceanfront hotels to choose from on Miami Beach, Morgan's Hotel Group, opted to move away from the bustle of the oceanfront tourist center and purchase a building in the fashionable, growing neighborhood of Biscayne Bay. From this location, the hotel residences enjoy spectacular views of Biscayne Bay, Miami Beach and the Miami skyline.
Located at 11th St., about five blocks from internationally recognized hotspot, Ocean Dr., you are close enough to fine dining, clubs and Miami Beach's nightlife that you could walk there in minutes, yet you are far enough away to avoid the chaotic activity and heavy traffic.
You'll also find easy access to major highways and you're less than 15 minutes to downtown Miami and 20 minutes to Miami International Airport.
Year-Round Living or Vacation Home
For those who wish to live in a Miami Beach condominium year round and enjoy the five-star services and amenities, the Mondrian offers the most flexible options. You may live there full time, or stay in your own unit, without any limitations. On the other hand, The Mondrian South Beach is professionally managed by the Morgan's Hotel Group, the company that brought you The Delano and The Shore Club, both located on Miami Beach.
You may have a vacation or an extended stay in your residence, or if you prefer, you can collect rental income between visits with Morgan's taking care of everything for you in your absence. A hotel rental program representative will explain all the details of the program upon request.
Are You an Ocean or Pool Person?
Some people prefer to lounge poolside sipping pina coladas, dipping their toes in the shallow end while hoping to catch a glimpse of a local celebrity, but some who come to Miami Beach prefer to feel the sand between their toes. The Mondrian offers both options.
The pool scene at the Mondrian South Beach is a sight to behold. Al fresco dining and bars surround the pool, as do foliage curtain private cabanas and a sunset lounge, all looking out upon beautiful Biscayne Bay and downtown Miami.
Chris Bosh of the Miami Heat recently said in Ocean Drive Magazine, "There is no place I enjoy hanging out to watch the sunset more than poolside at the Mondrian."
Beach access is available through the Mondrian's affiliation with the Delano Hotel, a mere five minutes away, or for a truly unique experience, Mondrian guests can enjoy their own, white sand beach island.
Monument Island, an artificial island built in 1920, roughly 1,000 yards from the hotel, has been adopted by the Mondrian. Guests can board the Mondrian's private boat for a quick trip to the island's private, white sand beachfront area.
Amenities Galore
The 4,000 sq. ft., Agua Spa, features wet and dry treatment rooms offering everything from the ultimate mani pedi, to a lavender herb body scrub, or the extraordinary sounding, Blue Sapphire Cashmere Facial. Owners save 20% on all spa treatments. There's also a fully-furnished fitness center.
Dine at the critically acclaimed, five-star, Asia de Cuba restaurant with priority status for hotel restaurant reservations. Or for lighter fare, enjoy the Bayside bar and grill serving poolside.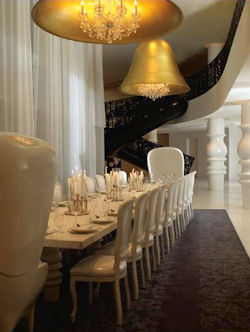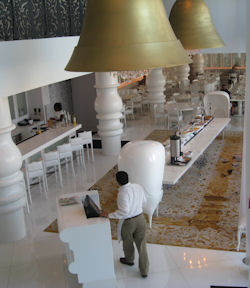 Enjoy fine dining at Asia de Cuba, the Mondrian's 5-star restaurant.
Mondrian owners can expect every service a resort hotel can offer from 24-hour concierge services to valet parking and even tech support for your computers, entertainment centers and telecommunication equipment.
Membership Has Its Privileges
While owners at the Mondrian can enjoy a dynamic nightlife experience and the many chic event spaces on site, they also get perks at other Morgan's Hotel Group properties with Global Card Privileges provided to all owners.
Owners have free access to the nearby Delano Beach Club. They also have VIP access to any of the Morgan's Hotel properties, including The Delano and The Shore Club in Miami Beach and Morgan's hotels, bars and restaurants worldwide. Additionally, owners get 10% discounts off food and beverages at Morgan's Hotel Properties worldwide.
Such a Deal!
All condos are sold fully-equipped and ready for you to move in. This includes furniture, television, lighting, window treatments, and even the linens.
The developer has just announced close-out pricing of the remaining inventory, with deep discounts up to 50% off. These condos originally sold at $1,100-$1,200 a foot, but today they're priced to sell quickly.
Studios range from $271,000-$575,000. One-bedroom units start from $318,000. And large two-bedroom condos, directly on the bay, start at $800,000. There is financing available from the developer with a minimum of 20% cash down, but all cash buyers can receive an even bigger discount off of these already low prices.
Want to know more? I've put together a data sheet with all the unit sizes, prices and a lot more information. You'll just need to provide your contact information required by the developer, and the data sheet will be sent right out to you.
Request the Mondrian South Beach data sheet here.
No Snow Here
This past week I heard on the news that Florida was the only state that didn't have any snow on the ground. If you've had your share of the white stuff and the cold, the Mondrian South Beach, could be your ticket to the sun.
As always, thank you for your interest in the properties we showcase. Please feel free to pass this Property Alert to friends and family. And if you're looking for something other than the Mondrian South Beach, just drop me a line with the details. We have lots of great properties, many of them now available at reduced prices, and we're happy to share our information.
Joel Greene
Licensed Real Estate Broker
Condo Hotel Center
1368 NW 165th Ave.
Pembroke Pines, FL 33028
(954) 450-1929
Joel@CondoHotelCenter.com
www.CondoHotelCenter.com
www.CondoHotelsDubai.com
www.WorldClassCondoHotels.com
www.CondoHotelsBahamas.com
www.CentralAmericaSecondHomes.com
www.DominicanRepublicVacationHomes.com
Want to know more about me? Click below:
//www.condohotelcenter.com/joel-greene.html

Follow us on Facebook.
© Copyright 2010 Condo Hotel Center
*All rights reserved. No portion of this Property Alert may be reproduced, exhibited or distributed without the express written permission of Condo Hotel Center. Although Condo Hotel Center believes the information contained in this Property Alert to be accurate and complete, Condo Hotel Center can make no such guarantee.