Mirasol in Celebration, Florida
Near Disney World
The Ultimate Second Home in a
Disney Master-Planned Community
September 17, 2014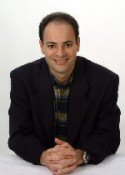 Joel Greene here from Condo Hotel Center.  I reached a landmark birthday this past week.  I turned 50 years old.  Yes, happy birthday to me.
While I continue to try to persuade myself, and anyone who will listen, that I am not middle-aged, I am forever bumping into reminders of this pesky fact.
For example, this past week, I took my twin girls to get their driver's license.  They both passed I'm happy to say.  But I can't help feeling as they move into this next phase of independence that I am probably moving into another stage myself, one I'm not quite sure I'm ready for.  Where did the time go?
When the kids were young, one of our favorite things to do as a family was go to Disney World in Orlando.  This week I found myself researching a condo development in the area and instead of checking out the theme park's hours, I was taking note of things like proximity to golf courses, nice restaurants and even factory outlet shopping.  OMG!  I really am getting old!
In any case, I'd like to share with you what I learned about that Orlando-area community.  I think, whether your kids are still of prime Disney World age, or if you're middle-aged (like me) or beyond, you'll find this development worthy of consideration as a second home.  Read on for details…
Mirasol in Beautiful Celebration
Mirasol is a Mediterranean resort-style community located in Celebration, Florida.  It redefines luxury living in a private oasis with 210 spacious residences and elegant amenities surrounded by lush greenery and numerous fountains.
Originally built in 2002 as a rental community, it was converted into a condominium in 2005.  The homes are now being sold off to individuals.
Mirasol's idyllic location contributes to its picture-perfect lifestyle.  It's just a short walk to the quaint downtown of Celebration or a quick drive to Disney World.
Celebration is a master-planned community developed by Disney World Company in 1993.  Disney's vision to have a "town that would take us back to the time of innocence." Celebration is a walkable town with its own parks, trails and pathways as well as schools, a fire department, post office, hospital and golf course.
Resort-Style Amenities
Mirasol offers a full complement of luxury amenities and services.  They include:
Full-service day spa
Fully-equipped fitness center
Heated resort-style swimming pool with Jacuzzi
Community club room with billiards
Business center with conference room and cyber café
Natural preserve jogging trail and dog walk
Direct access to Lakeside Park tennis courts
Easy access to Celebration Golf Course
Full-service concierge
Breakfast served on Saturdays and coffee served daily
In addition to Mirasol's amenities, owners will have access to the many outdoor features located throughout the Celebration community including parks, playgrounds, volleyball, tennis and basketball courts, pavilions, swimming pools and more.
Condo Features
The individual condos of Mirasol offer many exceptional features:
10' high ceilings
Two-piece crown molding in living areas
Hardwood floors in main living areas
Ceiling fans in living rooms and bedrooms
Washers and dryers in each home
Screened-in porches in select units
Security system in every home
High-speed Internet in every home
Built-in speakers in select units
The kitchens come with eat-in breakfast rooms, stainless steel appliances, granite countertops and 12" ceramic tile floors.  The master baths also have granite countertops, tile floors and Roman tubs in select units.
An Awesome Location
The luxury residences of Mirasol are located within easy walking distance of quaint, downtown Celebration, just five minutes from Orlando Premium Outlets, 10 minutes from Walt Disney World, and 20 minutes from Universal Studios, Sea World and the Orlando International Airport.
There is so much to do in this area and new attractions are being built all the time.  Best of all, the weather is always magnificent, so you can enjoy all the outdoor activities year-round.
Fast Closings
The condos for sale at Mirasol are currently rented with leases expiring in 2014 and 2015.  They will be sold subject to the existing lease.
They range from one- to three-bedrooms and from 1,051 to 2,161 square feet.  Prices range from $227,000 to $488,000.  The sellers are in the process of pre-arranging financing with local banks.  Buyers can expect to close in as few as 30-45 days.
Want to know more?  I've got plenty more details in my Mirasol Data Sheet, which you can request below.
Request the Mirasol Data Sheet here.
50 Years Young and Counting
I am slowly coming to terms with my advanced age, although my wife will tell you my sense of humor continues to hover around age 12.  Evidently, that's when I reached my comedic peak.
As a fun birthday gift, one of my friends had the following 60-second video made.  I found it pretty amusing, so I'm sharing.
I also enjoyed a lovely birthday dinner out with my family.  Below is a photo from it with Jackie, Lindsay and me.  Since Haley snapped the photo, she's not in it.  But if you've seen one identical twin, you've seen them both.
As always, thank you for your interest in Condo Hotel Center properties.  I hope you'll give me a call if you or someone you know is in the market for a Florida condo or condo hotel.
Have a great day!
Joel Greene
Licensed Real Estate Broker
Condo Hotel Center
1368 NW 165th Ave.
Pembroke Pines, FL 33028
(954) 450-1929
Joel@CondoHotelCenter.com
www.CondoHotelCenter.com
www.CondoHotelsDubai.com
www.WorldClassCondoHotels.com
www.CondoHotelsBahamas.com
www.CentralAmericaSecondHomes.com
www.DominicanRepublicVacationHomes.com
Want to know more about me? Click below: //www.condohotelcenter.com/joel-greene.html

Follow us on Facebook.
© Condo Hotel Center.  All rights reserved. No portion of this Property Alert may be reproduced, exhibited or distributed without the express written permission of Condo Hotel Center.  Condo Hotel Center takes copyright infringement seriously.  Violators will be prosecuted to the fullest extent of the law.
Although Condo Hotel Center believes the information contained in this Property Alert to be accurate and complete, Condo Hotel Center can make no such guarantee. All features and descriptions are subject to change.
Please speak with your personal legal and financial advisors to determine whether this property is suitable for your objectives. 
Please speak with your personal legal and financial advisors to determine whether this property is suitable for your objectives.