Boutique Condo Hotel on Miami Beach Priced from $125,475
Just Put on Market-Only 32 Units Left!
May 3, 2004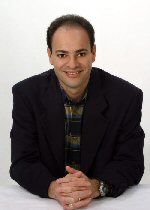 Over the weekend I got wind of a boutique oceanfront condo hotel on Miami Beach offering units starting at an incredibly low $125,475.  I had to see this for myself because by any standards, for Miami Beach oceanfront property, THAT'S CHEAP!
So on Sunday, I took the wife and kids (twin 5-year-old girls who let's just say don't appreciate the finer points of an economically-priced condo hotel) for a little tour of the property.  Here's what I learned, (despite the continual "please-can-we-go-now" whining from Lindsay and Haley).
The Mimosa Residences is a beachfront condo hotel located at 6525 Collins Avenue in Miami Beach. The project has recently undergone an impressive $3 million renovation and features 60 brand new and completely furnished studios and suites in a three-story converted hotel.  Now here's why I'm sending you this "Urgent" Property Alert.  Of the 60 units, 28 are already gone! 
The developer is keeping the six best units, the ones with ocean views.  The other 22 have gone to his friends, families and other insiders.  Doing the quick math that means only 32 units remain.  Furthermore, my personal experience has been that as soon as a condo hotel hits the 50% sold benchmark, price increases soon follow, (usually without warning).
Property Amenities
The Mimosa has all the amenities of a luxury resort with the personal touch and uniqueness of a boutique property.  European furnishings give it a fashionable ambiance.  Units are Internet-ready, have kitchenettes, Jacuzzis, TVs and central air conditioning.
Building amenities include a pool, lobby café, security, fitness center, concierge, valet parking and 24-hour room service.
My Personal Observations
Frankly, I was impressed.  I've known this property all my life.  It is the former Brazil Hotel built in the 50's, a little David property, just three-stories tall surrounded by Goliaths, mammoth high-rise condo developments.  The developer has completely gutted the property, and in essence, created a new look and feel for what was an aging hotel.
The individual units, which are small by condo hotel unit standards, did not feel small.  They were well laid out and tastefully decorated.  In summation, the renovation amounts to a complete overhaul, one that I can say with confidence was "done right."
It's also worth mentioning that construction on this condo hotel will be complete within the next 60 days.  With so many of the properties I sell, I'm used to saying that availability is several years out.  For someone who wants to begin enjoying "the good life" now, this is a great opportunity.
Location
The Mimosa's perfect location between vibrant South Beach and prestigious Bal Harbour ensures that its condo owners will not only enjoy the historically appreciating values of oceanfront property in Miami Beach, but can also benefit from the rental of their suites when they are not in residence.
As South Beach has become overbuilt and very costly for developers, they have flocked to the space between 63rd Street and 87th Terrace.  The area along Collins Avenue and Indian Creek is literally crammed with cranes and construction crews.  North Beach is becoming a revamped community of commerce, family-oriented neighborhoods, luxury hotels and high-end condos.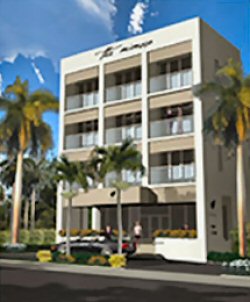 Proximity to Canyon Ranch will Ensure Appreciation
Just three blocks north of The Mimosa, Canyon Ranch, the world's most celebrated health resort, will develop its first healthy living residential community, Canyon Ranch Living, on the oceanfront site of the former Carillon Hotel.
Canyon Ranch, which will consist of three condominium towers featuring 151 condo hotel suites (average price $500,000-$1,000,000+), and 467 condominium residences, and a 60,000 sq. ft. state-of-the-art fitness center, has been a catalyst for development in the North Beach area.  There are, as I write this Property Alert, no less than six high-end condominiums going up in the area.
Prices
At The Mimosa Residences, you can get a 290 sq. ft. studio suite with kitchenette and whirlpool bathroom priced from $135,975-$146,475.  Junior studios are 265 sq. ft. with in-room Jacuzzi and private bathroom, priced from $125,475 to $135,975.
One option that I understand is being done by some of the people who've already reserved units is to combine a studio with a junior studio to create a 565 sq. ft. one-bedroom apartment, priced at a discount when sold together from $238,875-$249,375.
Buy Two Units, Get a Week on a Yacht
Here's a unique twist being offered by the developer.  With the purchase of two connecting condominium units at The Mimosa, owners get an added bonus.  They acquire the right to use the resort's own luxury yacht, The Orion.  With her quaint cabins and elegantly decorated interiors, owners get a whole week every year FOR FREE for 16 years.
Her captain is always eager to arrange adventurous escapes to the Keys or the Bahamas, or just a day cruise up the Intracoastal.  (By the way, I live only 40 minutes away.  If you're in need of some company, give me a few hours notice, and my wife, twins and I will be waiting at the dock.)
Summary
So there you have it.  You can enjoy a beachfront lifestyle and the benefits of an effective rental program at the same time at The Mimosa Residences.  This is an opportunity for just a few (remember, only 32 units left as I write this) to purchase Miami Beach oceanfront property for a real bargain price.
If you are sincerely interested, please contact me to assist you in tying up the best available unit.  Keep in mind, by Florida law, you will have a 15-day period to rescind your deal for any reason and get 100% of your deposit back.  That gives you 15 days to come to Florida, see the property and confirm your decision, while locking in the unit you want and the price before the increase, which I expect to come soon.
The developer is requiring a 10% deposit now, and 15% additional at closing, which is scheduled for the end of June or 15 days after they get a certificate of occupancy, whichever is later.
Upon request, I can e-mail you a data sheet on this property as well as some rather impressive photos.  I would also be glad to personally give you a tour of the property; I promise to leave the twins at home.
***
Resale Opportunity
By the way, returning to Canyon Ranch for a moment, this has always been one of my favorite buildings to offer, as I firmly believe in this property's success due to its unique spa and Canyon Ranch Health & Healing Center.  On Sunday morning, I popped into the property, just to get an update on the remaining inventory.
It turns out that their least expensive unit two weeks ago was $530,000, but they just had an even less expensive unit come back on the market.  This is one of the few handicapped units in the building, a difference that you might not even notice as an owner, but which is definitely noticed by the people who require the slightly lower sinks, larger bathrooms and wider door frames.
This unit is on the second floor, facing north.  Unfortunately, it does not have an ocean view because of its location in the building, but I firmly believe that in Canyon Ranch, the view is overrated.  When it comes to Canyon Ranch, people go for the Spa, and the spinning classes, the cuisine and physical fitness trainers.  They do not go there to look out their window.  So view aside, here's what you should know.
This is a one bedroom, one bath unit with 920 sq. ft. of livable space, making it one of the largest one-bedroom models in the building.  The price is only $475,000. Outside public memberships to the spa will not be offered.  Having any one of the 151 condo hotel units puts you in the enviable position of having a rental in strong demand.  You can see photos and additional information on Canyon Ranch here.
If this fits your investment need, please let me know as soon as possible, because I don't expect this unit to be around very long.
***
As always, thank you for your interest in news from Condo Hotel Center.  If you have any friends who might like to receive our Property Alerts, please direct them to the sign-up box right on our Home Page, //www.condohotelcenter.com/.
Have a great day!
Joel Greene
Broker-Associate
Condo Hotel Center A division of Sheldon Greene & Assoc., Inc.
1368 NW 165th Ave.
Pembroke Pines, FL 33028
(954) 450-1929
Info@CondoHotelCenter.com
www.CondoHotelCenter.com
www.CondoHotelsDubai.com
www.WorldClassCondoHotels.com
www.CondoHotelsBahamas.com
www.CentralAmericaSecondHomes.com
www.DominicanRepublicVacationHomes.com
Want to know more about me? Click below: //www.condohotelcenter.com/joel-greene.html