LAST CHANCE TO GET IN ON
MIDTOWN MIAMI
June 7, 2004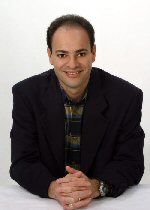 For those of you who had expressed an interest in Midtown Miami when I first introduced this pre-construction project about two months ago, you might be interested to know that all 338 condos in Phase 1 sold out within just a couple days.
I'm pleased that some of Condo Hotel Center's clients got in on the action and picked up units that will undoubtedly reap exceptionally high appreciation, especially considering that there were over 700 reservations made for the 338 condos!
One Condo Available at Midtown Miami
Well here is one last chance to get in on this property.  My developer contact at Midtown Miami called me late this afternoon with the inside scoop.  One gentleman, who happened to be one of the very first to reserve a unit, has decided not to go forward with the purchase.  And his loss may be your gain–if you can move fast!
The condo that is available is on the 27th floor, right below the penthouse level of this 28-story building.  The view is east, or in other words, direct oceanfront.  In fact, this unit has the absolute best view in Midtown Miami!
The condo is 2 bedrooms/2.5 baths, 1,206 sq ft. with a huge balcony and is priced at $500,000.  Only 10% is required now.  The remaining 10% of the down payment will be required in 5% payments in February 2005 and September 2005.
I always worry about sounding too aggressive in my Property Alerts, because that's not my style.  However, in this case, I can't stress enough that there is only ONE unit, and a great one at that, and if you want it, you need to call me a.s.a.p.
More information follows from our original Property Alert to give you more background on the Miami Midtown project.
Midtown Miami-It's Going to Be Huge!
Midtown Miami will be a 56-acre "city within a city."  It will include an estimated 3,900 residential condo units, 600,000 sq. ft. of retail space and 100,000 sq. ft. of office space.  The Midtown Miami development will include shops, restaurants, residential buildings, a first class hotel, town square, boutiques, newsstands, parks and green spaces.  Live/work zoning will allow you to work on one floor, live on another!  It is scheduled for completion toward the end of 2006.
An Amazing Location
Midtown Miami will be massive, encompassing 18 city blocks, the largest parcel of undeveloped land in Miami.  It will be situated between the Design District, the Wynwood Arts District and the new Performing Arts Center anchored by the new Midtown Boulevard – the main thoroughfare of the development – and East Coast Avenue.
The development will be located 10 minutes to Downtown Miami, 10 minutes to Miami Beach, 10 minutes to The Port of Miami and the Miami International Airport and less than two minutes away from the nearest exit to I-95.  In other words, the location is PRIME in every sense of the word.
Midtown Miami Condo Features
All Midtown Miami condo units will feature private terraces, 10-foot ceilings, floor to ceiling impact-resistant glass windows; Italian kitchens with stainless steel appliances, custom cabinetry, stone countertops; and pre-wiring for electric, cable, and high-speed internet.
Building Amenities
Amenities include Porte cochere, 24-hour security, rooftop pool overlooking Midtown Boulevard and Biscayne Bay, a sophisticated fitness center, Jacuzzi, sauna, steamroom, meditation garden, high speed elevators, covered parking, concierge, valet, private storage facilities and ground-level retail.
Midtown Miami Project Overview
In approximately five years when Midtown Miami should be complete, the actual construction cost for the entire project is expected to be $641 million.  The total value will be $833 million.  This project will create thousands of new jobs and will generate significant additional real estate development in the area.
Because of it's massive size, Midtown Miami will become the focal point of the new Biscayne Corridor and will give a lift to already rapidly rising real estate values in the area.   As a matter of fact, this property will be built in what is considered "one of the hottest zip codes in the U.S."
In February 2004's "Biscayne Boulevard Times," staff reporter Melanie Feliciano said: "Folks who have put their money into the belief that the Biscayne Corridor would be a great place to live and play should pat themselves on the back.  A recent review of raw real estate data by CNN Money has declared that 33137 and 33138 were in the top eight zip codes in the United States for gains in real estate appreciation for the last five years.  The report also expects the double-digit gains to continue for some time to come."
Call Me Now If You Want It!
So there you have it, an opportunity to get a premium unit at the exciting Midtown Miami development.  Once again, if you want it, please call me as soon as possible.
As always, thank you for taking the time to read news from Condo Hotel Center.
Joel Greene
Broker-Associate
Condo Hotel Center A division of Sheldon Greene & Assoc., Inc.
1368 NW 165th Ave.
Pembroke Pines, FL 33028
(954) 450-1929
Info@CondoHotelCenter.com
www.CondoHotelCenter.com
www.CondoHotelsDubai.com
www.WorldClassCondoHotels.com
www.CondoHotelsBahamas.com
www.CentralAmericaSecondHomes.com
www.DominicanRepublicVacationHomes.com
Want to know more about me? Click below: //www.condohotelcenter.com/joel-greene.html