MIDTOWN MIAMI PHASE II
Four Midtown Pre-Construction Opportunity
October 6, 2004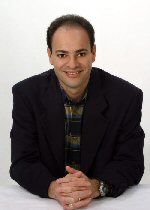 Joel Greene here from Condo Hotel Center. As you know, we at Condo Hotel Center specialize in condo hotels, that is condos with a hotel rental feature. However, every now and then we see an interesting opportunity on straight condos that we think has true investment potential, and we like to pass along that information. This is one of those opportunities.
If you've been receiving my Property Alerts for the past six months, you may remember our mention of the exciting Midtown Miami project. Midtown Miami is being touted as the most ambitious condo development in all of the Southeast, a virtual city-within-a-city. (More on this in a minute.) And Condo Hotel Center and its clients have been granted VIP status on all seven phases of this project. I have just been given the heads up that the early pre-marketing efforts for Phase II, which will be called Four Midtown, has begun.
Four Midtown's Urban Architecture
Four Midtown will be a 33-floor, 380-unit residential tower. Construction will begin in about three months and will likely be completed by mid-2007.
Its urban design will be reminiscent of New York's SoHo district with a twist of luxury. There will be dozens of uniquely-designed floor plans with multi-level loft and tower spaces that represent the best in urban architecture. Hip-looking windows, kitchens and baths plus the most modern finishes and fixtures will tie it all together to give each residence an individual look that is distinct to Midtown Miami.
Four Midtown Condo Features
Four Midtown condos will include high-end features such as:
Private terraces
10-foot ceilings
Floor to ceiling
Impact-resistant glass windows
Italian kitchens with stainless steel appliances
Custom cabinetry
Stone countertops
Pre-wiring for electric, cable and high-speed Internet
Four Midtown Building Amenities
Amenities will include:
Porte cochere
24-hour security
Rooftop pool overlooking Midtown Boulevard and Biscayne Bay
A sophisticated fitness center
Jacuzzi
Sauna
Steamroom
Meditation garden
High-speed elevators
Covered parking
Concierge
Valet
Private storage facilities
Ground-level retail
Midtown Miami-It's Going to Be Huge!
Here's some background on the project as a whole. Midtown Miami will be massive! It will encompass 18 city blocks, the largest parcel of undeveloped land in Miami. It will be a 56-acre city within a city. It will include an estimated 3,900 residential condo units, 600,000 sq. ft. of retail space and 100,000 sq. ft. of office space.
Embodying "new urbanism," the Midtown Miami development will include shops, restaurants, residential buildings, a first-class hotel, town square, boutiques, newsstands, parks and green spaces.
The new urban utopia, as it's being called, will feature live/work zoning that allows you to work on one floor, live on another. It is scheduled for completion toward the end of 2006.
Daniel Pfeffer, a principal with Midtown Group says, "By virtue of its size and scope, our project will be the focal point of the new Biscayne Corridor. This area will be a place where resident, locals and tourists will want to be."
An Amazing Location
Midtown Miami will be situated between the Design District, the Wynwood Arts District and the new Performing Arts Center anchored by the new Midtown Boulevard-the main thoroughfare of the development-and East Coast Avenue.
The development will be located 10 minutes to Downtown Miami, 10 minutes to Miami Beach, 10 minutes to the Port of Miami and the Miami International Airport, and less than two minutes away from the nearest exit to I-95. In other words, the location is PRIME in every sense of the word.
Midtown Miami Project Overview
In approximately five years when Midtown Miami should be complete, the actual construction cost for the entire project is expected to be $641 million. The total value will be $833 million. This project will create thousands of new jobs and will generate significant additional real estate development in the area.
Because of it's massive size, Midtown Miami will become the focal point of the new Biscayne Corridor and will give a lift to already rapidly rising real estate values in the area. As a matter of fact, this development will be built in what is considered "one of the hottest zip codes in the U.S."
In February 2004's Biscayne Boulevard Times staff reporter Melanie Feliciano said: "Folks who have put their money into the belief that the Biscayne Corridor would be a great place to live and play should pat themselves on the back. A recent review of raw real estate data by CNN Money has declared that 33137 and 33138 were in the top eight zip codes in the United States for gains in real estate appreciation for the last five years. The report also expects the double-digit gains to continue for some time to come."
Prices
Back to Midtown 4, prices for condos have not been set in stone yet. However, based on the marketing of Phase I, I expect that one-bedroom condos will likely be priced between $200,000-$300,000, and two-bedroom condos will probably fall between $300,000-$500,000.
Floor Plans & Brochures Available Soon
At this point, they do not have floor plans or brochures. They will be coming out in November. Units will be sold on a first come first serve basis. Those of you who bought in Phase I might remember that there were over 700 people on a waiting list to get the first 338 units, and many people got shut out.
Here's How to Get VIP Status
Here is the procedure if you want a condo. First, register with me now by providing your complete name, address and phone number. This will enable me to get your name on the "VIP list." Once prices have been determined and floor plans and brochures are available, the developer will be talking to all VIP buyers and securing units in the order that they were registered.
Registering quickly could be the difference between your getting the opportunity to purchase one of the highly desirable, east facing, direct waterfront units or looking at the interior courtyard facing west.
The Procedure for Buying a Unit
Next step, when floor plans are available, you will review the selection of available condos and reserve a specific unit with the view and size that you want.
Finally, they will have a one-day sales event tentatively planned for January 2005, at which time you'll sign the contract and put up a 10% deposit check. A second 10% deposit will be due at a later date, but exactly when has not yet been established.
By the time they have this one-day event, they fully expect every single unit to be sold. And just like with Phase I, there will not likely be any leftover units offered to the general public. I had people pleading for units in Phase I after the sales event, but they were in such high demand, there was nothing I could do to help them.
So there you have it, an opportunity to get a premium unit in Phase II, Four Midtown, at the exciting Midtown Miami development. Once again, if you want it, please call or e-email me so I can get you on the VIP list and you'll soon have an opportunity to review the available selection of condos.
Feel Free to Tell a Friend
As always, thank you for taking the time to read news from Condo Hotel Center. I'll be back next week featuring a condo hotel property.
If you enjoy reading my Property Alerts, please feel free to share them with a friend. They can sign up to receive our Alerts on our website, www.CondoHotelCenter.com. We are always trying to grow our "community" of Condo Hotel Property Alert readers. If you'd like to unsubscribe, just drop me a quick e-mail and write unsubscribe in the subject line, and I'll take care of it for you.
Have a great day!
Joel Greene
Broker-Associate
Condo Hotel Center A division of Sheldon Greene & Assoc., Inc.
1368 NW 165th Ave.
Pembroke Pines, FL 33028
(954) 450-1929
Info@CondoHotelCenter.com
www.CondoHotelCenter.com
www.CondoHotelsDubai.com
www.WorldClassCondoHotels.com
www.CondoHotelsBahamas.com
www.CentralAmericaSecondHomes.com
www.DominicanRepublicVacationHomes.com
Want to know more about me? Click below: //www.condohotelcenter.com/joel-greene.html