Viva Las Vegas Pre-Construction, First Tier Pricing
THE SIGNATURE AT MGM GRAND, TOWER C
March 16, 2005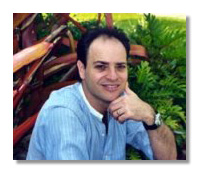 Hello, Joel Greene here from Condo Hotel Center. All this week I've been singing a little tune in my head as I researched today's feature property. You're lucky these Property Alerts don't come with audio, or you'd have to listen to my rendition of Viva Las Vegas. And let's just say, I'm definitely not the next American Idol.
Today I'm writing about The Signature at MGM Grand, Tower C. Those of you who've been reading my Alerts for a while may remember my mention of this Las Vegas condo hotel before when Towers A and then B went on sale.
Tower A set a condo hotel sales record when back in Dec. 2003 all of its 576 units sold in less than eight weeks, something most condo hotels of that size take a year or two to do. Tower B went on sale last March and has sold all but a very few units.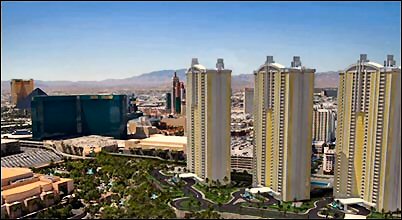 Well they say the third time is the charm. And so now, I have the pleasure of offering you a third and final chance to get in on what will likely be the last of the Signature at MGM Grand residences — Tower C. Best of all, you're finding out about this condo hotel at the very earliest possible stage. That means you get:
1. First tier pre-construction pricing

2. A full selection of all units

3. A chance to reserve yours before the property is "officially" on the market.
Because of my relationship with the sales team on the previous MGM towers, I was given the privilege to alert my clients to this third tower before it is made available to the public and before any advertising commences. You're getting what's known as the "friends and family tip-off." Now let me give you the low-down on this exquisite condo hotel.
Property Description
The Signature at MGM Grand, Tower C, will be built on Harmon Avenue. This is the site of the old MGM Theme Park, adjacent to The MGM Grand Hotel, Las Vegas which is directly on the Strip.
The Signature at MGM Grand will be a 38-floor condo hotel tower with a total of 576 units identical to the other Towers A and B. The property is expected to have a four-star rating. Available are studios, one bedroom and two bedroom units, ranging in size from 550 sq. ft to 1,500 sq. ft.
A Full Range of Luxury Features
The Signature at MGM Grand will offer the finest in luxury high-rise amenities:
Exquisite porte cochere entry to receive residents and guests
Fully-staffed lobby includes 24/7 doorman, parking valet and security
Exclusive owner's lounge for continental breakfasts, cocktails, and hors d'oeuvres
Private swimming pool, deck, and spa reserved for residents
Pool bar serving cooling drinks
Fully-equipped business center
Conference room for business or social meetings
Available hotel services include concierge, room service, and housekeeping
Gourmet and retail shop for take-home foods, refreshments, and sundries
Enclosed air-conditioned, elevated walkway connecting the residences to Studio Walk and MGM Grand Hotel & Casino.
Fully-Furnished Suites
The individual condo hotel units at The Signature at MGM Grand will be lavishly furnished to make your Las Vegas residence a luxurious second home.
Fully-Furnished Suites
The individual condo hotel units will be lavishly furnished to make your Las Vegas residence a luxurious second home.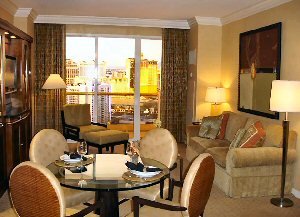 Condo hotel units are delivered with designer furnishings and decor. Photos taken at sales model.
They'll include these features:
All units designer-furnished
Flat screen televisions
DVD/CD players
High Speed internet access
Designer custom flooring
Custom wall coverings
Designer draperies and fabrics
Imported designer door hardware
Linens and towels
Luxurious king-size bed
Lockable owner's closet
Imported Italian cabinetry in kitchen
State-of-the-art kitchen appliances
China, glassware, tableware, cookware, utensils, toaster, coffee maker, iron and ironing board
Jacuzzi whirlpool bath featuring recessed pulsating jets
Designer lighting, fixtures and trim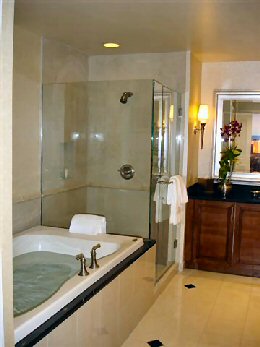 Master bedroom and bath. Photos taken at sales model
No Living Restrictions
The Signature at MGM Grand will have no living restrictions. You can live in your condo hotel suite full time if you'd like. But if you'd prefer, use your Las Vegas home only occasionally and have it generate revenue for you the rest of the time. The rental split is approximately 50%-50%. The property will be managed by the MGM Grand, one of Las Vegas' finest hoteliers.
Access the Amenities of the MGM Grand Hotel
Probably the best selling point for The Signature at MGM Grand goes beyond the condo hotel itself. Remember, this is not a stand-alone property. That means, owners will have not only the exclusive amenities and services at The Signature, but also those in the MGM Grand, the biggest hotel in the world (over 5,000 rooms) with over 115 acres of recreation, entertainment, shopping and dining.
There will even be an enclosed moving walkway to connect you to all that's Grand including:
The MGM Grand Casino – The biggest casino in Las Vegas at 171,500 sq. ft. with over 3,000 slot machines
The Grand Spa – Zen-inspired 20,000 sq. ft. spa
Fitness center – State-of-the-art equipment
Pools – 6.6 acres of pools, rivers and waterfalls
Studio Walk– 115,000 sq. ft. shopping promenade
Star Lane Shops – Various retailers
Youth Activity Center – Games and arcade
Studio 54 Nightclub – Reinvention of the legendary New York nightclub
African Lion Habitat – Yes, actual lions for your viewing pleasure
Grand Garden Arena – 17,000-seat home to superstar concerts & spectacular sporting events
Grand Theater – 1,700-seat home of EFX, the show Las Vegas was made for
Cirque du Soleil – world famous show that blends acrobatics, martial arts, multimedia, music and amazing costumes
La Femme – Sensuous (now there's a word I don't get to use often enough in my Property Alerts) show direct from the original Crazy Horse in Paris
The Hollywood Theatre – 650-seat theater hosts comedy acts and concerts
Restaurants – 17 different restaurants including Rainforest Café, Stage Deli, Wolfgang Puck Bar & Grill, MGM Grand Buffet, Emeril's New Orleans Fish House and a food court
A Las Vegas Strip Location
The Signature at MGM Grand, like its counterpart The MGM Grand Hotel & Casino, will have a prime location in the heart of the Las Vegas Strip. This condo hotel will be close to the airport, shopping, dining, casinos and everything else that makes Las Vegas a world-class destination.
A station for the new Las Vegas Monorail, a $650 million driverless urban transit system, is located right at the MGM Grand. This high-tech transportation source traveling at 50 m.p.h. will whisk you to the Las Vegas Convention Center, other resorts and casinos, or clear to the other end of the Strip in just 15 minutes.
The Developers of the Signature at MGM Grand
The developers of this condo hotel are Turnberry Associates, headed by Donald Soffer and son Jeffrey. Turnberry has been setting unprecedented standards of luxury high-rise living for more than 40 years.
In addition to its sumptuous Turnberry Place enclave in Las Vegas, it has created an impressive array of residential complexes in my neck of the woods Aventura, Florida (in between North Miami and Fort Lauderdale).
They include: Turnberry Isle, Porto Vita, Turnberry on the Green and Turnberry Village. Plus, I couldn't talk about Turnberry without mentioning two of my condo hotel personal favorites, the Fontainebleau II and the Fontainebleau III Ocean Club in Miami Beach.
The Architect, Las Vegas' Best
The architect for the Signature at MGM Grand is the world-renowned Bergman, Walls & Associates, Ltd. Founded in 1994, the firm are the leaders in casino resort design. Its principals are responsible for some of the country's most impressive casino resorts including:
Caesars Palace – Las Vegas, NV
Paris Casino Resort – Las Vegas, NV
The Mirage – Las Vegas, NV
Trump international Hotel & Tower – Las Vegas, NV
Treasure Island – Las Vegas,NV
Caesars Shadow Box – Las Vegas NV
Caesars High Limit – Las Vegas NV
Golden Nugget – Lauglin, NV
Golden Nugget – Atlantic City, NJ
Agua Caliente Casino – Palm Desert, CA
MGM Grand – Detroit, MI
Las Vegas Stats
Now that you know we're talking about a quality project being developed by a top-notch team, let me set a backdrop for this property by talking about Las Vegas in general. Very simply, Las Vegas is experiencing unprecedented growth. Consider these facts:
Las Vegas has been the fastest growing city in the nation for 18 consecutive years.
Las Vegas has 40 million visitors per year and will spend $1.3 billion in advertising over the next five years to attract over 43 million annual visitors by 2009.
10 people per hour move to Las Vegas (Only in Las Vegas do they calculate new residents by the hour!)
Las Vegas is the largest convention area in the U.S.
In 2004 the Las Vegas Convention Center hosted over 24,000 meetings and conventions.
Over $400 million will soon be spent to expand and improve the Las Vegas Convention Center, which is already one of the largest in the country (second only to Chicago).
Las Vegas is the highest appreciating market in the country.
Las Vegas has a limited supply of land, estimated to have approximately seven years of development growth remaining.
Project CityCenter on the Las Vegas Strip I can't talk about Las Vegas without referring to the mega-development MGM Mirage is developing, Project CityCenter. It's a 66-acre site, a multi-billion dollar metropolis on the Strip between Bellagio and Monte Carlo.
Design of the project will begin shortly and is expected to take 18 months. Construction of the first phase of the complex will take approximately 42 months with an opening anticipated in 2010.
The first phase of Project CityCenter will include the development of 18-million square feet of space consisting of:
A 4,000-room hotel/casino
Three 400-room boutique hotels to be operated by world-famous hoteliers
Approximately 550,000 sq. ft. of retail, dining and entertainment venues
1,650 units of luxury condominiums, condo hotels and private residence clubs
Remember, that's just Phase One! Further phases are envisioned over time on contiguous company-owned land. And all this development is designed to attract millions more visitors to this city and keep them happily entertained during their stay.
Construction Status of the MGM Grand Residences
I think you get the picture regarding Las Vegas. Pretty exciting!
Construction of Tower A began in September 2004 and was completed in mid-2006.
Construction of Tower B began in April 2005 and will be complete in early 2007.
Construction of Tower C is now underway; it is estimated to be completed by mid 2007.
What's Available
At The Signature at MGM Grand, you can choose from studios, one- and two-bedroom condo hotel units. Here are the sizes and pricing:
Studio, 550 sq. ft., $600,000 – $860,000
One bedroom, 925 sq. ft., $775,000 – $1.5 million
Two bedroom, 1,500 sq. ft., $1.6 million – $2.3 million
Price increase per floor is $5,000 – $10,000.
Deposit Required
There is a 10% due at contract signing. A second 10% is due 30 days after contract. The balance is due on completion, estimated to be mid 2007.
More Information
I've prepared a detailed data sheet to summarize all the facts and figures related to this property. To receive it, we require that you provide your complete contact information via email. Please be sure to include your:
Full Name: Address: Phone Number: Email:
Click here to request data sheet
Wrap Up
So there you have it, Las Vegas on the board again with The Signature at MGM Grand, Tower C. I'm sure it's not the last time we'll be talking about this exciting city. Viva Las Vegas!
As always, thank you for your interest in Condo Hotel Center Property Alerts. We feel privileged to be your source for all things condo hotel.
Joel Greene
Licensed Real Estate Broker
Condo Hotel Center
1368 NW 165th Ave.
Pembroke Pines, FL 33028
(954) 450-1929
Joel@CondoHotelCenter.com
www.CondoHotelCenter.com
www.CondoHotelsDubai.com
www.WorldClassCondoHotels.com
www.CondoHotelsBahamas.com 
www.CentralAmericaSecondHomes.com
www.DominicanRepublicVacationHomes.com
Want to know more about me? Click below:
//www.condohotelcenter.com/joel-greene.html
Follow us on Facebook.