Waterfront, High-Rise Condos from $185,900
Daytona Beach Area, Florida
July 7, 2011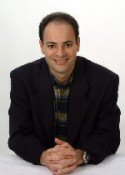 Joel Greene here from Condo Hotel Center. I hope you had a fantastic July 4th, and now that my sunburn pain has faded, I'm left with only good memories of playing in the sand and surf with my twin girls at a beautiful Hollywood, Florida beach.
Speaking of the beach, today I'd like to introduce to you the first condominium we've had in the Daytona Beach area, in a little city called Holly Hill.
This property is not physically on the beach, but offers waterfront living nonetheless. MG on the Halifax (MG is for Marina Grand), is a world-class, luxury community on "Orlando's coast." Let me explain…
Waterfront Property X 2
MG on the Halifax is a private, 18-acre waterfront community consisting of two, 25-story towers on Halifax River. Whereas oceanfront properties offer beautiful views of the ocean by day and total darkness at night, MG on the Halifax overlooks the Intracoastal Waterway, Seabreeze Bridge and Daytona Beach. It offers sunrise and sunset water views in all residences in addition to the evening's city lights.
The development has a secured gatehouse entrance, landscaped grounds with fountains, ponds and gardens, and 13,000 square feet of on-site retail shopping.
The Back Story on MG on the Halifax
Before I tell you about the property amenities and all that there is to do in the area, let me explain why MG on the Halifax represents a unique real estate investment opportunity.
Phase I of this two-phase property consists of two towers totaling 486 condominium residences, of which about 65% had been presold during construction. However, due to the collapse of the residential real estate market in Florida during the recession, less than 15% of those contracts closed, creating a sensational buying opportunity for its new owners.
MG on the Halifax is a joint venture between New York City-based Glenmont Capital Management LLC and Tarpon Partners, an affiliate of The Swerdlow Group, the renowned developer that has been a leader in the Florida real-estate industry since 1987 and has developed dozens of projects across the Sunshine State.
Together, they acquired title to the units via a deed-in-lieu of foreclosure agreement executed with the previous owner for $240 million, which is less than 25% of its original cost.
So how does this benefit you? The low purchase price has allowed the developers to invest tens of millions into the project, and then offer an even better property with huge savings to the buyers. These savings are as much as 50% less than the original pricing, which is a substantial discount especially for waterfront property of this quality.
Amenities: Good and Getting Better
The new developers just had a groundbreaking party on April 12, 2011 where they outlined their plans for the property's new marina and clubhouse. Here's what owners will enjoy:
32-slip, private marina with ocean access, to be completed by fall 2011
Two heated swimming pools and whirlpool tubs
Riverfront sun decks
Recreation facilities, including a billiard room and private party rooms
20-seat movie theater
11,000 sq. ft. club house
State-of-the-art fitness center with yoga studio, steam room, and sauna to be completed by spring 2012
Jet skis and one fishing boat available for use
Great Location
MG on the Halifax is centrally located in the quaint riverside community of Holly Hill, just minutes from all the fun of beachside Daytona, but miles away in atmosphere. Scenic bike paths and waterfront parks are right outside the front door, and historic A1A, Beach Street and Granada Boulevard are easily accessible.
This unique waterfront location offers the best of all worlds on the Florida coast. After a busy day enjoying the beach or the Birthplace of Speed as Daytona is often called, relax in an exclusive, private sanctuary on the banks of the Halifax River.
Beach Street is the historic core of downtown Daytona Beach and within walking distance of the MG on the Halifax. With great shopping, cafes, and nightclubs, it is the community's gathering place, as well as the site for many outdoor festivals and Florida's oldest Saturday farmer's market.
There are parks, museums, a historic chocolate factory and a brand-new concert hall right on the water. Just down the street, baseball fans can cheer on the Daytona Cubs at historic Jackie Robinson Stadium.
For those who enjoy an active lifestyle, the area offers championship golf courses and back country kayaking, as well as kite surfing and stand-up paddle boarding. The recreational opportunities are endless, and with 23 miles of beach, not to mention rivers, creeks and springs, you can always find something cool to do on the water.
Other fun things to do in the area:
Take in a performance at the new Ocean Center.
Walk through historic plantation ruins and Indian burial mounds.
Visit the Museum of Arts and Sciences.
Climb the second tallest lighthouse in the country at Ponce Inlet.
Watch the races at Daytona International Speedway.
Enjoy easy access to Disney, Universal Studios, and Orlando's other theme parks, dining, and nightlife, only about 60 miles away.
Daytona Beach, once a college spring-break destination, is maturing into a family destination. MTV no longer produces their big spring-break parties there, and hotels stopped offering the special rates that attracted college kids in droves.
Daytona Beach is changing its image to attract a more sophisticated crowd, and MG on the Halifax fits right in.
A Real Value
If you recall, at the beginning of this Property Alert, I mentioned that MG on the Halifax is planned to be a two-phase condominium development. It will eventually have 972 units.
Phase I, the first two 25-story towers with a combined 486 units, already exists. There is no set date for the construction of Phase II at this time. However, the well-funded, new owners certainly do have the development of Phase II in their thinking on the adjacent property.
Conservatively speaking, there is no way possible they can build and sell the new condos in Phase II for less than $275 per sq. ft. And this far exceeds the price range of the condos in Phase I right now! So early buyers in Phase I will likely see a nice upside on their investments when they are ready to sell down the road (that's "down the speedway" in Daytona-speak).
Priced to Sell
At this time, the developer is only selling the roughly 200 condo units that are available in the south tower. They are two- and three bedroom condominiums, 1,660 to 2,239 square feet, with prices ranging from $185,900 to $463,900.
The residences are high quality with standard items such as 9-foot ceilings, imported Italian cabinetry, marble and granite countertops, GE stainless steel appliances, and stone flooring. They are delivered in move-in ready condition with wall and floor finishes.
With just a $5,000 deposit due at contract, you can take the checkered flag and call Daytona home in as little as a week, but the best way to start is to request our data sheet loaded with good information. Just click the following blue link.
Please send me the MG on the Halifax Data Sheet
Florida Condos and More
I always enjoy bringing to your attention great real estate opportunities in markets that buyers have been asking about. Daytona is one of our most popular locales, and I'm delighted to finally have a high-quality, waterfront property with favorable pricing to offer in that area.
Thank you for your interest in the properties we showcase at Condo Hotel Center. You can find more Florida condos here and other featured properties and condo hotels here.
If I can answer any questions or arrange a tour for you of MG on the Halifax or any other property, please be in touch.
Enjoy your day!
Joel Greene
Licensed Real Estate Broker
Condo Hotel Center
1368 NW 165th Ave.
Pembroke Pines, FL 33028
(954) 450-1929
Joel@CondoHotelCenter.com
www.CondoHotelCenter.com
www.CondoHotelsDubai.com
www.WorldClassCondoHotels.com
www.CondoHotelsBahamas.com
www.CentralAmericaSecondHomes.com
www.DominicanRepublicVacationHomes.com
Want to know more about me? Click below:
//www.condohotelcenter.com/joel-greene.html

Follow us on Facebook.
© Copyright 2011 Condo Hotel Center
*All rights reserved. No portion of this Property Alert may be reproduced, exhibited or distributed without the express written permission of Condo Hotel Center. Although Condo Hotel Center believes the information contained in this Property Alert to be accurate and complete, Condo Hotel Center can make no such guarantee.