Marina Palms Yacht Club & Residences
North Miami Condos from $540,000, Full Service Marina
December 18, 2012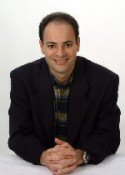 Joel Greene here from Condo Hotel Center.  I want to tell you about a phone call I received last Friday.  It was from my contact at a beautiful and very luxurious to- be-built waterfront condo development in South Florida.  She told me I had to update my price list.
Even though pre-construction sales had only been underway for two weeks, prices were being raised on all the condos from $50,000 to $75,000 across the board.
Wow!  I hadn't expected that.  While I knew that waterfront real estate in South Florida was selling quickly, I think I underestimated how quickly.  And that brings me to my reason for writing you today.
I have another waterfront property to tell you about that's just now launched pre-construction sales and is at first-tier pricing, although for how long remains to be seen.  Read on for details.
Marina Palms Yacht Club & Residences
Located in North Miami, Florida, just a couple miles from Echo Aventura, will be Marina Palms Yacht Club & Residences.  If you're a boater or love water sports, this one is for you.  It is a to-be-built, ultra-luxurious residential development that includes a 112-slip private marina able to accommodate yachts up to 90 feet long.
Marina Palms will consist of twin, 24-story towers with 468 residences that overlook Biscayne Bay and the Atlantic Ocean, sitting on a 14.6 acre private enclave in beautiful North Miami.
It offers open ocean access for boaters via Haulover Inlet, just 20 minutes away, plus plenty of aquatic activities: jet skis, kayaks, water skiing, windsurfing and snorkeling.
Here are just a few of the many other amenities offered at Marina Palms:
Resort-style infinity pool, hot tub and stunning waterfront views
12,000 sq. ft. infinity pool deck
Lavish spa with sauna, steam and private treatment rooms
State-of-the-art fitness center
Professional grade studio for yoga/Pilates
Outdoor gourmet kitchen
Club room with 100"+ television
Billiards table with bar
Activity rooms for children and teens
Secure garage parking
24-hour security
24-hour valet parking
Full-service yacht club concierge
This incomparable mix of luxury and value sits in an ideal location that is central to world-class shopping (just five minutes to the immense Aventura Mall), great restaurants and plenty of entertainment venues and nightlife.  It's only 30 minutes to the Ft. Lauderdale International Airport and Port Everglades where the cruise ships dock and about 10 minutes to the beach.
Pre-construction Prices
Marina Palms Yacht Club & Residences offers the marina lifestyle with generous-sized residences, opulent finishes and spectacular amenities. The condos are two and three bedrooms and range in size from 1,821 to 2,500 square feet.
Prices are at first-tier introductory rates ranging from $594,000 to $1,396,000.  These prices are 20% to 50% less per square foot than at other comparable luxury condominiums.
On average the price is around $375 per square foot.  Compare this to the average price per square foot for luxury condominiums in neighboring areas:
Aventura with Dockage (Existing) $410 – $1,119 / SF
Aventura (Upcoming) – $625 – $1,000 + / SF
Miami Beach & North Miami Beach with Dockage (Existing) $825 – $2,377 / SF
Miami Beach (Upcoming) – $1,000 + / SF
Sunny Isles with Dockage (Existing) $625 – $968 / SF
Sunny Isles (Upcoming) $450 – $1,000 + / SF
Now you can see why I'm excited about this property!
Construction Plans
Plans are to begin construction on Marina Palms Yacht Club & Residences in the third quarter of 2013. Completion is estimated to be the 3rd quarter of 2015.
Reservations are being taken now in the pre-construction stage with a 10% deposit.  I can't stress enough that if you think this property might suit your needs, you'll want to act quickly. Waterfront property in South Florida, and especially affordable, waterfront property with dock space, sells at a faster rate than any other residential real estate.
I've put together a data sheet with many more details from this property and I expect to be receiving more renderings soon.  To receive it and to get additional information that will follow, just click below and provide your name and address, per the developer's requirements.
Request the Marina Palms Yacht Club & Residences data sheet.
As always, thank you for your interest in the properties we showcase at Condo Hotel Center.
Warmest regards from sunny South Florida,
Joel Greene
Licensed Real Estate Broker
Condo Hotel Center
1368 NW 165th Ave.
Pembroke Pines, FL 33028
(954) 450-1929
Joel@CondoHotelCenter.com
www.CondoHotelCenter.com
www.CondoHotelsDubai.com
www.WorldClassCondoHotels.com
www.CondoHotelsBahamas.com
www.CentralAmericaSecondHomes.com
www.DominicanRepublicVacationHomes.com
www.BiscayneLandingMiami.com
Want to know more about me? Click below: //www.condohotelcenter.com/joel-greene.html

Follow us on Facebook.
© Copyright 2012 Condo Hotel Center
*All rights reserved. No portion of this Property Alert may be reproduced, exhibited or distributed without the express written permission of Condo Hotel Center. Although Condo Hotel Center believes the information contained in this Property Alert to be accurate and complete, Condo Hotel Center can make no such guarantee.