Thousands Consider Gamble on
Las Vegas Condo Hotels a Sure Thing
March 20, 2004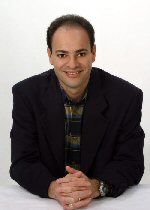 Hello, Joel Greene here from Condo Hotel Center.
A quick item to mention before we get into the "meat and potatoes" of this Property Alert.  I was just interviewed by The New York Times for an article about condo hotels that is to be published next Friday, March 26, 2004.  It should appear in the "Escapes" section.  If you can get your hands on a copy of the Times, I hope you'll take a peek at the story.
Okay, on to the good stuff.  Today I'm going to deviate from my usual topic of Florida properties and tell you about some exciting developments in the condo hotel world outside "my neck of the woods."
MGM Grand, New Condo Hotel in Las Vegas
Apparently, the condo hotel concept is catching on in other parts of the country.  The area that seems to be taking off fastest is Las Vegas.  Whether or not you'd consider a property in that part of the world, it's interesting to see the overwhelming demand for the limited supply of condo hotels that currently exist out that way.
Listen to this.  On December 19, 2003, The Residences at MGM Grand in Las Vegas announced their first five-star, 38-story, 576-unit, condo hotel tower to be built on six acres adjacent to the MGM Grand, the most famous and well-known hotel on the Las Vegas Strip.
I spoke to my sales consultant this week and was shocked to hear that 100% of all MGM's 576 units were sold out in less than eight weeks!!!
Feeling like you might have missed out?  Don't despair.  After the enormous success of the first tower's lightning quick sellout, they have decided to build a second tower, identical to the first, to be completed in 2007.
Formal announcement and contracts won't be ready until May-June 2004, but they are already taking $10,000 reservation fees, so act quickly if you don't want to get shut out again.  (Just let me know if you want more info. on the new MGM property, and I'll get that right out to you.)
Now maybe you're thinking that Las Vegas would probably make a great investment, but the glitz and glamour of the Las Vegas Strip is not really your idea of a vacation.  Maybe 38-story towers with 576 units are a little impersonal, and you'd like a second home with more of a neighborly feel to it.  Maybe a laid-back, slow-paced condo hotel with a small-town atmosphere is more your cup of tea.  Then read on about the next property.
Montelago Village on Lake Las Vegas
Montelago Village in Henderson, NV is a master-planned Mediterranean-style village community on Lake Las Vegas, the largest privately-owned lake in the Southwest.
It's just a 25-minute drive from McCarran International Airport and 17 miles east of the Las Vegas strip.  So you can enjoy the moonlight and candlelight, just a short drive from the neon light.  By the way, Henderson is the second largest city in Nevada and one of the fastest growing cities in America.
In addition to a 350-room Ritz-Carlton Hotel, which opened in early 2003, Montelago Village will include approximately 800 luxury condominium units built by Intrawest Corporation, specialty restaurants and cafes and a 40,000 sq. ft. casino, discreetly nestled among the village's shops.  You'll be able to dine at a different 5-star restaurant every night of the week.
You'll find white sandy beaches, a mile of lakeside walkways, and harbor side boat docks. The lake affords fishing and sailing opportunities, and the mountains offer scenic hiking and mountain biking trails.  And at the Ritz-Carlton Hotel, village guests are allowed usage of its 30,000 square foot spa and its 36-hole Jack Nicklaus and Tom Weiskopf-designed course.
Want even more golf?  There are actually three tournament golf courses at Lake Las Vegas, and three more are planned.  The Jack Nicklaus course is a signature course–the first in Nevada.   Lake Las Vegas will eventually be one of the most spectacular places to golf in the world.
When Lake Las Vegas is complete, it will represent more than $7 billion in invested capital!  It is destined to be the premier desert resort in the Americas.
Getting back to the 800-lakefront condominiums in Montelago Village, Intrawest is only a couple of years into an eight-year build-out.  The first phase, the177-unit Viera (90% sold out), is just the beginning.  (Contact me if you're interested.  We have pricing information available on remaining units and resales.)
The next phase is called Luna di Lusso.  It will open the first week of April 2004 (yes, that's in about 10 days).  Its fully-furnished condominium suites will be reminiscent of the palazzos in Italy and will feature stylishly modern interiors and sweeping village views.  Owners will have the option of putting their home in a rental program, sure to be a success as Las Vegas is considered America's hottest hotel market.
Luna di Lusso will be six stories and will feature 85 lakefront units, only 15 of which will be 2-bedrooms.  The rest will be either studio or 1-bedroom units.  Prices will range from the low $300,000's to just over $1,000,000.  Anticipated completion is in late 2005.
Priority Reservation holders–all those who have paid a refundable $5K deposit by April 15th 2004–will get first choice of units after existing Intrawest property owners.  Selection Day will be held in late May/early June 2004; purchase agreements will be signed shortly thereafter.
It's a very limited offering in a once-in-a-lifetime situation.  A lakefront home in the desert with water rights–passed by an Act of Congress in the 1930's–is not likely to ever happen again.  In the not-too-distant future, the only way you'll be able to get one will be to inherit one!
Another point worth noting–Intrawest Corporation, the developer of the condo hotel units in Montelago has a Home Owner Exchange Program.  By purchasing a Resort-to-Resort Membership and paying an annual membership fee, resort homeowners have the ability to exchange use of their resort homes for vacations at any of Intrawest's destination resorts, all of which are world-class properties in premium locations.
So there you have it.  Two exciting but very diverse condo hotel properties soon to be built in Las Vegas, The MGM Residences in the heart of the city and the many Intrawest condo hotel units in laid-back Montelago Village.
I hope you enjoyed hearing about the world of condo hotels outside Florida.  Consider it a "spring break" of sorts.  I'll be back talking about Florida condo hotels again in future Property Alerts.
As always, if any of the properties I've mentioned here or others that you've seen on our website //www.condohotelcenter.com/ interest you, please let me know.  I have data sheets (size of units, price of units, maintenance costs, etc.) that I can instantly mail you, and I can have complete brochure packages sent FedEx if you want more detailed information.
Joel Greene
Licensed Real Estate Broker
Condo Hotel Center
1368 NW 165th Ave.
Pembroke Pines, FL 33028
(954) 450-1929
Joel@CondoHotelCenter.com
www.CondoHotelCenter.com
www.CondoHotelsDubai.com
www.WorldClassCondoHotels.com
www.CondoHotelsBahamas.com 
www.CentralAmericaSecondHomes.com
www.DominicanRepublicVacationHomes.com
Want to know more about me? Click below:
//www.condohotelcenter.com/joel-greene.html
Follow us on Facebook.