Orlando Resort, Condo Hotel Units from $199,000
Lake Buena Vista Resort Village & Spa
June 8, 2012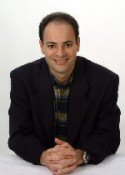 Disney World markets itself as "the happiest place on Earth." That's a pretty big claim, but I'm willing to go with that.
I've been there many times with my family. We're certainly happy when we're there. And not just Disney World but all the other theme parks, water parks, attractions, restaurants, shopping and golf that Orlando, Florida has to offer. There really is no place like it.
If you'd love a second home near "the happiest place on Earth," you'll want to read today's Property Alert, which is about a full-featured property in Lake Buena Vista, the resort area of Orlando.
The offering is for a condo hotel, which means that you would own a condo hotel unit, receive a deed to the property and use the unit when you'd like. Then you'd have the option of placing it into the rental program to receive revenue when you're not there, offsetting your costs of ownership.
It's been a long time since I've had anything to offer in Orlando, which is the #1 vacation destination in the world with over 55 million visitors per year according to the magazine "Visit Orlando," so I'm pretty excited about this property.
It is an award-winning destination resort that is operational and has a successful track record. Read on for details.
Four-Star Condo Hotel
Lake Buena Vista Resort Village & Spa is superbly located just over one mile from Walt Disney World and minutes from Universal Studios and SeaWorld. It is also only 10 minutes from the Orlando Convention Center and 20 minutes from the Orlando International Airport.
The property consists of five buildings with a total of 496 condo hotel units, which were built in phases from the years 2005 to 2008.
Lake Buena Vista Resort Village & Spa has everything you could want in a destination vacation resort. Even though you'll probably want to take advantage of Orlando's many exciting attractions, you'll find plenty to keep you busy and happy right on the premises.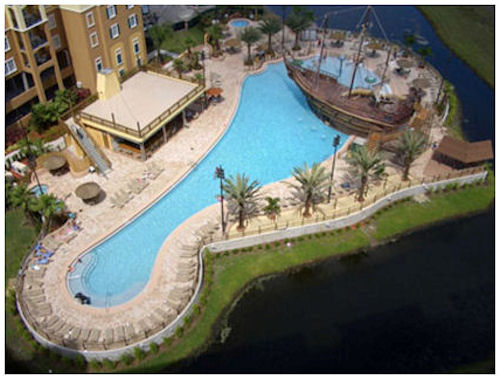 Fantastic Amenities
The Lake Buena Vista Resort & Spa features Caribbean-style architecture. The grounds are tropically landscaped, replete with palms, lush foliage and conservation areas.
Features of the property include:
An exquisitely-appointed lobby

9,000 sq. ft. signature health spa

Two restaurants – an Irish pub & grill and a Pizza-Hut café

An Aquatic Center featuring a 7,500 sq. ft. zero-entry pool with pirate ship waterslide, shooting water cannons, hot tubs, and tiki bar and grill.

State-of-the-art fitness center

Convenience/grocery store

Meeting space for 150 people

Game room for kids

Covered and surface parking

Lake Buena Vista Factory Stores – 50+ designer outlets
Additionally, you get all the services you'd expect at a four-star resort: 24-hour room service, 24-hour security and concierge services. Also, free shuttle service is provided to the area's main theme parks.
Luxurious Condo Hotel Units
The individual condo hotel units available at Lake Buena Vista Resort Village & Spa are two-, three- and four-bedrooms. They range in size from 1,080 sq. ft. to 2,170 sq. ft. All have private balconies, and some face west so residents can watch the fireworks display at Disney's Magic Kingdom every night.
The condos feature Tommy Bahamas-style furnishings. Their kitchens are fully outfitted and include all appliances, granite counter tops, rich wood cabinetry, and kitchenware. Both the kitchen and bathrooms have ceramic tile floors.
The condos come with a washer and dryer. They have large screen TVs in the living room and TVs in the bedrooms. They have pre-wired cable, high speed internet and free wi-fi. You get the picture. Pretty much everything you'd want to make your visit comfortable and convenient is included.
An Outstanding Location
When you visit Orlando, you want proximity to everything that makes Orlando great. And that's just what you'll get with Lake Buena Vista Resort Village & Spa.
You'll be just a few miles from the many Orlando theme parks: Walt Disney World's Magic Kingdom, Epcot, MGM Studios and Animal Kingdom; Universal Studios and its sister park, Islands of Adventure; and Sea World and its sister park, Discovery Cove.
Then there's the whole genre of water parks – Wet 'n Wild, Disney's Typhoon Lagoon and Blizzard Beach, and Sea World's Aquatica.
Only a few steps from the resort is one of Orlando's premier outlet malls, Lake Buena Vista Factory Stores, featuring such name brands as Nike Factory Store, Nine West Outlet, Old Navy, VF Outlet, Jones New York, Tommy Hilfiger, and Loft Outlet by Ann Taylor.
There are also 30+ golf courses within a 15-minute drive of Lake Buena Vista Resort Village & Spa. You'll also find numerous activity centers, restaurants, museums, nightspots, shopping centers and much more nearby. Believe me when I tell you the amount of things to do in Orlando is mind-blowing.
It's a Vacation Home and More
Condo hotels are sold primarily as "real estate with a lifestyle." With that in mind, Lake Buena Vista Resort Village & Spa would make a fabulous vacation home, but an added bonus is the option to participate in the resort's rental program.
Use your condo hotel unit one day, 10 days, or up to 179 days a year. When you're not at the resort, place your condo in the rental program. It is operated by a top hotel management company that markets the property worldwide. Your share of the revenue received can help offset the costs of ownership and possibly more.
Affordable Prices, Attractive Buyer Incentives
Prices at Lake Buena Vista Resort Village & Spa start as low as $199,000 and go up to $699,000 for the largest four-bedroom, four-bathroom penthouse unit.
The developers are offering some financing options. Pay no points and have interest-only payments for the first two years. This would be at 6% interest with only 25% down, and a five-year term. With just a $49,750 investment, you can get a spacious two-bedroom vacation home that you and your family will enjoy for years.
Since the property has a solid rental history, the developers are prepared to offer buyers the option of a guaranteed sale leaseback for two years. This means you would still be able to use your vacation home two weeks each year, and you would get a guaranteed return of 6% of your purchase price.
Of course, another option is to place your unit into the resort's rental program and let the condo management company rent your unit for you. According to the developers, the property has a track record of 80% occupancy, and rental rates are scheduled to be raised within the next few months.
Want more details? I have plenty! Just request my data sheet on Lake Buena Vista Resort Village & Spa by filling out a quick form, per the developer's requirements.
Request the Lake Buena Resort Village & Spa data sheet here.
The Happiest Place on Earth
One quick mention of something off topic before I let you go. Condo Hotel Center has developed a relationship with a company that can help reduce your taxes on all of your commercial real estate owned in the U.S. and on future purchases. For complete details, email me, Joel Greene at Joel@Condohotelcenter.com, and I'll provide you brief information for you to consider, with no further obligation.
Back to the topic at hand. Thank you for your interest in Lake Buena Vista Resort Village & Spa. If you're going to be in the Orlando area and would like to tour the resort, just let me know, and I'll set you up.
Nothing would make me happier than to help you get a vacation home near the "Happiest Place on Earth!"
Joel Greene
Licensed Real Estate Broker
Condo Hotel Center
1368 NW 165th Ave.
Pembroke Pines, FL 33028
(954) 450-1929
Joel@CondoHotelCenter.com
www.CondoHotelCenter.com
www.CondoHotelsDubai.com
www.WorldClassCondoHotels.com
www.CondoHotelsBahamas.com
www.CentralAmericaSecondHomes.com
www.DominicanRepublicVacationHomes.com
www.BiscayneLandingMiami.com
Want to know more about me? Click below:
//www.condohotelcenter.com/joel-greene.html

Follow us on Facebook.
© Copyright 2012 Condo Hotel Center
*All rights reserved. No portion of this Property Alert may be reproduced, exhibited or distributed without the express written permission of Condo Hotel Center. Although Condo Hotel Center believes the information contained in this Property Alert to be accurate and complete, Condo Hotel Center can make no such guarantee.