Konderatu Suites, Condo Hotel
Vacation Homes in Bali, Indonesia
November 26, 2013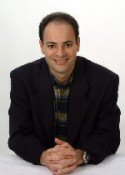 Joel Greene here from Condo Hotel Center.  Thanksgiving is almost here, and it happens to be my favorite holiday for the delicious food but also for the reminder to be grateful for all that we have.
One of the things that I'm most thankful for (besides you, of course!) is the internet and the global reach it gives us.  It is the reason why I can offer you properties from Dubai to Panama, from New York to Tuscany's Chianti wine country.
Because I'm physically in South Florida, most of my properties are here in my backyard, but today, the property I'm featuring is a long way from home and a whole lot more exotic.  Even though it may be a little far for you to consider as a vacation home or real estate investment, I think it's interesting to see what's being developed in other parts of the world.  Join me as we head for a virtual vacation to Bali, Indonesia.
Five-star Quality at Konderatu Suites
Konderatu Suites will be a 76-room condo hotel of five-star quality.  Its design fuses colonial style with Indonesian contemporary architecture in one of Bali's most attractive locations.
The resort will consist of two buildings, separated by a long winding pool lined with lounge chairs.  The pool snakes its way between both buildings and is connected by a small walking bridge.  This unusual design gives every unit a unique poolside view, and owners/guests on the first floor can step right outside their balcony door and be poolside in just a few steps.
Great Amenities
Konderatu Suites will offer a full complement of amenities including:
Swimming pool
Indoor and outdoor dining options
Luxurious spa and salon
Delicatessen
Wine and cigar bar
Convention center
Art galleries
Chapel
Additionally, owners and guests of the resort may take advantage of the free shuttle service to the exclusive Konderatu Beach Club.  Located in Jimbaran Bay, it will offer exquisite Asian and European cuisine overlooking the white sands and turquoise waters of Jimbaran Bay.
Owners and guests of the resort will receive priority treatment such as discounted prices from the mouth-watering menu and use of the club's beachside facilities including private sun-loungers.
Kanderatu Suites will also offer all the services you'd expect from an upscale resort including:
24-hour room service
24-hour security
Multi-lingual hotel concierge
Valet and doormen
In-room or poolside massage
Beach- and pool-side services
Maid service
Airport shuttle service
Privileges at local golf and fitness clubs
Guests will also find available onsite private tour guides, water sport equipment and fishing boat rentals.
A Central Location
Bali is an island paradise surrounded by the Indian Ocean about midway between Malaysia and Vietnam and the northwest coast of Australia, about 1,000 miles to the south.  It is located just minutes (2 Km) from the idyllic white sand crescent of Jimbaran Bay, famous for its safe swimming, seafood restaurants and brightly painted traditional fishing boats.
Konderatu Suites is about 45 minutes to the central city and about 20 minutes to the international airport and the port.  It offers easy access to the beach for surfing, diving, wind surfing and other water sports.  It's also convenient to national parks, golf, tennis, shopping, dining, and incredible bird and animal viewing.
Bali, Island of the Gods
Bali is one of more than 17,000 islands in the Indonesian archipelago.  It's a living postcard where you can soak up the sun on a stretch of fine white sand, or commune with tropical creatures as you dive along coral ridges or the colorful wreck of a WWII war ship.
On shore the lush jungle shelters stone temples and mischievous monkeys.  Bali is the perfect place to see a cultural dance performance, take a batik or silver-smithing workshop, or invigorate your mind and body in a yoga class. C'mon, you know you have silver-smithing on your bucket list.
Nicknamed, the Island of the Gods, it has a varied landscape of mountains, rugged coastlines and sandy beaches.  Lush rice terraces and barren volcanic hillsides all provide a picturesque backdrop to its deeply spiritual and unique culture.  Eighty percent of international visitors to Indonesia visit Bali and Bali alone. It is one of the world's most popular island destinations and one which consistently wins travel awards.
Invest in Konderatu Suites
Konderatu Suites is a condo hotel. Unit owners can use their condo up to 21 days per year.  The rest of the time their unit must be placed in the hotel rental program, which will earn them revenue, offsetting the costs of ownership.
According to the developer's written materials, as is typical in Indonesia, of every rental dollar generated, the majority, 60%, will go to the hotel management, with the balance being split equally between the unit owner and the developer.  A fixed return is guaranteed for the first five years by the developer.
Unit owners will not have any annual expenses except their real estate taxes, as the cost to operate the property is the responsibility of the management company.  Unit owners will be wired their returns on a monthly basis.
Affordable Pricing
Construction on Konderatu Suites is well underway.  In fact, the property is already nearly 60% complete.  It should be finished by May 2014.
Condo hotel units include custom furniture, fixtures and equipment.  Choose from studios, and one- and two-bedroom units, ranging in size from 484 sq. ft. to 1,356 sq. ft.  Prices range from $150,000 to $400,000.
Want to know more?  Request my detailed data sheet here.
Please send me the Konderatu Suites data sheet.
Happy Thanksgiving!
Thanks for joining me on this virtual visit to Bali, Indonesia.  I'll be back soon with other properties that are a little closer to home.
Let me take this opportunity to thank you for being a loyal subscriber to my Property Alerts.  And if there's any other way I can assist you in finding the perfect primary residence or vacation home, please don't hesitate to call me.
Happy Thanksgiving!
Joel Greene
Licensed Real Estate Broker
Condo Hotel Center
1368 NW 165th Ave.
Pembroke Pines, FL 33028
(954) 450-1929
Joel@CondoHotelCenter.com
www.CondoHotelCenter.com
www.CondoHotelsDubai.com
www.WorldClassCondoHotels.com
www.CondoHotelsBahamas.com
www.CentralAmericaSecondHomes.com
www.DominicanRepublicVacationHomes.com
Want to know more about me? Click below: //www.condohotelcenter.com/joel-greene.html

Follow us on Facebook.
© 2013, Condo Hotel Center.  All rights reserved.  No portion of this Property Alert may be reproduced, exhibited or distributed without the express written permission of Condo Hotel Center.  Condo Hotel Center takes copyright infringement seriously.  Violators will be prosecuted to the fullest extent of the law.
Although Condo Hotel Center believes the information contained in this Property Alert to be accurate and complete, Condo Hotel Center can make no such guarantee.  All features and descriptions are subject to change.
Please speak with your personal legal and financial advisors to determine whether this property is suitable for your objectives.