PRE-RELEASE OF NEW CONDO HOTEL IN EXCITING DUBAI
Five-Star Property, Prices Start at Just $108,000
February 10, 2006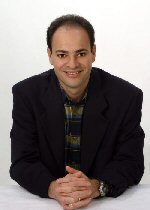 Over the past six months, it has been our pleasure at Condo Hotel Center to be introduced to a whole new, exciting world of real estate and, in turn, to share with it you. I'm talking about Dubai, one of the seven United Arab Emirates, and what we consider to be one of the most desirable real estate opportunities in the world.
In a moment, I will share with you the details of a pre-construction opportunity to buy a condo hotel in Dubai. You'll be getting in first, before this property is on the market or being offered to any other buyer in the world.
The developer with whom we've been working for the past six months has given us a four-day head start on marketing what is planned to be their fifth and final condo hotel development in Dubai. That means there are plenty of affordable studio and one-bedroom units to choose from, starting at as little as $108,000 for five-star luxury.
Now I realize, you probably don't have plans to use a vacation home in Dubai too often. But it's the investment potential of real estate ownership in Dubai that gives this property its appeal. For those of you who are new subscribers to our Property Alert newsletter and who have not read our information on Dubai in the past, let me back up and give you a little background.
Six months ago I couldn't tell you where Dubai was. Many of you with whom I've spoken can surely relate. And yet, we've learned since then that Dubai is the fastest growing country in the world, (1/3 of the cranes in the world are currently there being used to construct buildings).
Dubai is also one of the safest countries in the world as rated by Interpol, something many people find hard to believe because what we usually hear about the Middle East is pretty scary. Fortunately, it just doesn't apply to Dubai.
Recently, we learned that Dubai's hotels have the world's highest average occupancy rates in the world at 86%. They also have the highest average nightly rates at $175 per night, surpassing New York, Paris and Singapore to earn that honor. (Read the article on Dubai occupancy rates here.)
By the way, this little country can also boast having or to be in the process of building:
The only seven-star hotel in the world
The biggest airport in the world
The largest man-made port in the world
The largest mall in the world
The tallest skyscraper in the world
The largest theme parks in the world (nearly three times the size of Orlando's entire Walt Disney World Resort!) Read more about Dubailand here.
For those of you who've said, "I only invest in oceanfront projects, because they're not building any more oceanfront," I've got news for you. In Dubai, that's not a problem. When they run out of oceanfront land to build on, they build islands in the ocean to create more.
Here's another example of what great wealth combined with creative thinking can do. In an attempt to attract skiers and appeal to a more broad demographic, the country recently opened its first ski resort. That's right, skiing right in the middle of the desert. It just happens to be indoors. And, oh by the way, it also just happens to be connected to one of the world's largest malls. Are you starting to get the picture?
This is the Right Place at the Right Time
Dubai is strategically located at the crossroads of Europe, Africa, the Middle East and Asia, making it a gateway to over 1.5 billion consumers. With its central location, Dubai is increasingly becoming the premier tourism destination of the region.
Over the past decade the number of visitors to Dubai has grown from 1.08 million to 5.4 million, representing an annual growth rate of 16%. That rate is triple the world tourism growth rate over the same period. In fact, the past five years alone witnessed a 54% growth in the number of tourists visiting Dubai.
Forecasting 200,000 visitors a day, Dubai is being designed to attract and accommodate 15 million visitors a year from 2010 on. Furthermore, it is estimated that it will take 6-10 years for the supply of hotel rooms in the region to catch up with demand. An estimated $80 billion in real estate projects is already underway in Dubai.
Why Dubai?
Putting aside its great location, why, all the sudden, has this little country emerged as the most progressive force in the Middle East? Two years ago, the ruling sheik in Dubai began a massive push toward promoting tourism in an effort to make his country less dependent on the oil it produces.
Since then, billions have been spent in building infrastructure, developing world-class properties and promoting the area on a global scale.
Also significant, legislation was changed to allow foreigners to invest in Dubai. And that, my friends, brings me to the reason that Condo Hotel Center, an American company, has the distinct privilege and pleasure to be able to offer to you property in this amazing part of the world.
So Here's the Latest News from Dubai.
This morning I received a call from the Sales Director of Middle East Development (MED), the company whose condo hotel properties we've been marketing for the past six months. He informed me of the newest condo hotel to be built in Dubai by his firm. Unfortunately, he also said it will probably be the last.
Upon completion of this newest project, MED will have met its goal to establish 1,500 units in the region. It will now explore other fertile areas for expansion like the United Kingdom, Bahrain, Egypt and Turkey.
MED plans to release this building to its arsenal of 1,800 brokers on February 14th, but as their sole North American broker, and because of the volume of units we've sold in their other condo hotels, we have been given first crack at it. I like to think of it as an early Valentine's gift from my friends in Dubai.
The Sales Director said to me, "You will deal only with me exclusively on this until general release on February 14th. I cannot allow my sales staff to know about this. They will leak it to their other agents, as they won't be able to help themselves if they become aware of this project and inventory."
Kensington Royale, Sports City Dubai
The Kensington Royale will be located in Sports City, Dubailand. (More on Sports City in a minute.) It will be a five-star condo hotel, providing guests and owners with top-quality services and facilities designed to maximize occupancy and returns.
It will be 16 stories with 252 studio, one- and two-bedroom units. It will include restaurants, coffee shops, boutiques, a health club and a spa.
Available Units & Pricing
As I mentioned earlier, you are getting first pick of the Kensington Royale inventory. Although the entire building is exclusively Condo Hotel Center's to sell until February 14th, the Sales Director has asked me to only release floors 4, 7, 12 and 14 at this time, inasmuch as often they can sell entire floors to wealthy buyers, and he does not want to lose sales because one or two units are sold. Exceptions may be made, but I would need to request special permission. So here's what I have to offer you in this five-star condo hotel:
Unit Type Floor Sq. Ft. AED Price Approx. USD Per Sq. Ft. Studio (28) 1 – 7 395 393,025 $108,000 $277 1 Bed C-Type(156) 1 – 7 779 775,105 $212,357 $272 1 Bed I-Type (14) 1 – 16 804 799,980 $219,172 $272 2 Bed (54) 1 – 16 865 860,675 $235,801 $272
Financing & Payment Schedule
Seller financing is available with 50% cash down. Buyers who pay this in a lump sum will derive a greater savings than those who opt to pay five 10% installments as per the following schedule.
Should you opt not to choose seller financing, than the other 50% is due as per the 5th, 6th and 7th installments indicated below. MED is one of the only Middle East developers that offers any seller financing.
Kensington Royale Apartment Tower
DEPOSIT 10% Payable within 7 days of signing Irrevocable Intent form 1st Installment 10% Within 30 days of Irrevocable Intent form 2nd Installment 10% Within 90 days of Irrevocable Intent form 3rd Installment 10% On completion of podium 4th Installment 10% On completion of 6th floor structure 5th Installment 15% On completion of 12th floor structure 6th Installment 15% On completion of structure 7th Installment 20% On completion date
More on Sports City
Sports City will be home to international franchises and brands such as Manchester United, Butch Harmon School of Golf and David Lloyd's Tennis Academy. The 18-hole Victory Heights championship Golf Course has been designed by the world's current number two golfer, Ernie Els, in association with Nicklaus Design. Other sporting facilities will include the Plantation, Polo and Equestrian Center. This large project comprises four full-size polo fields, several paddocks for show jumping and dressage as well as a man made cross-country horse competition track complete with ditches, hills and other obstacles. The Sports City stadium complex will feature four arenas for different events. Separate stadiums for cricket and hockey; outdoor multipurpose stadium for football, rugby and track & field; and an indoor multipurpose stadium for basketball, volleyball, netball and other hard-court indoor sports complete the Sports City master plan.
Sports City will encompass an area of 50 million square feet. To get an idea of the magnitude of this project, here's a summary of its components:
18-hole championship golf course
World-class sports training academies

Soccer Academy
Cricket Academy
Tennis Academy
Golf Academy

Indoor multipurpose stadium
Outdoor multipurpose stadium
Cricket stadium
Comprehensive sports facilities
Luxury villas
Apartment buildings
Canal townhouses
Waterfront housing
Clubhouses
Resort-style swimming pools
Spa and health clubs
Gymnasiums and game rooms
Running, jogging and bicycle tracks
Pedestrian walkways
Schools, medical clinics, parks, mosques
Recreational centers
Waterfront housing
Multiplex cinemas
Shopping malls
Cafes and restaurants
Hotels
To read more about Sports City, click here: www.dubaisportscity.ae
Sports & Outdoor World
Sports City will be part of the larger Sports and Outdoor World, one of Dubailand's six themed areas. Read more about Dubailand here.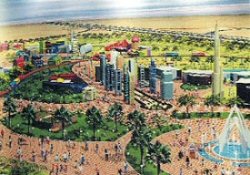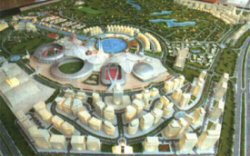 Dubailand will consist of 45 mega-projects including 6 theme parks and over 200 tourism, leisure and entertainment projects designed to make it the most ambitious tourist destination ever created.
Sports and Outdoor World will cover approximately 354 million square feet, with an investment of AED 4 billion, roughly $1.1 billion U.S. It will contain a total of five large-scale projects (Sports City, Extreme Sports World, Racing World, Polo World, and Golf World). The already completed Dubai Autodrome and Business Park race track will also be a part of the Sports and Outdoor World.
The Reservation Process
To reserve a condo hotel unit at Kensington Royal, you will be asked to complete a one-page form called a Binding Letter of Intent to Purchase Real Estate. You'll send it in with a non-refundable, credit card payment of AED5,000, which is roughly $1,369. Within seven days of your confirmed reservation you must bring this deposit up to a total of 10%. If you have any questions about the process, I'd be delighted to answer them. I've now been working with the MED development team almost daily for the past six months, and I feel like I've memorized most of the details or at least know how to find them. You may want to take a look at the data sheet I've put together on Kensington Royale. It has quite a bit of additional information on Dubai as well. To receive it, you will need to provide your full name and contact information, in accordance with the developer's requirements.
Request the Kensington Royale data sheet here.
I hope that you will not miss out on this fantastic, first-tier buying opportunity. Remember that by this Tuesday, the property officially goes on the market. MED's international broker network is 1,800 strong. I expect that all of the studios and one-bedroom units will likely be scooped up within days, as has been the case with all of MED's previous five-star developments.
If you want to learn more about Dubai, I encourage you to also visit our website dedicated to Dubai condo hotels at www.CondoHotelsDubai.com.
Wrap Up
I hope you enjoyed learning about Kensington Royale and Dubai. If you're interested in other condo hotel properties that we have available, be sure to check out our Condo Hotel New Listings.
As always, thank you for taking the time to read our Property Alert. Please feel free to forward this newsletter to friends whom you think might be interested as well. We're always trying to grow our Condo Hotel Center family.
Enjoy your weekend!
Joel Greene
Licensed Real Estate Broker
Condo Hotel Center
1368 NW 165th Ave.
Pembroke Pines, FL 33028
(954) 450-1929
Joel@CondoHotelCenter.com
www.CondoHotelCenter.com
www.CondoHotelsDubai.com
www.WorldClassCondoHotels.com
www.CondoHotelsBahamas.com 
www.CentralAmericaSecondHomes.com
www.DominicanRepublicVacationHomes.com
Want to know more about me? Click below:
//www.condohotelcenter.com/joel-greene.html
Follow us on Facebook.
*All rights reserved. No portion of this Property Alert may be reproduced, exhibited or distributed without the express written permission of Condo Hotel Center. Although Condo Hotel Center believes the information contained in this Property Alert to be accurate and complete, Condo Hotel Center can make no such guarantee.