Just Launched, Jumeriah Oasis 1, Dubai
Priced From $224,371
June 30, 2008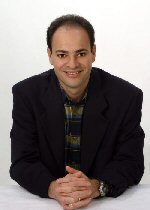 Joel Greene here from Condo Hotel Center.  You're receiving this Property Alert because you expressed an interest in our Dubai condo hotels, and I have an exciting new development to tell you about today.
This morning, I received preliminary information on our first new property in Jumeirah Village.  It comes to us as our third project from the Oasis Group Ltd., an established developer with a proven track record.
While I'm still expecting more details soon about the interior of the units and the hotel's services and amenities, I wanted to get this out to you now.  Take one look at this picture, and you'll know why I believe that the units in this stunning boutique condo hotel will be selling fast!
A Five-star Condo Hotel Jumeriah Oasis 1 will be a 10-story, 268-unit, boutique condo hotel.  The units will be provided fully furnished in studio and one-bedroom floor plans.
The property will include luxurious facilities with every amenity required for true world-class living.  Details are not yet available, but you can assume this property will have all the elegant features and services you'd expect from a five-star hotel.
Scheduled completion is 2011.  At this time, the inventory being offered includes units on the 7th and 10th floors.
A Prime Location The Jumeriah Oasis 1 is ideally located in an upscale area in the heart of Dubai's most desirable district.  Set amid lushly landscaped surroundings, it is the ideal location for a boutique hotel.
Jumeirah Village will feature classic Arabian and Mediterranean architecture.  In addition to over 2,000 spacious villas and townhouses, it will have international schools, country clubs and community centers.
Everything is mere minutes away from Jumeirah Village, including pristine beaches, incredible shopping, extensive leisure facilities and the town center.   It is walking distance from the village's central park and nearby Dubai Sports City, Dubailand, the area's business hub and Internet City.
Buyer Incentives This property has some interesting investor incentives worth mentioning.  For example, easy installment payments can be paid over the next two years.  However, units may be resold after making just the second payment.  There is no transfer fee on this first transaction, although subsequent transfers on resales will be charged a fee by the developer.
Of course, should you keep the units as an investment, you may be pleased to learn that there is a hotel rental program that will handle all aspects of renting your unit for you, and which, if you choose, offers a rental split or an attractive rental guarantee.
While we at Condo Hotel Center are focused only on selling the real estate and the lifestyle (in accordance with SEC regulations governing the sale of condo hotels), if you'd like more information about the rental program and your rental options, please let us know, and we can have this information sent directly to you from our developer representative.
Favorable Pricing for Those Who Get in Early Comparing the real estate value to Dubailand and Dubai Sports City, the condo hotel units at Jumeriah Oasis 1 are priced quite attractively.  These are first-tier prices.  But don't expect that to last too long, as all property values in Dubai are rising rapidly.
Prices for a 100% freehold purchase in Jumeriah Oasis 1 start at about $224,371 USD for studio units and $270,466 for the one-bedroom units.
Request More Information If you have an interest in learning more about Jumeriah Oasis 1, please request the data sheet I've put together.  It will provide you with more general information about the property, the hotel floor plan, the developer, the location and the payment schedule.
To receive the data sheet, the developer requires that you provide your contact information.
Request the Jumeriah Oasis 1 data sheet here.
As always, thank you for your interest in our Dubai condo hotel offerings.  It is our pleasure to be able to notify you of these exciting new releases.  I look forward to assisting you should you have further questions or decide to pursue a purchase at Jumeriah Oasis 1.
Have a terrific day!
Joel Greene
Licensed Real Estate Broker
Condo Hotel Center
1368 NW 165th Ave.
Pembroke Pines, FL 33028
(954) 450-1929
Joel@CondoHotelCenter.com
www.CondoHotelCenter.com
www.CondoHotelsDubai.com
www.WorldClassCondoHotels.com
www.CondoHotelsBahamas.com
www.CentralAmericaSecondHomes.com
www.DominicanRepublicVacationHomes.com
Want to know more about me? Click below: //www.condohotelcenter.com/joel-greene.html
* Copyright infringement is taken seriously by Condo Hotel Center and will be prosecuted. © Copyright 2010 Condo Hotel Center
If you'd rather not receive updates from Condo Hotel Center, simply click to unsubscribe. * All rights reserved. No portion of this Property Alert may be reproduced, exhibited or distributed without the express written permission of Condo Hotel Center. Although Condo Hotel Center believes the information contained in this Property Alert to be accurate and complete, Condo Hotel Center can make no such guarantee.