Island Sky St. John Residence Club
Affordable Fractional Ownership in a Caribbean Resort
Hello. Joel Greene here from Condo Hotel Center.
My wife and I are frequent cruisers. Over the years, we've probably been on a dozen cruises, most of which have gone to spectacular Caribbean islands – white sand beaches, clear turquoise waters, picturesque harbors, charming little towns – you get the picture. Of the many islands we've visited, one of our favorites is St. John in the U.S. Virgin Islands.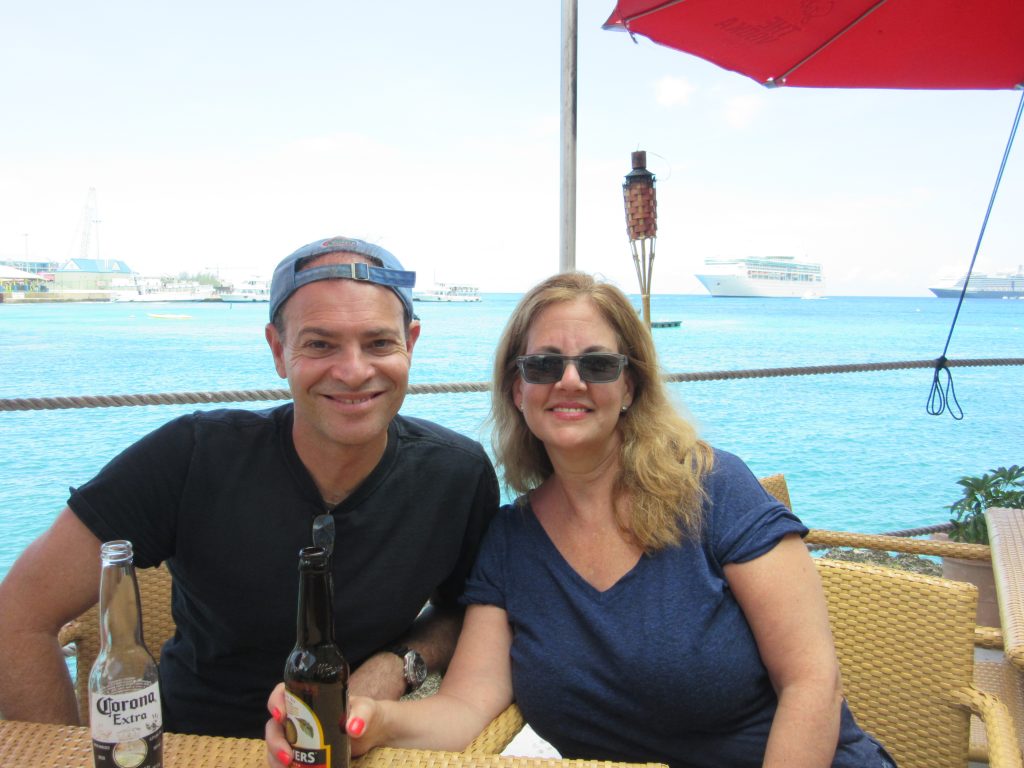 St. John is a mere nine miles long and five miles wide, so the opportunity to buy any type of property on this delightful island is as you might expect, very limited. I've never had any type of condo hotel or residential development to offer you there. Until now.
Today's featured property is the Island Sky St. John Residence Club. It offers affordable fractional ownership of a vacation home in a prime location with the full-service lifestyle of a luxury resort. Read on for details.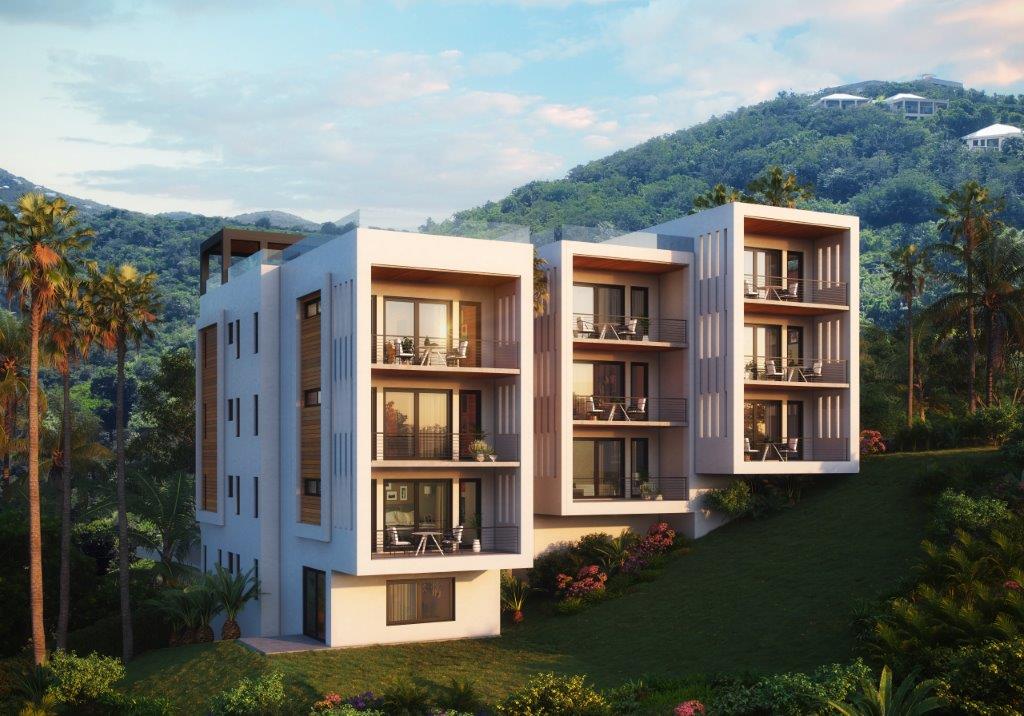 Views of the Caribbean Sea
Island Sky St. John Residence Club will be a four-star quality development perched atop a hillside, overlooking Cruz Bay. It will consist of three connected residential buildings that contain 10 fully furnished and accessorized residences. The buildings will have two common-area rooftop lounges, one including a pool.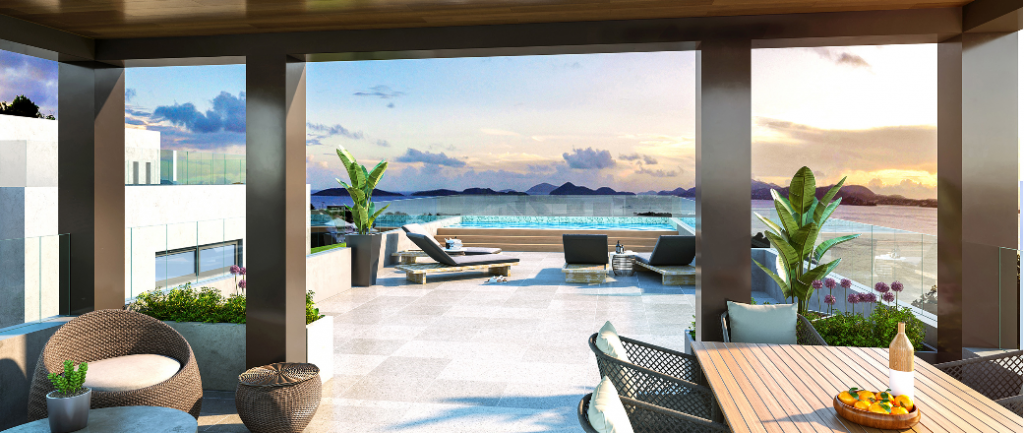 Each residence will face west and have private balconies offering incredible views of the Caribbean Sea, neighboring islands and signature island sunsets. A dedicated Island Sky St. John Club Concierge will be available 24/7 to help you plan unforgettable excursions in and around the U.S. and British Virgin Islands and their many protected national parks.

Fractional Ownership
Fractional ownership gives you the opportunity to purchase a vacation home in a spectacular destination at a fraction of the cost of buying it whole. Since most people only use a vacation home a couple of weeks a year, it can make good financial sense.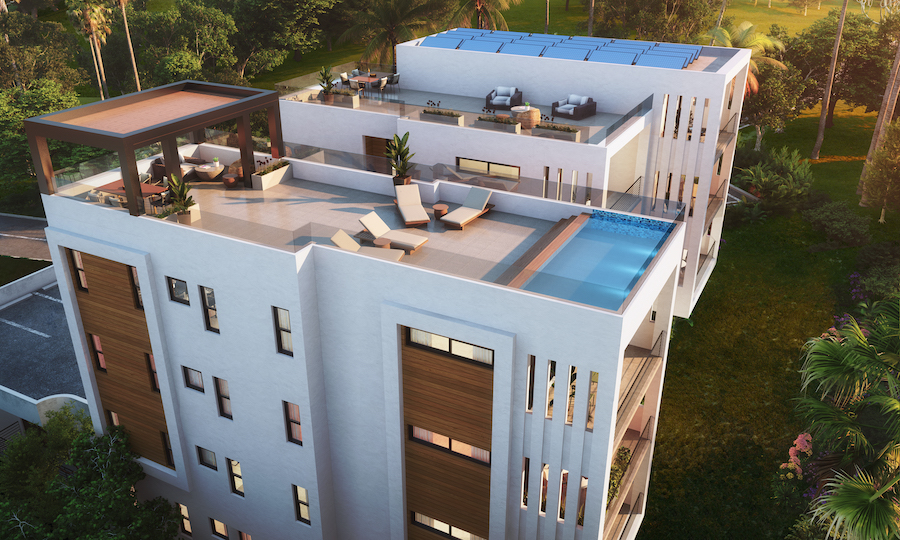 You'll share ownership of luxurious private residences with like-minded families and can enjoy abundant, flexible and pampered island escapes throughout the year. A professional management company handles scheduling, maintenance and onsite services, so you get to stay focused on relaxing.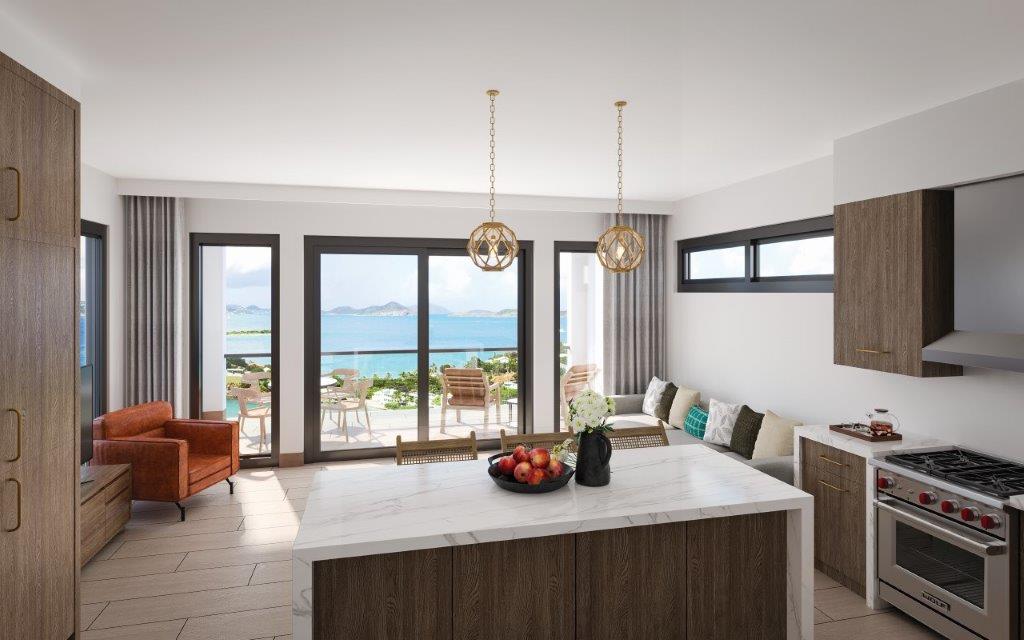 Each year, owners will be able to reserve three weeks of planned vacations in advance, and a fourth space-available week. With each of your confirmed reservations you can:
Use your island home personally or send friends/family/colleagues in your place.
Place time into the rental program to receive revenue that helps offset your ownership costs.
Place time into the Elite Alliance exchange and earn credits (valid for 2 years) to a diverse, enticing and expanding portfolio of elegant residences in 120+ exciting locations.
There is no limit on usage with significant availability for short-notice vacations throughout the year.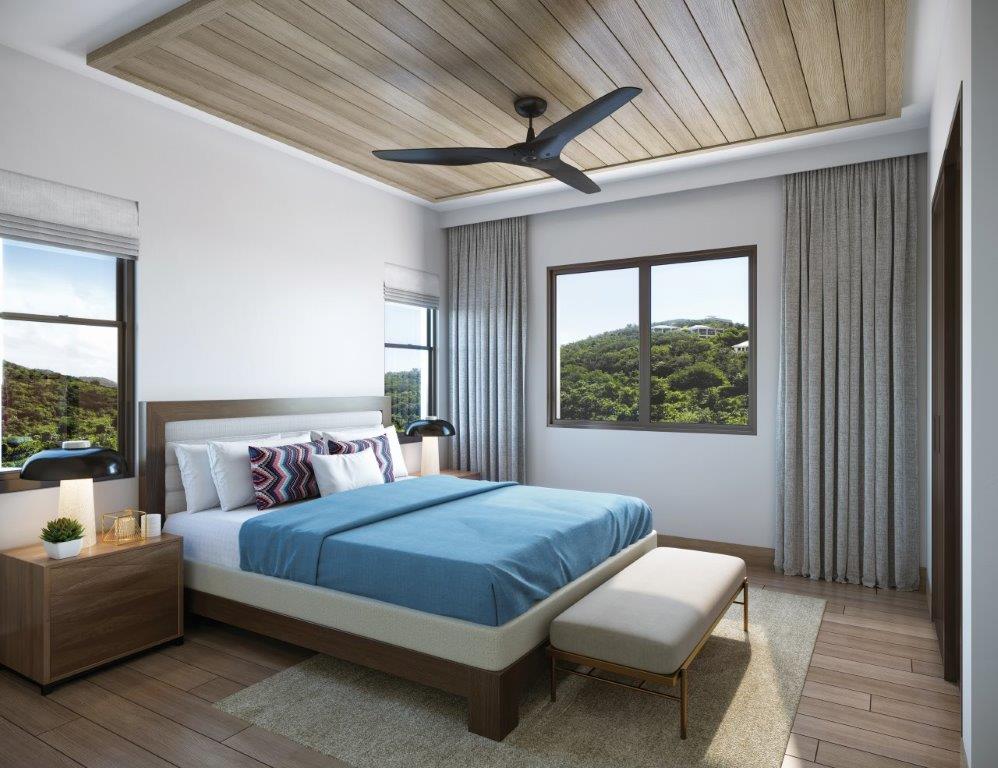 About St. John Island
The U.S. Virgin Islands is the only U.S. territory to be bordered by both the Atlantic and Caribbean Sea. It's composed of three large islands – St. Croix, St. Thomas, and St. John – and about 50 small islets and cays. Their total area is 133 square miles.
The islands are beloved for their white-sand beaches and some of the most unspoiled underwater and terrestrial habitats found anywhere in the Caribbean. The geography of the islands consists of seaside cliffs, mountains with lush forest, tiny streams, arid lands and beaches.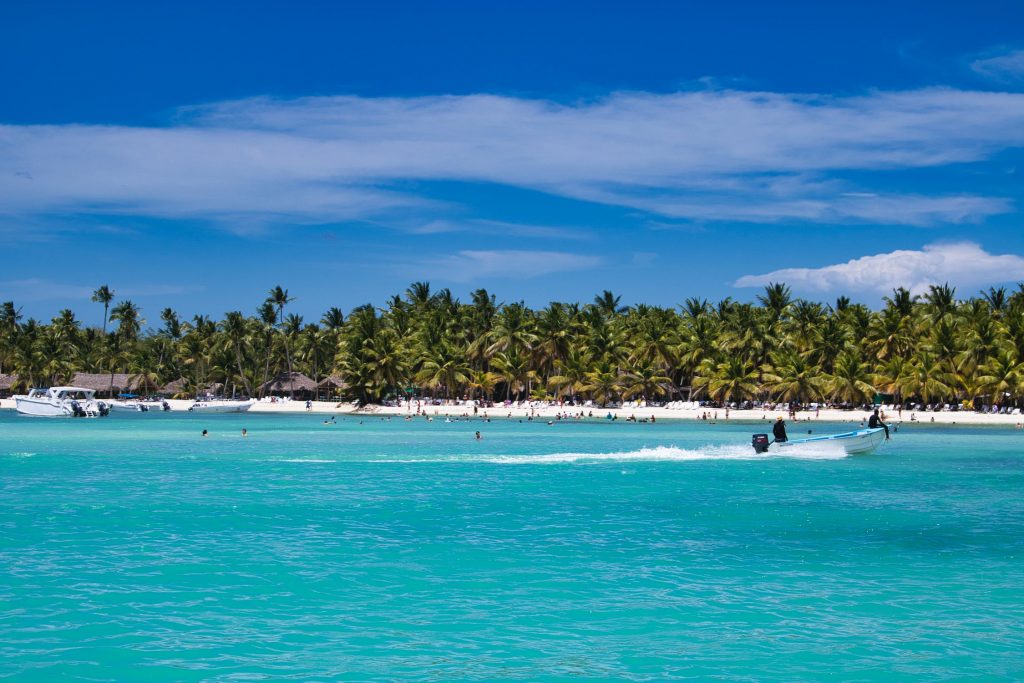 St. John is the smallest of the islands and approximately 60% is protected land in the Virgin Island National Park, which gives the island a reputation for a tranquil atmosphere, ideal for a relaxing vacation but with plenty of opportunities for adventure. Fondly known by locals as "Love City" for being so safe and friendly, it is an American paradise offering a plethora of water activities including diving, sailing, kayaking and sport fishing.
As a United States territory, travel to the U.S. Virgin Islands does not require a passport for U.S. citizens. And you can catch direct flights to the islands from the U.S. mainland – three hours from Atlanta or Miami; five hours from Boston or Chicago. To access St. John, you fly to St. Thomas and then hop a short ferry.
Prices Start at $190,000
Construction on Island Sky Residence Club began in February 2023 and is well underway with the lower parking and utility areas already nearing completion. Construction of the development is expected to be complete by spring 2025.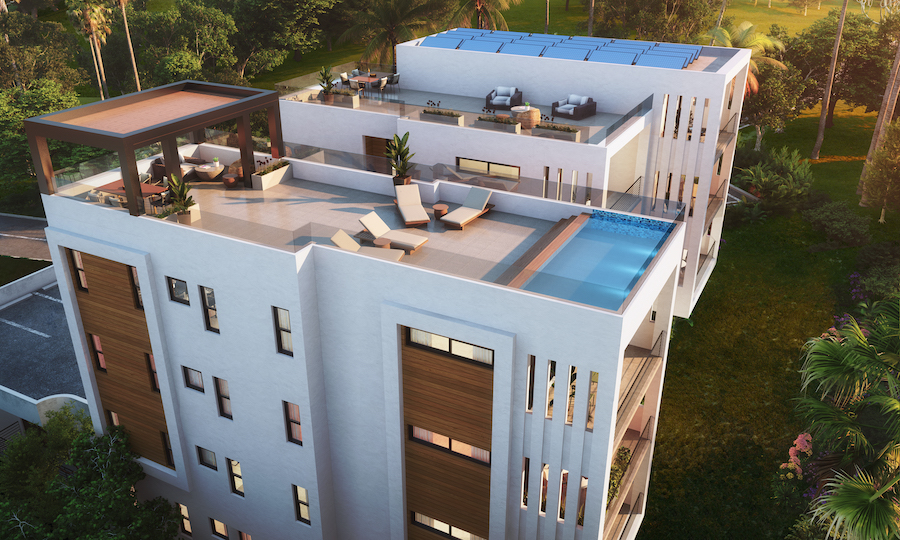 Island Sky offers two types of residences:
One-bedroom unit – 716 sq. ft. plus 138 sq. ft. terrace, $190,000
Two-bedroom unit – 1,038 sq. ft. plus 138 sq. ft. terrace, $220,000
Want to know more? Please request my detailed data sheet below.
Request the Island Sky Residence Club data sheet here.
Underwater Snorkel Trail
Trunk Bay on St. John is one of the most photographed beaches in the Caribbean. A heart-shaped bay, it's set in the Virgin Islands National Park. It offers clear water, fine white sand and something that you won't find in most other vacation beach destinations – a self-guided underwater snorkeling trail.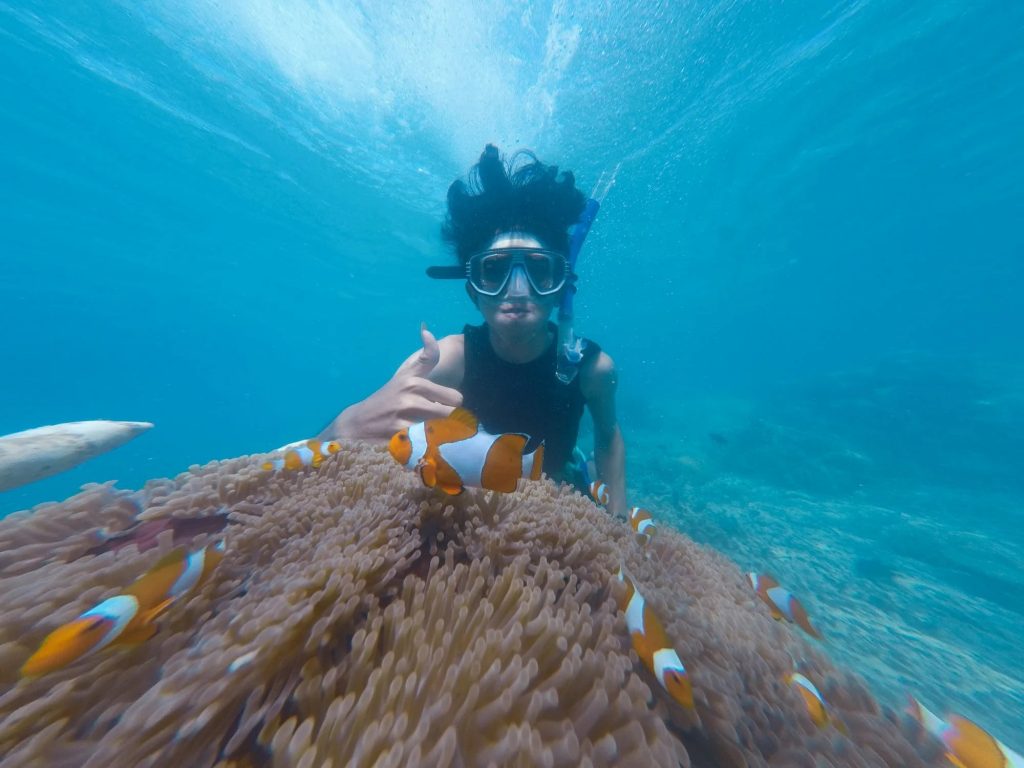 The 650-foot underwater trail (maintained by the National Park Service) features plaques that provide a wealth of information about the sea-life.
You'll see spectacular examples of Brain Coral, Fan Coral, Elkhorn and Finger Coral, each with its own distinguishing features. Look for colorful Angel Fish, Parrott Fish, Sergeant Majors, Yellow Tail Snapper, Puffer Fish and Sea Turtles. Enjoy a relaxing swim as you mullet over.
Again, I hope you'll take a look at my Island Sky Residence Club data sheet. Then let me know if you'd like to schedule a visit. As they say in St. John, "A bad day in the Caribbean is better than a good day anywhere else!"
Joel Greene
Licensed Real Estate Broker
Condo Hotel Center
1368 NW 165th Ave.
Pembroke Pines, FL 33028
(954) 450-1929
Joel@CondoHotelCenter.com
www.CondoHotelCenter.com
Want to know more about me? Click below:
//www.condohotelcenter.com/joel-greene.html