Interiors by Steven G.
 Special Offer for CHC Clients Seeking Home Design Services
September 13, 2013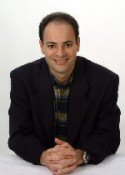 Joel Greene here from Condo Hotel Center.  The other day I visited a condo development that's closing out its first phase of sales and beginning to market the condos in its second phase/second tower.
The property is Marina Palms Yacht Club & Residences, an ultra-luxurious residential development in North Miami Beach, Florida, consisting of two 24-story buildings and a private marina.
I went there just to see the construction progress and get more details on the available inventory but what impressed me most on my visit was the new $3 million Marina Palms sales center featuring a typical model condo.  The décor was stunning!
I soon found out who was responsible for the Marina Palms model décor and recognized the name.  It was an interior design firm that does many of the models at the Florida condos I market.  I decided it was time to learn more about the talented people at that company.
As you know, in these Property Alerts, I typically feature a new condo building being developed.  But today, I'm going to deviate from my usual routine by telling you about the interior design company that decorated the Marina Palms and many other model homes.
The company also does interior design for individuals.  So if you're in the process of decorating a home or considering the purchase of a vacation home, you'll want to keep scrolling.
The firm's work speaks for itself in the photos below.  And at the very end, I've included a special offer for Condo Hotel Center clients, whether condo developers or homeowners, who might want to work with a quality interior design company.
30 Years of Interior Design
Interiors by Steven G. is a full-service interior design firm founded in 1983.  It has galleries in South Florida and New York City, although it works with clients across the globe.  The firm is often contracted to design the common areas of condo buildings as well as the model units and sales center.
Earlier this week, I had an opportunity to go to the Steven G. state of the art showroom in Pompano Beach, Florida.  It looks like a movie studio, 100,000 square feet of design fantasies!  It's not open to the public.  You have to be invited in.  And if you're at all into home décor, this place is wall-to-wall eye candy!
Customized Packages
The designers at Interiors by Steven G. can customize a design package to fit the client's specific tastes and budget.  They can handle décor of a one-bedroom condo on up to large estate homes, hotels, condo development common areas and more.
They offer a vast array of design styles with over 1,800 lines of products sourced from around the world.
While they're based in South Florida, Steven G. can work with clients anywhere.  They have team members fluent in seven languages including English, Portuguese, Spanish, Russian, French, Italian and German.
Last year the company did $96 million in sales.  Approximately 70% of its business is designing luxury homes and condos, and 30% is for hotels and corporations.  The firm has 70 employees, including 18 licensed design professionals, and over $12 million in inventory in its warehouses.  Steven G. is proud to say the company is debt free.
Creativity Is Key to Steven G.'s Success
When I went to the Interiors by Steven G. showroom, I had an opportunity to meet directly with Steven Gurowitz, president.  He told me about his firm's work at various Florida condo developments, many of which I've visited.  He attributes its success to hard work and a creative approach.
"We continue to drive the market with new and fresh design," Steven said.  "Our furnished units continue to sell at a record pace in all price ranges, from models at the St. Regis in Bal Harbour to Canyon Ranch Miami Beach to Marina Palms Yacht Club and Residences."
Strategy for the Future
Steven G. told me the firm's next big step is to cater to vacation home buyers and investors.  It is building a new gallery in its showroom where it will offer a variety of design packages, including 16 one-bedroom apartment settings, each complete with furniture, wall coverings, draperies, lighting and all the accessories that tie the rooms together.
The concept, deemed "affordable luxury," will allow clients to outfit an entire apartment for $25,000 and up.  "The items can be delivered within the same week," Steven said, "instantly turning an empty space into a beautiful move-in ready home."
Special Offer for CHC Clients
I told Steven G. how impressed I was with his decorated models and showroom.  I asked if there was anything he could do for any individual condo buyers and also condo developers with whom I work.  He agreed to offer the following:
Clients of Condo Hotel Center get a free design consultation at the private showroom.  And if you hire Steven G. as your interior design firm to do a complete design project, you get a $2,500 credit.  Just to be clear, this special offer is not contingent upon you purchasing your condo through Condo Hotel Center.
If you're interested, simply reply to this email with your full name and phone number and I'll have a representative from Interiors by Steven G. give you a no-obligation call or send an introductory email, if you prefer.
More Properties Coming Soon
Thanks for allowing me to share with you the information about Interiors by Steven G.  I know it's a departure from my usual fare, but I thought you'd find it interesting or at least enjoy looking at the pictures.
I'll be back soon with more featured properties.  I have quite a few in the pipeline as development has picked up in a big way, especially in my neck of the woods, South Florida.
Lastly, if you could be interested in one of the close-out condos at Marina Palms Yacht Club & Residences the developer is offering a $25,000 interior design credit with Interiors by Steven G.  For more details, contact me for my Marina Palms data sheet and for a list of their best remaining units at special close-out prices.
Have a nice day.
Joel Greene
Licensed Real Estate Broker
Condo Hotel Center
1368 NW 165th Ave.
Pembroke Pines, FL 33028
(954) 450-1929
Joel@CondoHotelCenter.com
www.CondoHotelCenter.com
www.CondoHotelsDubai.com
www.WorldClassCondoHotels.com
www.CondoHotelsBahamas.com
www.CentralAmericaSecondHomes.com
www.DominicanRepublicVacationHomes.com
www.BiscayneLandingMiami.com
Want to know more about me? Click below: //www.condohotelcenter.com/joel-greene.html

Follow us on Facebook
© Condo Hotel Center.  All rights reserved. No portion of this Property Alert may be reproduced, exhibited or distributed without the express written permission of Condo Hotel Center. Condo Hotel Center takes copyright infringement seriously. Violators will be prosecuted to the fullest extent of the law.
Although Condo Hotel Center believes the information contained in this Property Alert to be accurate and complete, Condo Hotel Center can make no such guarantee. All features and descriptions are subject to change.
Please speak with your personal legal and financial advisors to determine whether this property is suitable for your objectives.