Ft. Lauderdale Condo Hotel On Intracoastal Waterway
Ideal Location for Boaters
May 7, 2004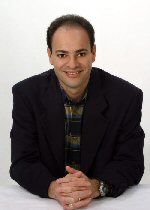 Hello.  It's Joel Greene from Condo Hotel Center.  First some old news before we move on to new business.  Congratulations to those of you who found my last Property Alert useful and decided to join the Private Real Estate Club.  My contact there tells me he was absolutely inundated this week with calls from Condo Hotel Center people.
He also told me that he was able to get some of you in on the Club's newest investment, a condo development in Las Vegas.  Apparently, the Club negotiated a great deal on 95 units and made them available to Club members.  Every one of the units was snatched up in 48 hours!  And I thought the Miami market was hot!
Anyway, if any of you might still be interested in the Private Real Estate Club, the Vegas property was only the first of many properties that I know they're working on, so don't feel like you missed out.  Other investment opportunities are just around the corner, which I'm sure the Club can tell you about.  If you want to know more, just drop me a quick line and I can send you the details as well as the Club's contact information so you can deal with them directly.
One more bit of old news before we move on.  Remember The Mimosa, a boutique condo hotel on Miami Beach that I told you about last week?  Hate to say I told you so, but I told you so.  After only days on the market, prices have already gone up.  Just yesterday they implemented a 5% across the board increase.  Congratulations to those of you who reserved units before the increase.  For the rest of you, this is still a very economically-priced property with great potential for appreciation, so don't hesitate to call me if you're interested, and I'll get the information on it right out to you.
Okay, on to today's featured property.  It's a new condo hotel located in an area that seems to be generating a lot of buyer interest these days-Fort Lauderdale.  When you read the local Chamber of Commerce description, you can see why:  "Turquoise water.  Platinum sand.  Sapphire skies.  Emerald palms.  Golden sun."  Wow, that does sound good!
It is no surprise then that another developer has thrown his hat into the Ft. Lauderdale ring.  This developer, however, is attempting to secure a new type of buyer, one that prefers the smooth ripples of the Intracoastal Waterway to that of the pounding surf of the Atlantic.  If you're a boater, this property will have special appeal so read on.
IL Lugano
IL Lugano At The Village is slated to be a new luxury 14-story condominium hotel.  It falls into the hybrid category of mixed-use buildings.  It will contain 105 condo hotel units (first 10 floors) and 24 private condo residences (top four floors) located on the Intracoastal Waterway in the exclusive Galt Ocean Mile Village, Ft. Lauderdale.
Its most unique feature will be the availability of boat slips up to fifty feet in length.  It will be the only development in Ft. Lauderdale to have slips in a no-wake zone.  In addition, the building is set to have its own deep-sea fishing boat.  It will also have a dedicated water taxi stop on the Intracoastal.  Just picture yourself standing on a long wooden dock, golden rays of sun reflecting in the azure waters, as you holler, "Yo, taxi!"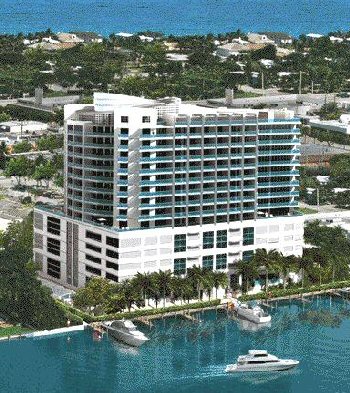 Condo Hotel Units
The condo hotel studio units will be 516-560 sq. ft., while the one bedroom units will be 840-910 sq. ft.  It may be possible to combine a studio and a one-bedroom unit, subject to availability.  Units will have full kitchens and washer/dryers. They'll be fully furnished and designed by world-renowned interior designer Lynn Wilson.
Owners will have use of their units 60 days a year and can expect good rental returns due to the Homewood Suites by Hilton brand name (more on this in a minute), aggressive marketing and sophisticated reservation system.
Prices range from $270,000 to $610,000.
Condos
Private residences (condos) will range in size from 1,662 sq. ft. to 4,187 sq. ft. Condo owners will be able to use their units 365 days a year and will not participate in the rental program but will have access to all the wonderful services and amenities in the hotel.
There are a variety of floor plans including penthouse units.  Prices range from $725,000 to $2,000,000. 
Building Amenities:
Within walking distance to shops, cafes, restaurants and more
70-foot lap pool
250 feet of Intracoastal Waterway
Deep sea fishing boats available
24-hour valet service
Concierge services
Business center and conference room
State-of-the-art fitness area
Maid service
Complementary breakfast on the waterfront with seating on the Intracoastal
Residence Amenities:
11 resident boat slips
Condos have a minimum ceiling height of 10 feet with penthouses of 10½ feet
Spectacular Atlantic Ocean and Intracoastal Waterway views
Spacious living rooms with oversized balconies
Telephone and high speed Internet access outlets in bedrooms and living areas
European design kitchen cabinetry
Luxurious whirlpool tub
Glass enclosed marble shower
European-styled vanity cabinet
Elegant cultured marble lavatory top and backsplash
Location
The IL Lugano is located in a particularly appealing part of Ft. Lauderdale.  The Galt Ocean Mile Village, often just called The Village, is a charming, pedestrian-friendly area filled with sidewalk cafes (much like South Beach), shops and services, all in an Old-World atmosphere.
In the bigger picture, Ft. Lauderdale is a HOT location.  As Miami Beach runs out of land and begins to sell out its inventory, Ft. Lauderdale is a natural alternative.  It's got great beaches, shopping, nightlife, highway access and even its own major International airport.
I did a little quick checking on the Ft. Lauderdale real estate market and learned the following:  In the Fort Lauderdale area, average real estate prices in the first quarter of 2004 were about 20 percent ahead of the same quarter in 2003, (statistics compiled by the Realtor Association of Greater Fort Lauderdale).
The average sales price for an existing single-family home during the first quarter, the group said, was $322,839.  That number is a 21% increase from the first quarter 2003.  The average price of a condominium was $153,645. The condo price was 19% ahead of 2003's first quarter average of $129,014.
Behind the Scenes
The developer at IL Lugano is Cartage, which recently completed the $42 million beachfront Ocean Plaza condominium in Deerfield Beach, Florida.   The firm has had experience in building master-planned residential communities, mixed-use commercial properties and resort destination projects in the United States and the Caribbean.
The architect, Revuelta Vega Leon, has been involved in the building of IL Villagio Condominiums in South Beach, the Santa Maria and Bristol Tower on Brickell Ave in Miami and Porto Vita Tower in Aventura, North Miami Beach.
Homewood Suites by Hilton
Homewood Suites, owned by Hilton, will manage the IL Lugano hotel rental program.  A nationally recognized brand, Homewood Suites is an upscale, residential-style hotel, targeting the extended-stay business traveler.  It is ideal for executives who travel on field assignments, are relocating to a new city, or are attending training programs or conventions in the area.  Owners of condo hotel units at IL Lugano will benefit from Hilton's marketing efforts to corporations and business professionals.
Wrap-up
The IL Lugano is expected to open in the winter 2005.  Units are moving quickly, although I hate to say that because it seems that's what I always say (even though it's true).
For additional information on IL Lugano, please let me know.  I have a data sheet with relevant specs which I can e-mail you immediately, and if you'd like, I can have a color brochure mailed to you.
This Week's "Bargains"
Q Club
Here's a quick update on another Ft. Lauderdale property, the Q Club, a four-star condo hotel right on the Ft. Lauderdale Strip.  Plans to modify the last remaining, ever-popular E units on the south side of the building have now been dropped, and these terrific one-bedroom, 1.5 bath suites with full-size kitchens are now back on the market.
Units are available on the 15th to the 22nd floor.  Prices range from $640,000 on the 15th to $657,500 on the 22nd floor.  Each will have 868 sq. ft. of luxurious living space and will face southeast, providing spectacular ocean views.  These units were in great demand when the developer decided to reserve them for a conversion, and I know that they will sell relatively fast once the word is out.
The building will be complete in October 2005, but prices should go up 10% or more within the next few weeks, just prior to construction beginning.
The Resort at Singer Island
You may recall my mention last week of how lightning fast The Resort at Singer Island sold out (less than six weeks).   Last Friday, my wife and I had dinner with my contact there, and she whispered to me that two great units had just come back on the market.
One is a two-bedroom unit in the center of the building on the north side.  The view north overlooks the park with great view of the Intracoastal and the ocean.  At night, you get a beautiful view of the city lights and the lake.  You also get the water reflections from the ocean near the shore.  The price is $740,000, fully furnished.  Alternatively, the other unit is a one-bedroom with a northern view too.  It's priced at only $585,000.
The Resort at Singer Island has spectacular amenities including two stunning, resort-style swimming pools that offer direct beach access, an exclusive spa, concierge and room service.  The building will be complete in early 2006.  Just call me if you want more information.
Okay, as usual we covered a lot of ground in this Property Alert.  I hope you find the information I give in these Alerts useful or at least interesting.  Thanks to all of you who have taken a moment to let me know you appreciate my efforts in bringing you the latest news on the condo hotel front.
Have a great weekend.
(If you wish to no longer receive Property Alerts from Condo Hotel Center, just send me a quick email and write "Unsubscribe" in the subject line.)
Joel Greene
Broker-Associate
Condo Hotel Center A division of Sheldon Greene & Assoc., Inc.
1368 NW 165th Avwe.
Pembroke Pines, FL 33028
(954) 450-1929
Info@CondoHotelCenter.com
www.CondoHotelCenter.com
www.CondoHotelsDubai.com
www.WorldClassCondoHotels.com
www.CondoHotelsBahamas.com
www.CentralAmericaSecondHomes.com
www.DominicanRepublicVacationHomes.com
Want to know more about me? Click below: //www.condohotelcenter.com/joel-greene.html