Icon Brickell
Close-out Prices on Select Condos
March 10, 2011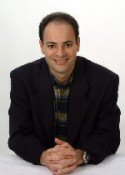 Hello, Joel Greene here from Condo Hotel Center.
I'm writing because I've learned of an interesting opportunity and wanted to pass the news along to you.
Back in November 2010, I was told that the Icon Brickell, the only downtown Miami property offering both condominiums and condo hotel units, had sold out of all of their condo hotels units.
Yesterday, I was informed that Bank of America, the owner of one of this property's three towers, had held back some of the inventory and had now decided to release those final units at close-out pricing.  And whether you are interested in a condo hotel or prefer a straight condo, these units might present an opportunity for you.  More on this in a minute.  First a little background on Icon Brickell.
A Phillipe Starck Creation
The Icon Brickell stands out as one of the most impressive projects in the downtown Miami area.  It opened in early 2009 consisting of three towers, a 148-room Viceroy Condo Hotel and 1,646 residential units in Towers I and II.
From the moment you arrive, statues modeled after the Moai figures of Easter Island embrace your journey.  The design by world renowned Phillipe Starck, is the epitome of style, sophistication, urban living and privacy.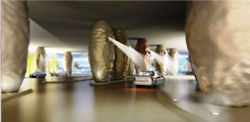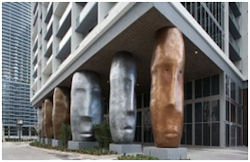 Designed by the esteemed Phillipe Starck, the Icon Brickell has many eye-catching unique features.
Once you get past the entrance, you'll be blown away by the amenities this five- star property has to offer.  Just briefly to name a few:
Restaurants:  There are five places to enjoy a meal at Icon Brickell.
Club 50:

 An exclusive rooftop pool & lounge with stunning views from the 50th floor.
Spa and Fitness Center:  A 28,000 square foot spa with amenities normally associated with a five-star resort.
Pool Deck Level: This two-acre pool terrace is100 feet above Biscayne Bay and features a series of three infinity pools including a reflection pool where furniture may sit in the water, an oversized thermal hot tub, and a longer than Olympic-sized lap pool.
Take a moment and enjoy a virtual tour of Icon Brickell here.
A Super Location
Icon Brickell is located on prestigious Brickell Ave. in the heart of the Greater Downtown Miami area. It offers easy access to Downtown Miami Riverwalk and strolling distance to the shops in Mary Brickell Village. It's also an easy drive to the American Airlines Arena, home of the Miami Heat, or cross the causeway to visit all the hot spots on South Beach. Restaurants, bars, shopping, movie theaters and more are all conveniently close by.
Close-out Pricing on Condos
Now, here's the information on the special close-out condominium units.  There are 13 condos in total, 12 of which are currently available as of yesterday.  The price ranges are $295,900-$319,900 for the one bedroom models and $479,900-$647,900 for the two bedroom models.  This represents an additional 5%-10% discount off of the 2010 prices.
In the chart that follows, the ones that are not highlighted are offered as unfurnished, un- finished condominiums, or what is commonly referred to as "decorator ready."
However, the ones highlighted in yellow are fully finished and furnished.  They are currently being offered through the hotel's rental program by the owner.  They are substantially larger than the typical hotel units that are in the program.
If you purchase one of these units, you MAY have the opportunity to place it in the Viceroy Condo Hotel rental program.  I say "may" because changes are currently being made to the Rental Management Agreement (RMA) and should be finalized within the next 30 days.
So, as you consider the purchase of any of the following units highlighted in yellow, recognize that these are discounted prices on move-in ready condominium units, which certainly can be lived in year-round or rented out short- or long-term by the owner without limitations, and which MAY be allowed to be placed into the hotel's rental program once the RMA details are made available.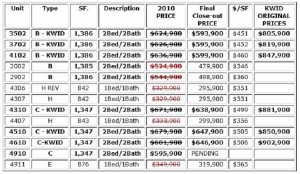 Breakdown of the views of these 12 units:
The 02 line consists of corner units facing the pool and bay, river and downtown Miami.
The 06 & 07 lines face west, looking out to the city and you can see water in the background because they are on high floorsThe 10 line is a direct bay view looking towards Key Biscayne and overlooking the pool area.
The 11 line faces the bay and the pool area.
Request a Data Sheet & Brochure
I do have a data sheet of the Icon Brickell to provide to you, as well as a color brochure with floor plans for the available units above.  My data sheet will also provide you with the information about the other straight condominium units that are available in this property, which include studios, starting in the mid- $200's, and one, two and three bedroom units.
If you are interested in learning more, I simply need you to reply to this email with your full name, mailing address, phone and email, and I will send you everything as quickly as possible.  With only 12 condos at close-out prices available, I don't expect them to last long.
Thank you for your interest and I do hope to hear back from you shortly.
Regards,
Joel Greene
Licensed Real Estate Broker
Condo Hotel Center
1368 NW 165th Ave.
Pembroke Pines, FL 33028
(954) 450-1929
Joel@CondoHotelCenter.com
www.CondoHotelCenter.com
www.CondoHotelsDubai.com
www.WorldClassCondoHotels.com
www.CondoHotelsBahamas.com
www.CentralAmericaSecondHomes.com
www.DominicanRepublicVacationHomes.com
Want to know more about me? Click below:
//www.condohotelcenter.com/joel-greene.html

Follow us on Facebook.
© Copyright 2011 Condo Hotel Center
*All rights reserved. No portion of this Property Alert may be reproduced, exhibited or distributed without the express written permission of Condo Hotel Center. Although Condo Hotel Center believes the information contained in this Property Alert to be accurate and complete, Condo Hotel Center can make no such guarantee.