GOT STOCKS?
What if you could tap your securities for cash right now… without calling your broker to sell them?
March 5, 2009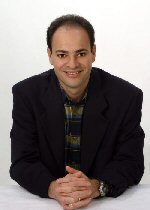 Hello. Joel Greene here from Condo Hotel Center.
In the six-plus years since Condo Hotel Center began as nothing more than a concept and a four-page website, we've rarely ever provided information on anything other than condo hotels and fractionals.
Today, we want to discuss something that is on everyone's mind even more than real estate, octuplets and steroids in baseball — money.
In this economy, in this job market, and with the financial world providing a daily dose of more bad news, money is what everyone is talking about.
Some have it, but don't know what to do with it. Some don't have enough to get by and are fearful of losing their homes or cars. And many are somewhere in between, not panicked, but cutting back on expenses and trying to hold onto what they've got, at least until things start looking a little bit better.
My reason in writing you today is simply to make you aware of an option that could be right for you or someone you know in these challenging times.
A Cash Resource in This Tight Market?
Maybe you've stashed your money in the stock market to have the funds available to pay for your daughter's wedding and suddenly, your portfolio is down 40%.
Maybe you were going to get that new car, but suddenly find yourself without a job. Now you're keeping your car and pushing 100,000 miles on the odometer.
Or just maybe you realize that now may be the best time to buy real estate if only you had the cash, and if only you could look to your bank to help finance that purchase.
Condo Hotel Center may have a solution for you.
What if I told you that you could have the cash you needed for that dream wedding without having to cash in your stocks?
What if I suggested you can get the car you need today without tapping into your cash reserves to pay for it?
What if you could raise cash to invest in real estate without having to resort to bringing in a partner?
Condo Hotel Center has recently connected with the oldest continuous provider of security-collateralized loan financing in the United States. Our lender is a Pennsylvania-based firm that has been around for 10 years.
The company has excellent references that they are pleased to provide once the borrower signs a non-binding term sheet. They are A+ rated by the Pennsylvania Better Business Bureau, and using their rather simple program, they have processed about $800 million in loans in the past 10 or so years.
What This Means to You
Let's say you need money for any purpose; like that big wedding, sending the kids off to college or closing on your recent condo hotel purchase without having to put 30-40% cash down, you can do that now with financing that does not cost you any upfront money and without all of the usual hassles involved in getting your typical loan.
Here's How the Program Works
Assuming that you have money in the stock market of any major international exchange, you can pledge the stock of the portfolio to the lender and get a loan of up to 85% of the value of the your stock portfolio. (In some cases mutual funds, Treasury bills and bonds can also be used as collateral.)
You remain the beneficial owner of your shares, participate in their growth, and have the security of limited-recourse default if for some reason you can't make the interest payments. In that case, you'd owe nothing beyond your forfeited shares, no matter how low their value may have fallen AND no negative reports would be sent to the credit bureaus.
The best example of how this works is when you buy your new Mustang with a loan from Ford. You own the car and have it sitting in your driveway; however, Ford holds the title for the vehicle. Upon satisfying the loan, the title is then released to you.
The nice thing is that you do not have to cash in the stock now to borrow money against it. And, considering that the value of your stock portfolio has probably dropped quite a bit this past year – ouch – not having to cash it in at its current reduced market value may be a real godsend.
Competitive Terms
Of course, there are certain terms and conditions, but for many borrowers they are more attractive than terms the banks could give – that is, assuming they were currently making loans at all. In a nutshell, here's what is being offered:
Loans are available for an amount up to 85% of the borrower's stock portfolio. There is a minimum loan amount of $100,000 and a maximum loan amount of $200 million+.
Loan programs offer either quarterly, semi-annual interest payments or no payments until the end of term balloon (not all loans will qualify for deferred interest payments).
Terms are typically 1-7 years at an adjustable rate starting as low as 4.35%, interest only, and:
There are no upfront fees.
No pre-payment penalties.
The loans have limited recourse and no margin calls.
Borrowers undergo no credit checks or FICO scores to qualify.
Borrowers can use the money for practically anything.
Loans can be completed quickly, typically in less than 5 days.
Stocks are safe and secure.  They remain in your account, name and title.  Never sold or traded.
No appraisals are required.
Hassle-free process.
Paperwork is limited, and there is no need for appraisals like in a typical home loan.
Limited Recourse
Unlike the structure of typical loans that have payments due quarterly or semi-annually, this loan will have a balloon payment due at the end of the term. You can pay it off at that time, or alternatively, you can do the following:
Refinance the loan.
Sell the shares that you have pledged to repay the loan.
Walk away from the shares you have pledged, even if the value of them at that time is less than the amount that you borrowed, and no negative credit bureau reports will be filed.
So What's the Catch?
Typical home loans may have an average of 2 to 3 origination points. This lender charges 5 origination points. While this may seem high, recognize that the interest rate is very attractive, and that this is a non-recourse loan.
That means the lender takes a risk that if this market drops and if your funds drop more than 15%, then you simply walk away, forfeiting the shares that you have pledged for the loan. And, since the origination points are taken from the loan proceeds, there are no up-front fees to you. Zero!
This Lender Is Stable, Reputable
Before introducing this new affiliate to you, as part of our due diligence, we at Condo Hotel Center contacted individual references who have completed deals with this lender. Their feedback was very positive.
We also spoke with a major accounting firm that did extensive research on this particular lender for one of its clients. They said, "Everything we can say about this company is tremendously positive. They are honorable. We had no issues with them. They are people of character."
We researched the company name and founder/president's name and found nothing negative or derogatory.
We also contacted the Better Business Bureau in Pennsylvania and verified that the company is A+ rated and has never had a complaint against them.
Having said all that, we believe it always prudent to check out anyone you intend to do business with, taking into consideration your own personal requirements, and we encourage you to do your own due diligence before moving forward.
More Information Available, No Obligation
If this program sounds like it could be for you, simply reply to this e-mail with your full name, mailing address and phone number. There's no obligation, and you don't need to provide us with any personal information.
We will send you a PowerPoint presentation that explains things in more detail. We will also give you the company's website, which has a great deal of information.
Then, upon request, we can put you directly in touch with the lending source. It's that simple.
Again, simply reply to this e-mail with your name and contact information, and we'll respond immediately.
As always, thank you for taking the time to read our newsletter. Feel free to pass along our information if you know someone who might be interested.
Our goal is always to bring to your attention interesting opportunities. We'll be back soon with one of our more traditional Property Alerts about available real estate.
Joel Greene
Licensed Real Estate Broker
Condo Hotel Center
1368 NW 135th Ave.
Pembroke Pines, FL 33028
(954) 450-1929
Joel@CondoHotelCenter.com
www.CondoHotelCenter.com
www.CondoHotelsDubai.com
www.WorldClassCondoHotels.com
www.CondoHotelsBahamas.com
www.CentralAmericaSecondHomes.com
www.DominicanRepublicVacationHomes.com
Want to know more about me? Click below:
//www.condohotelcenter.com/joel-greene.html
* Copyright infringement is taken seriously by Condo Hotel Center and will be prosecuted. © Copyright 2009 Condo Hotel Center.
*All rights reserved. No portion of this Property Alert may be reproduced, exhibited or distributed without the express written permission of Condo Hotel Center. Although Condo Hotel Center believes the information contained in this Property Alert to be accurate and complete, Condo Hotel Center can make no such guarantee.
Lender's Disclaimer: This email and any files transmitted with it are confidential and intended solely for the use of the individual or entity to whom they are addressed. Nothing in this or in any communications with the lender's staff or associates should be construed as legal, tax, or investment advice. Please consult a licensed professional in your state of residence for advice on these matters. This lender is a loan brokerage and does not hold, trade, or manage stocks directly. Any representations about loan programs whether verbal or written, are made only with prior consent of Lender. If you have received this email in error please notify the system manager. This message contains confidential information and is intended only for the individual named. If you are not the named addressee you should not disseminate, distribute or copy this e-mail. Please notify the sender immediately by e-mail if you have received this e-mail by mistake and delete this e-mail from your system. If you are not the intended recipient you are notified that disclosing, copying, distributing or taking any action in reliance on the contents of this information is strictly prohibited.