Hard Rock Hotel, San Diego, California
Handful of units back on market, start in upper $300s
March 7, 2008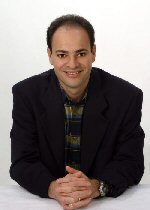 Hello, Joel Greene here from Condo Hotel Center.  Have you ever dreamed of living like a rock star?  Okay, I know Britney Spears isn't handling it too well, but what if you could for a few nights a year enjoy some of the same perks of those on the A List?
That's what today's featured property offers.  You know the city – San Diego, California.  You know the name – Hard Rock Hotel.  And now let me tell you about this unique vacation home ownership opportunity.
Hard Rock Hotel, Glitzy & EdgyHard Rock Hotel combines boutique luxury class with famed urban edge. When this property first became available a couple of years ago, pre-construction sales were brisk. Its condo hotel units sold so quickly that most people who wanted one were shut out.  But now, a handful of condo hotel units at Hard Rock have come back on the market, and Condo Hotel Center has been given a chance to offer them to you, our Property Alert subscribers.
A Great Location in San Diego's Gaslamp Quarter Let's start with the destination. Often referred to as America's City, San Diego boasts over 300 days of sunshine each year, miles of sandy beaches and surf, and plenty of other attractions.
It is one of the top five most visited destinations in the United States each year with over 32 million visitors, surpassed only by Orlando, Las Vegas, Chicago and New York.
While there are plenty of places to explore in San Diego, it's the downtown that gets most of the attention. Like many urban areas around the world, the city is abuzz with new construction, trendy new bars and restaurants, and plenty of high-end retailers. However, there are not enough hotel rooms to meet the growing downtown demand.  And that is a big part of Hard Rock Hotel's appeal.
The property's location is the most coveted in the city, right at the entrance to its heart and soul, the Gaslamp Quarter.  It's just steps from the San Diego Convention Center, the city's largest demand generator for hotel rooms.
The Padre's stadium, another big draw, is just a block away. San Diego has changed quite a bit in the past five years, and Hard Rock is right in the center of all the excitement.
Rock Your World As you enter the four-diamond Hard Rock Hotel San Diego, you'll see a dynamic 40-foot lobby featuring custom furniture and fixtures.
The design is over the top.  The rock 'n' roll memorabilia is presented like artwork.  And there's even a Vibe Manager, a person who gets paid just to play with the music and lights (the vibe) all day long throughout the property.
I can only imagine the little kid who brings his dad into school on career day to tell stories of how he flips light switches for the likes of P Diddy, Sting and Madonna!
As you step further into the hotel, you'll find two bars delivered by Rande Gerber.  Don't know Rande?  Well, I'm sure you know of his wife.  Rande is married to super-model Cindy Crawford, but he doesn't rest on her laurels.  For the past decade he has been creating the

world's hottest "ultra-lounges" for years for W, Armani, and other top brand names in the hospitality industry.
The condo hotel's signature restaurant is Nobu.  Having pioneered nouveau Japanese cuisine across the globe, Nobu Matsuhisa tapped the Hard Rock property to be his seventeenth location.
With offerings such as Yellowtail with Jalapeno, Tiradito Nobu Style, Lobster with Wasabi Pepper Sauce and Black Cod with Miso, sushi lovers and A-listers will be vying for reservations at this see-and-be-seen destination. Guests will have the option of dining in the main dining room, in the private dining room, or at the sushi bar.
Nightlife, Skylife & the Good Life Since rock's roots are embedded in Hard Rock, you'd expect nothing less than a stellar music scene. The rooftop pool terrace is actually a 9,000 square foot events venue overlooking the Gaslamp Quarter.  It can serve as a killer stadium of sorts for concerts and is where the Black Eyed Peas performed for the grand opening of the hotel.
Rande's Moonstone Lounge is complete with no walls, plenty of outdoor fire pits, fully dialed cabanas (for rent at about $2,000 a night), a DJ booth, and friendly waitresses dressed in outfits that would only work in a handful of climates around the world.
Folsom, a 5,000 square foot indoor music venue, will put on one hell of a show, whether it's an amped-up celebrity DJ to infuse the place with his own signature sounds, an intimate live concert, a movie premier or a corporate event.
Finally, the world-class Rock Spa and fitness center is a great place to relax and unwind after partying all night like a rock star.  Customize your pampering routine with treatments such as the Champagne Cocktail Body Soak, Amped-Up Sugar Scrub or 4-Diamond Body Detox from the Rock Spa menu.
Not Your Cookie-Cutter Hotel Room When you enter the condo hotel suites, you find an equally authentic experience in the design, the fully integrated entertainment systems, and Hard Rock's signature halo-illuminated headboards.
The suites are indeed over the top, and they are catching the eye of real estate vacation home owners and travelers who are looking for something different – an experience rather than just a hotel room. The suites range from studios, to one-bedrooms, to distinctly styled Rock Star Suites.
This is your ultimate crash pad and rock star retreat.  Sleek and modern design by Graham Downes Architecture.  Everything is custom made—from the carpet, to the millwork, to the European-styled fixtures by Grohe.
The Classic Beautyrest® World Classic® Felicity pillow top mattress sits atop a bed accented by a stainless steel kick-plate which gives it the effect of floating over the carpet.
Each suite is also appointed with state-of-the-art technology: a 42" LG flat screen HDTV with IPOD and PC connector pack, HD movie menu, and custom music preferences set to your specifications upon arrival.  The units are edgy and rock inspired.
The Innovative Rock Star Suites Hard Rock Hotel has 18 Rock Star Suites, which are all about attitude and brazen sophistication.  Each offers a completely different ultra-VIP experience.
The chic urban lofts have dark ebony floors with hand-woven custom rugs, spa-like bathrooms and outdoor decks with unprecedented views of the city and bay.  One suite has a fire pit and deck seating for 20 while another features 270-degree views of the San Diego Bay and an outdoor hot tub.
This Place Rocks A slew of celebrities have been photographed partying at the bars and Nobu of Hard Rock. This place is hot – but you don't have to be a celebrity to live it up. The condo hotel owners are referred to as "Rock Royalty" and entitled to a host of privileges that offer "life behind the velvet ropes."  When you're in-house, everything in the place will make you feel like a rock star, including the Rock Royalty Crew, which is on site 365 days a year to manage every detail of the owner's experience.
Great Opportunity to Buy Now As I mentioned, Hard Rock Hotel San Diego is up and running, which means we are not talking about pre-construction prices, as we usually do. But as these units have come back on the market, and we have a great relationship with the developer, he is allowing us to offer them to our Property Alert subscribers first and at the low 2006 prices. No question about it, this is a unique opportunity.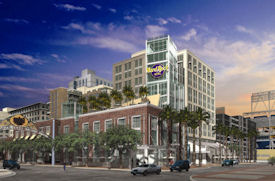 Studio units start in the high $300,000s and go up to $474,000.
One-bedroom units are $509,000-$640,000.
No Rock Star Suites are currently available, but we can put you on the waiting list to be contacted if one opens up.
Remember, we are not selling an investment here, but rather, a vacation place unlike you'll find anywhere else.  It's the kind of second home you'll enjoy talking about to your friends almost as much as you'll enjoy using it!
Want more details on Hard Rock? I've put together a data sheet that will give you a lot more information and pictures of the Hard Rock Hotel San Diego. You'll simply need to provide your full name and address, as per the developer's requirements.
Request the Hard Rock Hotel San Diego data sheet here.
Upcoming Real Estate Seminars for Developers Condo Hotel Center believes in education and the constant exchange of quality information between professionals.
We partner with Information Management Network to produce seminars for developers and industry professionals.
We have the following programs coming up soon and can offer you a $150 discount off the regular ticket price on these events.  Just click on the links if you want more details.
Financing, Developing & Operating Condo Hotels
Distressed Residential Real Estate
Condo Hotel Wrap-up As always, thank you for making Condo Hotel Center your source for news and analysis of condo hotel properties.  We continue to monitor the market and make you aware of opportunities as soon as they arise.  Please feel free to forward our Property Alerts to friends who might share your interest.
Rock on!
Joel Greene
Licensed Real Estate Broker
Condo Hotel Center
1368 NW 165th Ave.
Pembroke Pines, FL 33028
(954) 450-1929
Joel@CondoHotelCenter.com 
www.CondoHotelCenter.com
www.CondoHotelsDubai.com
www.WorldClassCondoHotels.com
www.CondoHotelsBahamas.com 
www.CentralAmericaSecondHomes.com
www.DominicanRepublicVacationHomes.com
Want to know more about me? Click below:
//www.condohotelcenter.com/joel-greene.html
Follow us on Facebook.
* Copyright infringement is taken seriously by Condo Hotel Center and will be prosecuted. © Copyright 2010 Condo Hotel Center